Places to Play in Tribeca for NYC Kids: Parks, Indoor Play Spaces and Kids' Gyms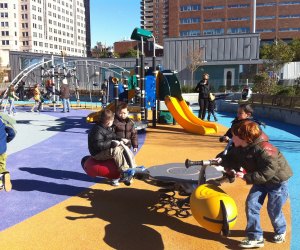 Tribeca may be a playground for adults with its upscale nightlife scene, but it's also a pretty awesome neighborhood for kids who want to run around, both indoors and out. We continue our month-long focus on Tribeca with a roundup of our favorite play spots for kids in the area. In addition to two great outdoor parks, we found a nice selection of indoor options, too, including drop-in spots, kiddie gyms and members-only play spaces.
Outdoor Play
Washington Market Park
Greenwich Street between Duane and Chambers Streets
A true community hub, this 1.6-acre park has a nice lawn with a white gazebo, plenty of benches and shady trees, tennis and basketball courts, a community garden and two playgrounds with colorful equipment. Nonprofit organization Friends of Washington Market Park keeps the green space in great shape, and also organizes popular annual events, including a free kids' concert series and a Halloween parade and party that always includes a set by Princess Katie & Racer Steve.

Pier 25 in Hudson River Park
North Moore Street and the Hudson River
When Pier 25 opened a few years back, we were wowed by its new-fangled playground, mini-golf course, skatepark and beach volleyball. But unfortunately, all of these attractions suffered lots of damage during Hurricane Sandy and are currently closed. However, the city and Friends of Hudson River Park have vowed to repair them all, and the Hudson River Park Trust says everything will reopen this spring.
See more nearby parks in Battery Park City.

Drop-in Indoor Play
Barnes & Noble
97 Warren Street at Greenwich Street
The Tribeca outpost of this national book chain is a great place to hang out for free. The well-stocked children's section features Lego tables, small chairs for kicking back with a good book, carpeted nooks and (mostly) clean bathrooms. There's also the ubiquitous Starbucks cafe, complimentary Wi-Fi, a Saturday morning storytime and occasional children's author readings.

Color Me Mine
92 Reade Street between Church and West Broadway
At this paint-your-own-pottery studio, families can choose from hundreds of objects—figurines, cookie jars, plates, etc.—and then do all the decorating. All ages are welcome. There is a sitting fee in addition to the cost of pottery (items start at $18). Check the website for fun family promotions such as Mommy & Me Mornings and Pajama Nights.
Muse Paintbar
329 Greenwich Street
Weekend family sessions offer adults and kids to create a unique canvas, guided by artist-instructors with step-by-step tips and tricks, which they can take home at the end of the class.
The Craft Studio
174 Duane St
Pick a project in fabric, wood, clay, plaster, paint or one of the other offerings to complete at the craft table. Walk in crafting is offered every day as long as there isn't a party going on, so calling ahead is advisable. The Craft Studio also offers classes, parties, and scheduled crafting workshops.

Church Street School for Music and Art
74 Warren Street between Greenwich Street and West Broadway
This nonprofit arts and music school offers a substantial lineup of semester-long classes for all ages, even adults. However, it also hosts regular $10 drop-in classes such as open art and music. Check the schedule for details.
Pixel Academy
256 West St
In addition to after school classes, holiday camps, and birthday parties, Pixel Academy offers a weekend Family STEM Makerspace and group gaming for kids ages 7 and up.
Brooklyn Robot Foundry
200 Church St
Each weekend kids aged 5 to 10 can drop in to build one of the pre-selected robot projects to take home. Brooklyn Robot Foundry also offers classes, parties, and a weekday evening family club where adults and children can build together.
Members-only Indoor Play
To use the facilities at these play spots, you either need to be a member or enroll in an ongoing class. Visit the official websites for up-to-date offerings and pricing.

Playgarden
95 Franklin Street at corner of Church
With 4,000 square feet of indoor play space, Playgarden offers classes, a Montessori preschool program, parties and a huge indoor playground, which is available to members. Playgarden doesn't have a playground-only enrollment option so all packages include a class, like karate, music or dance and all offerings are for children under 5. Since the playground is cleaned every day at noon without fail, Playgarden made our list of the cleanest play spaces in NYC. There is one way to check out this spot without becoming a members: On select Saturdays, Playgarden hosts Project Playdate, a drop-off evening of fun for kids while parents go out on the town to play their own way.

Downtown Community Center
120 Warren Street between Greenwich and West Street
With a wide array of classes; an indoor pool; and sports, performing and visual arts programs, this community hot spot also features a clubhouse and game room for the younger set. Members get access to daily lap and family swim time, fitness equipment and classes (although some require an additional fee). Family memberships are available. DCC also runs many outdoor programs at Pier 25.

Gymboree
100 Reade Street between Church Street and West Broadway
Catering to children ages newborn through five, this international mega-chain (550 locations in 30 countries!) offers classes, party packages and a colorful gym with open playtime sessions for members.

NY Kids Club
88 Leonard Street between Church Street and Broadway
This new NY Kids Club location is slated to open in May 2013, and will include a state-of-the-art gym, classrooms, a dance studio and the usual classes, camps, party packages and preschool alternative.

Read all of our posts about exploring Tribeca with kids.