Places to Play in Battery Park City: Amazing Parks, Museums & Play Spots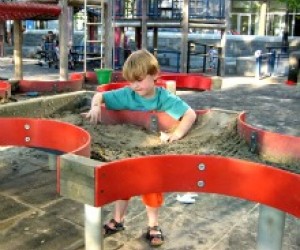 We continue our month-long focus on Battery Park City with a look at the best places to play in the neighborhood, both indoors and outside. This tiny sliver of southwestern Manhattan is just 92 acres but 36 acres of that is parkland, mostly along the Hudson River. It's no wonder BPC is famous for its parks and playgrounds, like the attraction-filled Rockefeller E. Nelson Playground, Teardrop Park's grotto-like water play area and massive slide, and the stunning Esplanade, which runs the whole length of neighborhood along the waterfront.

BPC is also home to lots of indoor places where kids can drop in and play, including Manhattan's first green library, a pair of museums with frequent kids' programs, and the Winter Garden at Brookfield Place. If you're looking to spend a day romping around, BPC is the place to be.
Outdoor Play
Nelson A. Rockefeller Park & Playground
North end of Battery Park City, west of River Terrace
The largest green space in BPC, Rockefeller Park is full of wide sloping lawns, but its main kid attraction is the amazing playground, which offers dynamic and unique play structures for all ages. The self-propelled merry-go-round and water play area are kid faves, and as a mom, I like the stand-up sand play area so my son doesn't leave covered in grime. There's a bathroom right next to the playground on River Terrace, and the nearby Parkhouse loans game equipment to families like Ping-Pong and knock-hockey every day from May to October. At the north end of Rockefeller Park you'll find Tom Otterness' adorable The Real World art installation, called "Penny Park" by locals due to its trail of oversize pennies.

Teardrop Park
Between Warren Street and Murray Street, east of River Terrace
Though just a short stroll from Rockefeller Park, Teardrop Park can be a little tricky to find since it's tucked away between a bank of high-rises. But it's definitely worth the effort! This one-of-a-kind green space has a beautiful landscaped rocky wall embedded with a super-long and steep metal slide that dumps kids into a pit of sand. There's also a wonderful water play area with geyser-style sprinklers, and a small separate space for toddlers. The disparate parts are connected by windy hidden paths. A true gem.

West Thames Park
West Street between Albany Street and West Thames Street
Totally overhauled in 2010, this park features grassy lawns, adult- and child-size basketball courts, a community garden flanked by pedestrian and bike paths, and a large playground with 16 innovative play structures, a water play area and a popular tire swing.

The Esplanade
Battery Place to Chambers Street along the Hudson River
One of the most beautiful places to meander in Manhattan, this picturesque pathway on the Hudson River runs past most of BPC's big attractions including all of the parks, two museums, gardens and tons of public art. Whether you opt to stroll, cycle or scoot, a trip down The Esplanade is a NYC must.

Robert F. Wagner, Jr. Park
20 Battery Place Little West Street
While there's no playground here, you will find amazing views of the Statue of Liberty, New Jersey and New York Harbor, grassy lawns, winding paths, and a pavilion with an open roof for sightseeing. Wagner Park is also where the Battery Park Conservancy holds many of its special family events, like the annual Harmony on the Hudson Family Music Festival and the Swedish Midsummer Festival, as well as the Go Fish! Festival, which takes place three times in summer.

Community Ball Fields
North End Avenue between Murray and Warren Streets
Although these popular baseball and soccer fields suffered a big blow during Hurricane Sandy, they're back in business. From spring through fall, you'll find lots of neighborhood families cheering on their Little League and soccer teams here on Saturday and Sunday mornings. This is also where the BPC Conservancy hosts many of its drop-in sports programs.

There are other BPC green spaces like Rector Park and the Oval Lawn that have lawns and benches but no play equipment. It's also worth browsing the BPC Conservancy's website to see all the programming on offer, much of it FREE.

Drop-in Indoor Play
Winter Garden at Brookfield Place
200 Vesey Street at West Street
This office building's giant glass atrium features chairs and a large set of steps to sit on, and palm trees. While kids can't run around here, it's a nice place to warm up with stunning views of the Hudson River and, in winter, the outdoor ice-skating rink on the plaza. Grab a spot and chow down on lunch (there are a number of restaurants in the building plus food trucks on weekdays. The Winter Garden also hosts many beloved annual family events like the Canstruction installation in fall, Santa's Winter Garden in December and Screamin' Green Halloween.

Battery Park City Library
175 North End Avenue at Murray Street
We raved about this branch when it opened in 2010. The first LEED-certified green library in Manhattan, the BPC branch used reclaimed wood for flooring, old tires in the carpets and recycled glass in the stairway—a touch-screen panel near the entrance gives all the details. The dedicated children's reading room on the first floor and frequent storytimes are highlights for kids.

Museum of Jewish Heritage
36 Battery Place near First Place
Although subtitled "A Living Memorial to the Holocaust," this institution explores the entire Jewish experience. Much of the Star of David-shaped museum is family-friendly, though parents should use their best judgment before visiting the explicit War Against the Jews exhibit on the second floor. The museum hosts FREE monthly puppet shows and storytimes, as well as seasonal family events like concerts and festivals that are free with admission.

Poets House
10 River Terrace between Warren and Murray Streets
Rhyming books by Lewis Carroll, A.A. Milne, Dr. Seuss, Shel Silverstein and Roald Dahl fill the shelves of Poets House's cheery Children's Room, which is open Thursday through Saturday. Drop in to read or try out the old-school typewriter, or attend one of its weekly kids' programs: Tiny Poets Time on Thursday mornings and artistic Saturday morning projects.

The Skyscraper Museum
39 Battery Place between First Place and Little West Street
This small museum dedicated to NYC's architectural history offers Saturday morning family programs as well as two galleries to explore.

Asphalt Green Battery Park City
212 North End Avenue near Murray Street
The BPC location of this mega-gym opened in 2013 and features an Olympic-size pool with swimming lessons and teams, sports programs of every ilk, tons of early childhood development classes, camps, arts programs, birthday party packages and even a culinary center. While you need to become a member to use most of the facilities, Asphalt Green does offer day passes for the pool for $35 for adults, $10 for children.

New York Kids Club
399 South End Avenue at Liberty Street
This children's enrichment center predominantly focuses on classes, which require advance registration. However, it also hosts drop-off Pajama Parties and Super Awesome Saturday programs for non-members.

Community Center at Stuyvesant High School
345 Chambers Street near North End Avenue
The BPC Conservancy runs this community center in Stuyvesant High School featuring a gym, a recently renovated pool and ball courts. Drop in for badminton, register for tennis lessons or buy a day pass for $15 for adults, $10 for children for access to the facilities.