5 Best NYC Street Art Finds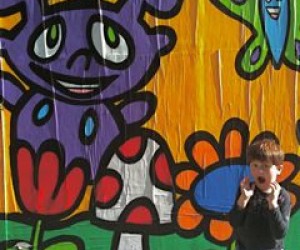 Walking around NYC seems to always lead to some adventure or another. One of the things I particularly love is when we stumble upon some cool street art. When we do we always make sure to stop and enjoy it. Last Friday we came across an interactive video art piece which is installed in an empty storefront on Lexington and 33rd St. The kids had a great time playing with it (see video below) and it inspired me to share some other cool public artworks that you might want to check out.

Perhaps the most fun public art exhibit right now is
Double Take
, a five piece exhibit in Brooklyn's MetroTech Center running through September 2010. Kids will love that each piece is a sort of visual trick. Look for a street lamp that seems to have blown over, bending it's steel post in a perfect arc and the ghost that lives amongst a clot of trees. Metrotech Center is between Jay St and Flatbush at Myrtle Avenue.
Another fun piece is
Franz West's The Ego and the Id
, just outside of Central Park on 59th and 5th Avenue (so convenient to the Zoo) through March 2010. Your kids don't have to know that this sculpture is a reference to Freud to enjoy their perfect relationships with their own ids as they are invited to sit, stand or climb on the ribbons of colorful aluminum that seems to dance in the wind.
Tom Otterness sculptures are hidden all over this city, turning New York into a giant scavenger hunt for these whimsical bronzes. But, one of the favorite places for kids to enjoy Otterness' works is a massive installation in Battery Park City officially called The Real World, but known by many parents as Penny Park. Kids love trying to figure out the meaning or story being told through the various sections of the park, and following the trail of pennies, but it's also just lots of fun to climb on and in the summer there's a water feature.
The 5 Pointz Aerosol Art Center is an outdoor art exhibit space in Long Island City where curator, Jonathan Cohen, is converting the exterior walls of a 200,000 sq ft factory building into a world renown graffiti art museum. You can see 5 Pointz from the elevated train or visit it at street level at Jackson Avenue and Davis Street in Queens. Sadly all of the graffiti at 5 Pointz was covered over in November 2013 and the building is slated for demolition.

If your child is interested in graffiti and other street art, then a virtual art outing on Streetsy might be an interesting diversion. Streetsy is a collaborative website where people from all over the world upload great graffiti and other works of street art. The site also has a NYC street art map that you can use to create your own cool street art walks.
Two old favorites are also the
Alice in Wonderland Statue in Central Park
(East 74th St) and the
LOVE
sculpture on 55th St and 6th Avenue. Both are fun for photo ops.
And Don't forget about all the great art to discover in the subways. This website has a gallery of all the subway art. Check it out online, then take an art journey by rail.
Of course, the most fun thing is when you just stumble upon something. So keep your eyes open for spontaneous art happening all around you!