Brand Spankin' New: Battery Park City Public Library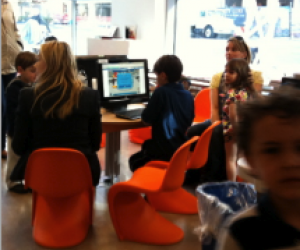 A new public library branch opened in Battery Park City this week and is holding opening celebrations today. March 18, 2010. Besides being a beautiful, light and spacious facility, the new Battery Park City NYPL branch was constructed with a focus on environmental sustainability and will be the first GREEN Library in Manhattan.
The library has a large children's area with a bank of computers, lots of comfortable seating and a large collection of books, videos, audio books and games that can be borrowed. There are separate young adult and adult reading areas and the upstairs has a quiet reading area as well as a multipurpose programming room.

Library Hours
The Battery Park City Library will be open: Monday, 10 a.m. to 6 p.m.; Tuesday, 12 p.m. to 8 p.m.; Wednesday, 10 a.m. to 6 p.m.; Thursday, 12 p.m. to 8 p.m.; Friday, 10 a.m. to 5 p.m.; Saturday, 10 a.m. to 5 p.m.

Grand Opening Celebration
The Battery Park City Library is hosting a grand opening celebration on Thursday, March 18th with kids crafts and a raptor birds of prey program. I expect these programs will be very crowded tomorrow, but nobody that I spoke to in the neighborhood knew about them, so who knows. Check our event calendar for full details of the events.
Some of the features contributing to the branch's environmental efficiency include:
an efficient technologically advanced low-energy heating/cooling system
low-flow sanitary fixtures which reduce water consumption
low-energy lighting system
use of recycled and renewable building materials including a wood floor constructed with off-cuts from window frame manufacture, carpets constructed from old truck tires, millwork made from recycled cardboard composite, and terrazzo with recycled glass and mirror aggregate
the inclusion of a dedicated area for the collection and storage of all recyclable materials accumulated during the day to day operations of the branch
use of a large number of the products that are low emitting in order to help the overall indoor air quality.