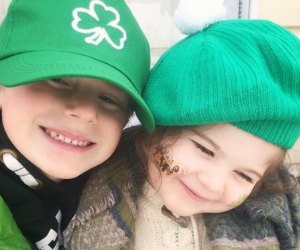 St. Patrick's Day Weekend Fun: Parades, Parties, and Painting
Okay, my friends, it's go time: the last weekend of winter is here, and we're ready (after this week's nor'easter, more than ready!) to say farewell to the snow and the cold. Celebrate the sweetest part of winter with a little maple sugaring in Redding, Hebron, or Sharon or stay indoors to see a fun family show such as Goldilocks at the Downtown Cabaret Theatre in Bridgeport or Erth's Dinosaur Zoo Live at either the Shubert in New Haven on Saturday or the Jorgensen Center in Storrs on Sunday.
Saturday is, of course, St. Patrick's Day, and there are ample opportunities to invite the luck of the Irish all weekend, such as the (free!) Shamrock Stroll and Winter Festival in Stamford, the St. Patrick's Day Party in Canton, and the traditional St. Patrick's Day Parade in Greenwich. If you're still looking for more, check our frequently updated Events Calendar, sign up for our newsletters, and follow us on Facebook, Twitter, Pinterest, and Instagram. Erin go Bragh!