Skill Mill NYC Opens Maker Spot on UWS with Laser Cutter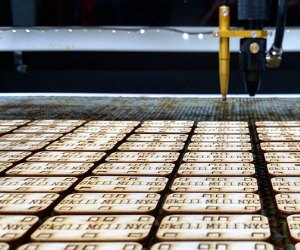 It seems maker spaces are popping up all over New York City this fall. We just profiled a new spot on the Upper East Side, and now there's a new STEM center the Upper West Side. The just opened Skill Mill NYC, though, expects to appeal to a slightly older demographic and more advanced set of makers—middle school kids, teens, and adults—in part because of its heavy-duty and very cool tools. Remember how Tim Allen on Home Improvement always asked for "More power?" At Skill Mill NYC, you're gonna get more power. A massive laser cutter will let students handle wood, leather, cardboard, and other significant materials for big projects, plus there's a 3D printer and other sophisticated design options and tools.

Read on for the scoop on NYC's latest state-of-the-art maker space, and for more high-tech fun, be sure to check out our STEM Guide.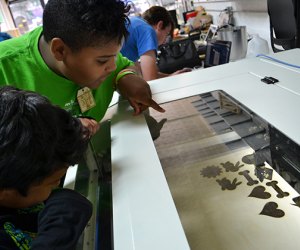 Patience is a must with laser cutting but the results will wow your sophisticated maker.
Skill Mill NYC is an offshoot of Dazzling Discoveries, which offers 3D printing, robotics, engineering, coding, architecture, and technology after-school classes, as well as summer and holiday camps for elementary schoolers. The ambitious projects at Skill Mill allow young designers to cut an image of their choosing onto a clock then pop in a battery to make it actually run, configure a funky lamp that actually works, or customize folders for school. Teens and adults can create signs, clothes, and even furniture.

Choose from pre-set patterns or release your inner graphic artist. Though Tinkercad is the recommended software, there are other programs you can utilize to help bring your vision to life. Haul your laptop to the brand-new uptown storefront to simply utilize their equipment, or request a design consultation prior to hitting the start button. Skill Mill NYC will assess your project and tell you how much time you'll need on the laser cutter, down to the minute.

RELATED: SciTech Kids Opens Upper East Side Maker Space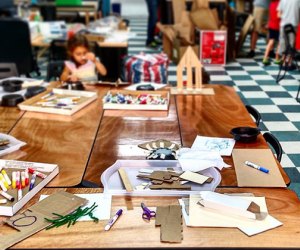 Maker projects run the gamut at Skill Mill, from low to high-tech.
Not ready to go it alone? Skill Mill NYC offers classes, such as the weekly, "Meet the Machines." Here, beginners get acquainted with the cutter, as well as the collection of 3D printers, not to mention the shelves full of art supplies, Arduino robotics, and good old-fashioned cardboard and Popsicle sticks. These classes take students (who can be as young as 6, with parental supervision) through the entire process, from concept to online design to manufacturing.

Not feeling the high-tech? Skill Mill NYC has a basic hand-stitching sewing class, Fiber Arts for Kids, which includes weaving, bag making, decorating and, most important for parents, sewing on buttons. For Halloween there will be a special Creative Costuming workshop. Whether you want to sew (machines are available if the hand-stitching exercise didn't do it for you), illuminate, 3D print, or laser cut it, they'll help you come up with a truly original look.

You can also employ Skill Mill NYC to turn out customized party favors, giveaways for your business, or other mass produced products. Design them yourself or get professional input from one of the store's trained associated.
Good to Know Before You Go
While Skill Mill NYC does have kid-friendly art-supplies and is open to working with children as young as 6, much of the equipment might be beyond first graders and younger. Temper expectations accordingly.
Laser printers aren't great for instant gratification. Prepare your child for a patient wait, as projects may take a while to be completed.
Downloading the design software and playing around with it at home will likely make your visit more productive (and potentially less expensive). All projects start with a free 15-minute consultation; the cost is $45 per half hour. There is a $15 set-up fee for projects that you think are ready to go, as the appropriate machines need to be calibrated specifically to your project. Machine time also runs $45 per half hour, or $2 per minute.
Skill Mill NYC is located at 949 Amsterdam Avenue (between 106th and 107th Streets) on the Upper West Side. Check its calendar for a full list of class offerings and other events.

Top image: The option of a laser cut machine detail gives students greater design potential. All photos courtesy of Skill Mill.