Mega Indoor Play Space Curiosity On Court Opens in Cobble Hill
Families are flocking to Curiosity on Court, the new indoor play space that just opened in the Cobble Hill neighborhood of Brooklyn. And for good reason. With custom play structures and exhibits, open-play hours, weekend hours, date nights and birthday party packages, Curiosity on Court is a great addition to the recent spate of indoor play spaces opening up in Brooklyn.
Read on for our parent review of this new kid hot spot.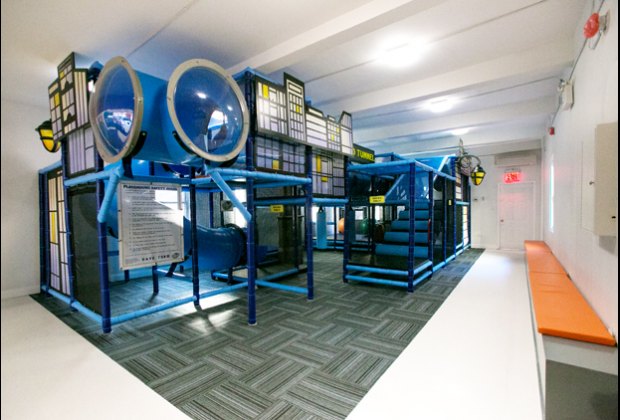 This custom-made climbing structure is the centerpiece of the new play space. Photo by Rojita Abujam/courtesy of Curiosity on Court.
The main playroom at Curiosity on Court is large, bright and airy, spanning nearly 2,300 square feet. There's plenty of room for kids to run around even when it's packed, as it was on a recent visit with my 5-year-old daughter and her friend. The centerpiece of the playroom is a custom-designed multilevel climbing structure that's decked with a spiral slide, ramps, tunnels, balls, punching bags and rolling stairs.
RELATED: Best Drop-In Brooklyn Play Spaces and Kiddie Gyms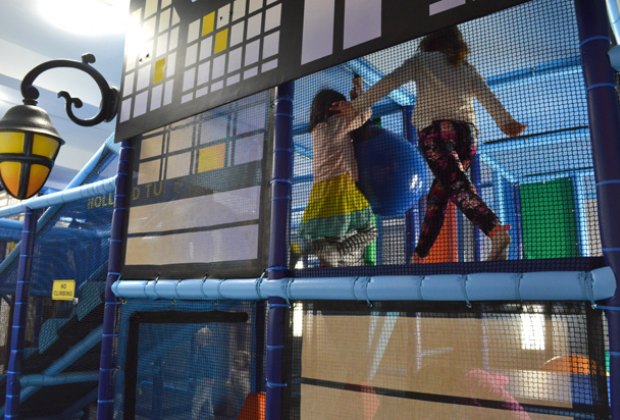 Kids can spend hours just on the climbing structure. Photo by the author.
Owner Catherine McKeown has created a space that fuses museum-like qualities with interactive elements for kids. There are little touches to the climbing structure that make it more special than your run-of-the-mill variety, including streetlight sconces, Mondrian-esque silhouettes and a Holland Tunnel sign above one of the passages.
My daughter and her friend spent at least an hour on the climbing structure before testing themselves on the wall, which is colorfully designed as the facade of a house with doors, windows and bricks. It looked like something out of a fairy tale. The play space is designed for kids ages 1-10. Younger kids will find plenty to do, including a subway-themed play area with turnstiles, a magnetic poetry wall, Metrocard vending machine and conductor's control station. Kids also can play with a kitchen set, train station and wooden blocks.
There is a designated area for toddler play that includes rubber climbing structures, a tunnel, wooden toys and puzzles. The play space also reserves every weekday morning from 9:30-10am just for open play for those younger than 18 months.
RELATED: Drop-In Brooklyn Storytimes for Babies and Tots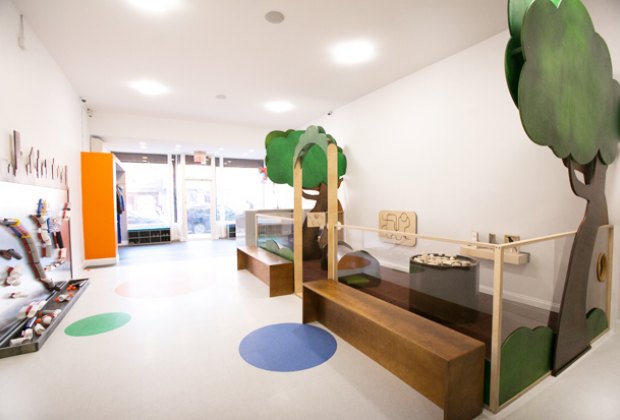 The toddler area lets younger kids play safely. Photo by Rajita Abujam/courtesy of the play space.
Kids of all ages enjoy playing with the magnetic tube wall, where they can fuse tubes and pass balls through them. We noticed a number of kids thoroughly engaged in it. My daughter and her friend spent two hours at Curiosity and never seemed bored.
There is no membership requirement to visit. As of January 2016, drop-in play cost $25 for the first kid and $20 for an additional sibling, making it steeper than admission to the city's children's museums but on par with other modern tot play spots that have opened nearby, such as Recess in Dumbo. Curiosity does allow for reentry, so you can play in the morning and return again after naptime. McKeown expects to develop a discount package for frequent visitors.
Drop-in classes are also available for kids 0-7 years old. It has partnered with Woodshop for drop-in art classes and Rockasorri for music classes. Check its class schedule for the latest. Additionally, an after-school option includes a Curiosity staff member picking up your child from school and bringing them to the play space for activities and free play.
Parents can even drop kids off on Friday or Saturday nights for several hours to enjoy date nights, too! And birthday party packages include exclusive use of the play space as well as the birthday party room. Reserve both of the options ahead of time.
RELATED: Fun Mommy-and-Me Classes in Brooklyn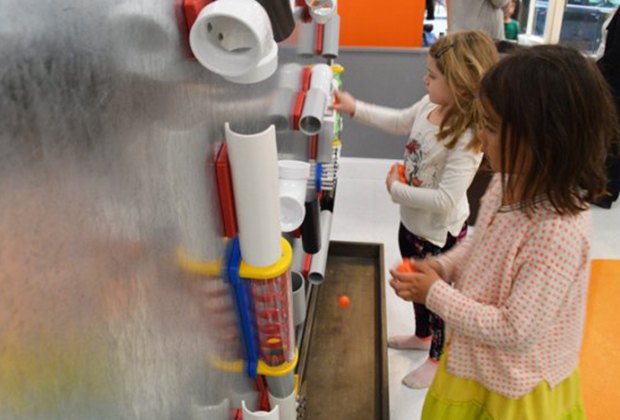 Playing with the magnetic tube wall. Photo by the author.
Visiting Tips
Shoes must be taken off in the play area and socks must be worn on the climbing structure.
There are two bathrooms, one with a changing table.
Food and drinks are not allowed in the play area and can only be consumed in the reception area. You can purchase bottled water.
Strollers can be left in the reception area.
Curiosity on Court accepts only cash at this time.
Drop-ins are welcome but make reservations to guarantee a spot.
Curiosity on Court is located at 278 Court Street, between Douglass and Butler Streets. It's open Mondays through Fridays from 10am to 6pm. Weekend hours are subject to change and depend on birthday party scheduling. Call ahead. Generally, Saturday hours are from 9am-6pm and Sunday hours are from 10am-6pm.
Top photo: Kids dangle off Curiosity's climbing wall. Photo by author.