Best Brooklyn Baby and Me Classes to Try Together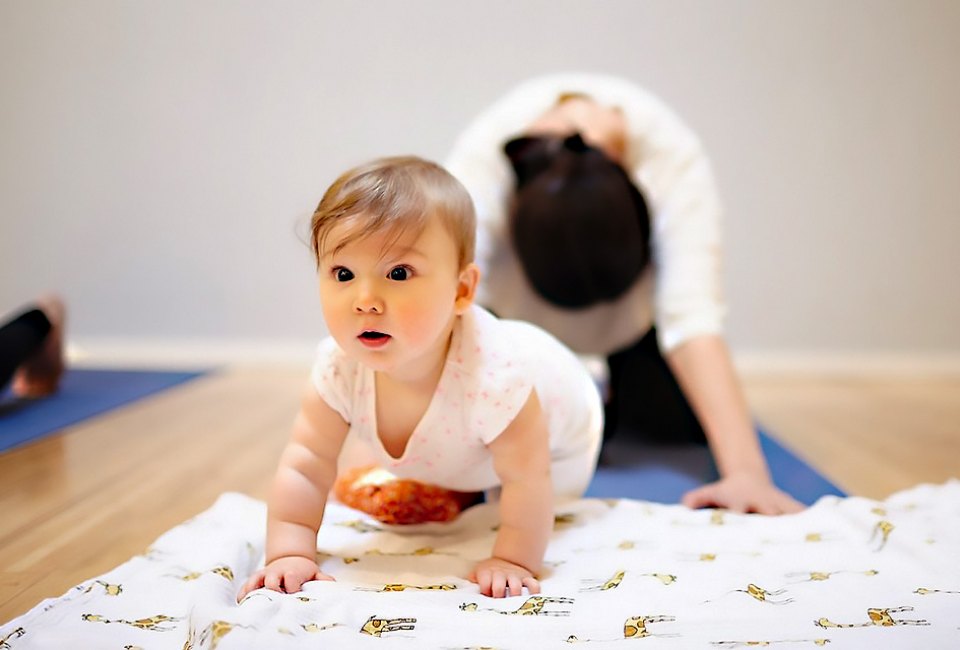 3/5/19
- By
Rosalind Muggeridge
It's not breaking news that Brooklyn is filled to the brim with babies, so it should come as no surprise that the borough is also home to dozens of destinations to hit up with a baby in tow—from play cafes to drop-in play spaces—where you can play and engage with your baby while meeting other local parents.

Although just hanging out with other caregivers and their babies is awesome, you may be looking to try something a bit more structured and enriching, and Brooklyn certainly delivers on that front too. We've rounded up what we think are the best baby classes, where you can introduce your little one to DJing, swimming, and working out—all before she's even spoken her first word.
Find more NYC classes in our Classes Guide and Directory Listings.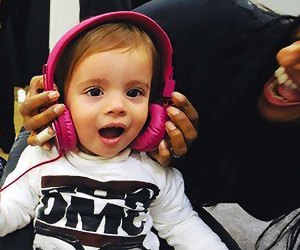 Kids are just as excited about the music as the parents at Baby DJ School! Photo courtesy of the school
Baby DJ School – Various locations
Ages 3 months to 3 years
Think you'll lose it if you hear yet another chorus of "Wheels on the Bus?" Then try this out-there twist on the usual Parent & Me music class. Founder Natalie Weiss is a well-known DJ and early childhood educator, and she designed the class to be stimulating for both babies and their parents. Participants are introduced to a variety of musical styles like house, electro, and hip-hop (no nursery rhymes), interactive equipment, and rhythmic movements. Classes are held in a number of Brooklyn neighborhoods, or you can arrange for a private session in your home.
Lloyd H. Miller Sing-Alongs – Various locations
Ages 0 to 3
Yes, we know, singalongs in Brooklyn are popping up everywhere. But the communal crooning sessions led by Lloyd H. Miller are truly unique. The kindie rocker is best known as the front man for the smartest family-band in town, The Deedle Deedle Dees, who perform songs about science and historic icons like author Zora Neale Hurston, aviatrix Amelia Earhart, and early American politician Aaron Burr. Miller shares a few of his originals with spirited renditions of childhood classics at weekly drop-in sing-alongs throughout the borough. He's great at engaging kids and happy to share his rich knowledge of history—even with adults. Drop-in sessions are available, and after the show, if you ask nicely, he may let baby strum softly on his guitar.
RELATED: 20 Things to Do with Your NYC Baby Before Age 1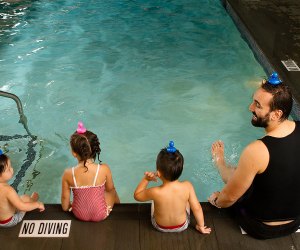 Babies and parents feel confident and secure in the watery world around them at AquaBeba Swim. Photo courtesy of the swim school
AquaBeba Swim – East Williamsburg
Ages 4 to 18 months
While many children's swimming programs don't begin until toddlerhood, AquaBeba offers structured, supportive lessons for babies as young as 4 months. How much can a tot that age learn about water safety, you ask? According to owner Danilo Krvavac, a Brooklyn dad and former Olympic qualifying swimmer, a lot. He developed the program after having his first child, and helps babies become comfortable with submersion and start to float without the use of aids. Parents appreciate the warm pool temperature to prevent baby shivering, and the small class sizes and individual attention. AquaBeba offers classes for children up to age 11 (as well as prenatal lessons), so your little water baby can grow with the program.
Child'Space NYC – Various locations throughout Brooklyn
Ages 5 weeks to 18 months
Tummy time is incredibly important for babies. It's when they learn to lift their heads, push up their bodies and, eventually, crawl and cruise. But for many, being on their bellies prompts terrible tears, not gross-motor advancement. That's where this baby movement class comes in. Infants are encouraged to reach, roll, and yes, even get on their tummies in a soothing and supportive environment. Experts are on hand to address any specific issues, and parents and babies bond through games, songs, and hands-on activities.
ArtLab Storytime @ Eckford Street Studio – Greenpoint
Ages 6 to 18 months
Art classes for preschoolers abound, but given that babies put everything in their mouths, materials can be a safety hazard for the crawling set. Not so in this ArtLab Storytime class, where paints are made from natural colorants like fruits and veggies, and the simple projects are often meant to be eaten! Picture book readings and indoor playtime are also on the menu. Drop-in sessions are available. Bonus: Eckford Street Studio offers courses for children up to age 10, so this could be the beginning of a lifelong love of art making.
Singalongs at Lark Cafe – Ditmas Park
Ages 0 to 3
The Lark Cafe continues to be a Ditmas Park tot hot spot, with snacks, activities, and a slew of enriching classes for babies and toddlers. If there's an awesome kid-friendly band in Brooklyn, chances are they have a slot here, including a Spanish singalong with Lucy Kalantari and family fun tunes from pop singer Amy Miles.
Babies on Board at Xtend Barre – Brooklyn Heights
Ages 6 weeks up to 18 pounds
Get fit with your baby literally in tow. That's right, unlike all those strollercize classes in which you push your baby, you actually wear your infant in a carrier during this workout. Bond skin-to-skin with your baby while using her as a weight. And though the routine is hardcore, the environment is baby-friendly with soft music, plentiful mirrors, and lots of sunlight.
Postnatal Yoga: Parent & Baby at Bend & Bloom Yoga – Park Slope
6 weeks to crawling
This popular class is often crowded, and for good reason. Bend & Bloom boasts well-trained, experienced teachers who lead parents and their little ones through gentle poses aimed at rebuilding strength and soothing the aches of new parenthood, all while connecting with their newest yogis. After almost an hour of flowing poses, the focus turns to bonding with new babes through infant massage and gentle stretching. Be sure to bring an extra baby blanket for little ones.
Babies and Books at the Brooklyn Public Library – Various branches throughout Brooklyn
Birth to 18 months
It's amazing how even very young babies are enthralled by books! At these popular story times for the littlest ones, librarians read age-appropriate stories and engage their audience with songs and nursery rhymes. In many branches, there are also toys available for play time afterwards. A great place to meet other families and caregivers in your neighborhood, these always FREE events are often crowded and sometimes require picking up a ticket before the event begins.
A version of this post was published in 2017; it has been updated for the current year.
Click Here to Sign Up!
i