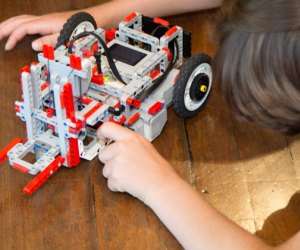 Say Hello to Zaniac, Manhattan's New After-School STEM Center
As TV's Grease Live might croon, "STEM is the word!" From the president to the mayor right down to the schools, everyone wants to get kids, especially girls and children of color, excited about Science, Technology, Engineering and Math.
And now New York City has one more STEM play and classes spot for kids. Zaniac, which has outlets around the country, including in Greenwich and Westport, Connecticut, recently opened its first STEM-focused, after-school and camp center on the Upper East Side of Manhattan.
Find more NYC classes in our Classes Guide and Directory Listings.
Run by moms Camilla Gazal and Flavia Naslausky, Zaniac enables families to sign up for classes on a rolling basis, registering for six-week sessions that can begin at any time. Within those six weeks, two classes are open to being rescheduled with 48 hours advance notice.
Zaniac does not offer drop-in classes because, as Gazal explains: "We don't want parents using us for last-minute babysitting. All of our classes have a structure and a curriculum."
However, parents who want to try a class before making a long-term commitment can pay a single class fee that gets rolled into overall tuition.
RELATED: 10 Robotics Classes and Camps for Kids in New York City

Zaniac offers three types of Lego robotics classes. Photo courtesy the venue.
Because students can enroll at any time, Zaniac teachers are trained to meet every child at his or her level. They structure lessons so everyone is learning something new, says Gazal. There are themed, weeklong camps running throughout the summer, and year-round parties, not limited to birthdays. Zaniac hosted a Christmas bash, for example, and you also can book the space and instructors for a play date.
RELATED: NYC Birthday Party Guide for Kids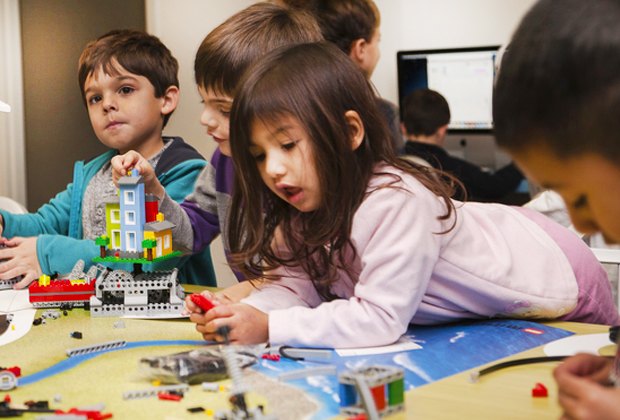 From parties to play dates to after-school classes, the new Upper East Side STEM kid spot aims to offer structured fun. Photo courtesy Zaniac.
Parties are customized based on classes offered at Zaniac, which focus on DIY tinkering and building, including Minecraft, math, design and programming:
Zane Math: This curriculum employs special software and is coordinated with whatever a child is learning at school. A specially designed glass math room makes the process even more fun by allowing kids to showcase their work, drawing on the walls. Although it's listed for grades K-8, preschoolers can be accommodated.
Minecraft Game-Based Learning: Open to kindergartners through eighth graders, this class teaches math, physics, life sciences and exploration via Minecraft for beginners. Peer instruction makes the 90-minute course more fun.
Game Modding: Tweens use authentic developer tools to customize their Minecraft worlds in this more advanced course. Personalized progress emails are sent from the instructor after every class so students can keep working at home.
Architectural Design: Minecraft again is used, this time to teach second through eighth graders the basics of urban planning and building design. It uses real-world architectural landmarks, Google Maps and Street View, and Tinkercad.
Computer Programming: For coding purists such as my son, Minecraft is jettisoned in favor of learning the MIT-created children's programming language Scratch, as well as Python, which can be used professionally for game design and more.
Robotics LEGO: This class comes in three versions, Simple Machines, Intro to Robotics and Environmental Science, which focuses on energy conservation, renewables and recycling.
Tinkering: Choose between Intro to Circuits or Intro to Microcontrollers, or do both. Electronic modules called littleBits snap together, no soldering required, making them ideal for tiny fingers. Those in fifth grade or up also can employ open-source hardware, using real circuit boards hooked up to sensors.
3D Printing: Design your creation online using designated software, then send it to print and take it home. The goal is to improve multidimensional thinking via 3D modeling.
Kerbal Space Program: No, you won't actually be joining the Mars Rover. But middle-schoolers can study aerospace engineering and orbital mechanics via a single-player game in which you're in charge of your own space program, without having to beg Congress for funding.
Fashion Design: Using Inkscape software, those in fourth grade and up can assemble mood boards and design custom outfits using vectors, nodes and color palettes. The day we visited, class began with a digital history of fashion, showing 21st-century kids and 20th-century clothes, from the Roaring 20s to today.
Interestingly, on our visit Saturday morning, classes were filled entirely with girls. And not just for fashion design classes, but also math and robotics, though Gazal said it didn't always skew that way.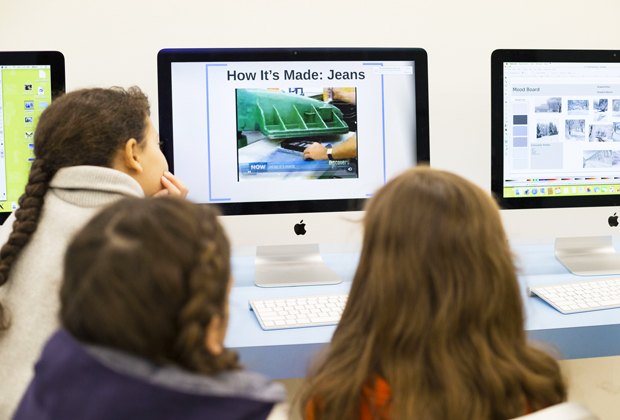 A history lesson before the fashion design class begins. Photo by Cristina Pye/courtesy of Zaniac.
Some say the key to getting children (and adults) more engaged in STEM is by demonstrating how science, technology, engineering and math are applicable to whatever they're interested in. Zaniac is a great introduction, offering plenty of subjects to choose from. And for parents who might have more than one child curious about more than one thing, it's a one-stop shop for a variety of interests. The six-week sessions are just enough to whet the appetite.
Zaniac is located on 261 East 78th Street, third floor, and is open Monday through Friday, 11am to 7pm, Saturdays from 8am to 4pm. Learn more at its website.