The Adventures of Tortoise & Hare The Next Generation
The Sheen Center

The Very Hungry Caterpillar Show
DR2 Theatre

NYC Easter Brunch Cruise 2023
Event Cruises NYC
Sign up for our free newsletters.
Sensory Gym for Children with Disabilities Opens in Queens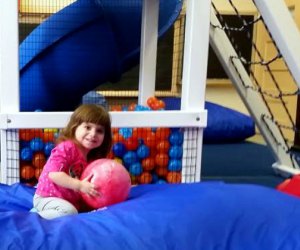 4/27/16
- By
Rachel Sokol
Extreme Kids & Crew, a mom-founded nonprofit, just opened its third NYC sensory gym for children with disabilities and its first outpost in Queens. We've visited its Brooklyn play spaces in Crown Heights and Red Hook in the past, so we were excited to see its latest, Ridgewood Space, in the Ridgewood neighborhood of Queens, which straddles Brooklyn and is often touted as the next hot NYC nabe.
The goal of the Brooklyn-based nonprofit is to provide supportive spaces for children with disabilities and their families to play and connect. The new Ridgewood spot is located in P.S. 71 elementary school, and offers places to swing, slide, build and just chill out. The bubble machine particularly caught our eye.
The borough seems to be adding more and more indoor play spaces for kids, including Sabrina's and Shastye last year, and we're happy to welcome Extreme Kids & Crew to the fold. Read on for our full review.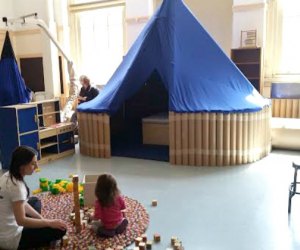 Need some quiet time? Kids can sit on the rug to build with blocks or step into the teepee to check out the bubble machine.
This Extreme Kids & Crew location hosts drop-in open play on Saturdays only, in two time slots: noon to 2pm and again from 2:30 to 4:30pm. It's just $10 per family, including siblings. During the week, the Ridgewood sensory gym focuses on current P.S. 71 students with disabilities and their occupational or physical therapists. Generally, open-play sessions are capped at 12 children to keep things manageable and enjoyable for all. Remember, the space is reserved for those with disabilities, which might range from autism to a child with intellectual disabilities to young children with relatively minor and temporary challenges like a core strength or walking disability that requires physical therapy.
The Ridgewood space is divided into two rooms. The front room is quieter and less crowded, with bins filled with toys and art supplies. A large area rug in the center offers kids a place to play or create. This room also has a teepee type of tent with an LED bubble machine inside; it's a cozy little nook where kids can enjoy time to read amid the bubbles. A nearby hammock swing is generally reserved for children in occupational therapy.
RELATED: NYC Summer Camps for Kids with Special Needs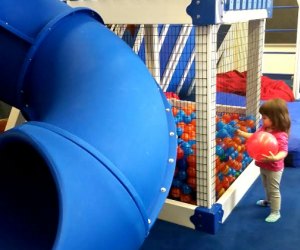 Kids can swoosh down the slide, submerge themselves in the ball pit, hang on a mat or try the climbing wall.
The sensory gym is small and cozy at 650 square feet. There's a trampoline with soft handles, crawling tubes, exercise balls, gymnastics mats, a removable rock-climbing wall, monkey bars, hanging rings and "foofs," large pillows and big beans that act as crash pads. A platform swing suspended from the ceiling fits two people, generally a parent/caretaker and child.

Extreme Kids & Crew staffers and volunteers facilitate open playtime. Kids and caretakers tend to rotate between the main room and the sensory gym so the space doesn't feel overwhelmingly crowded.
A key goal, according to staffers, is to reinforce skills taught by a child's physical or occupational therapist while enabling all to play together in a supportive environment.
RELATED: Find Special Needs Support and Parenting Groups in NYC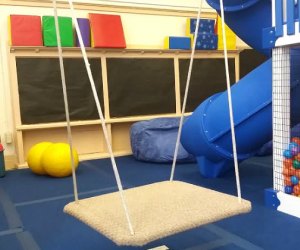 A platform swing lets kids swing with parents and a sibling (or without).
Visiting Tips
Shoes must be taken off in the sensory gym.
The on-site school bathroom does not have a changing table.
RSVP or prior registration is not required for open play, which are Saturdays during the school year only.
Food is permitted in the main area, but it's a nut-free space.
Drop-in fee can be paid in cash, credit card or online.
Recommended age is 5 and up.
Extreme Kids & Crew is located at P.S. 71, 62-85 Forest Avenue. Its Ridgewood sensory gym follows the Department of Education's academic schedule, meaning it closes in mid-June and reopens in September. Membership is optional, but includes perks such as music and art classes for kids, social and supportive events for parents, free open play at any of the organization's three sensory gyms and more.
All photos by the author.