Extreme Kids & Crew: Drop-in Sensory Play Space in Brooklyn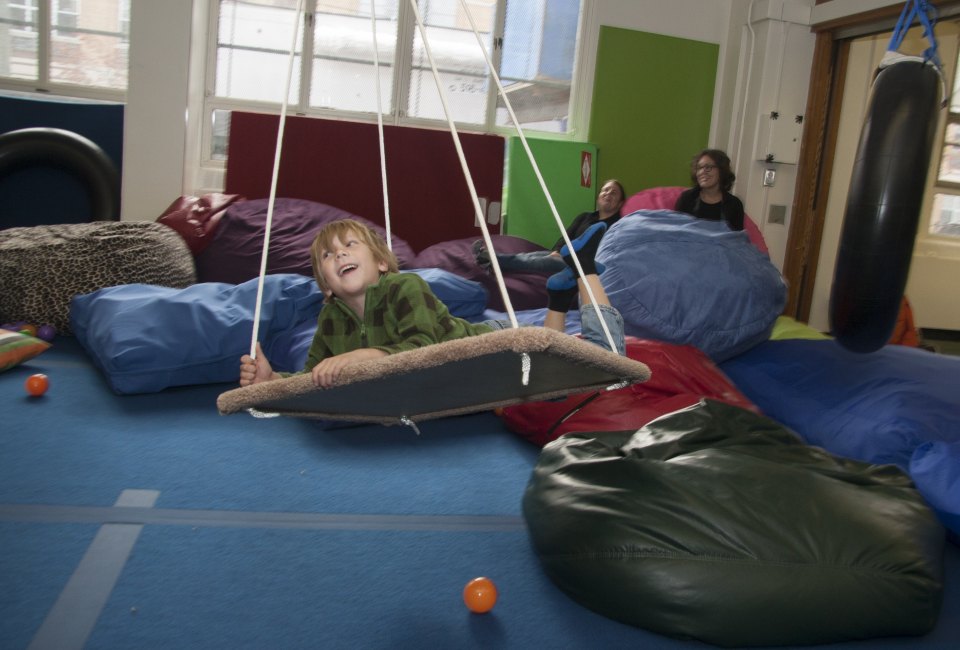 4/2/14
- By
Michaela
We've written about the wonderful special needs organization Extreme Kids & Crew many times in the past, and even profiled its former drop-in sensory play space for children of all abilities in Clinton Hill. But the little nonprofit founded by Eliza Factor—a local mom of three children including Felix who has cerebral palsy and autism—became so popular, she decided to expand to two new Brooklyn locations in late 2013.

And that's great news for families like mine. As the parent of both a teen with special needs and three younger typical children, I know firsthand how hard it is to find an indoor play space that works for my entire brood. We need a place that's fun for my little ones and doesn't completely overwhelm my eldest. The fact that Extreme Kids & Crew now has a pair of such special needs play spaces—the flagship in Red Hook and a smaller spot in Bed-Stuy—is nothing short of miraculous. Plus Extreme Kids & Crew offers a full slate of classes, playgroups, workshops and events for special needs families.
Extreme Kids & Crew now has two separate Brooklyn outposts: the AMP space in Red Hook and the smaller CAP House in Bedford-Stuyvesant. Children of all abilities and ages are welcome at both facilities, which is especially important to me because I prefer not to have to split my kids up all the time.

Located in the Crispus Attucks Playground Parkhouse, CAP House is a cozy space aimed at children ages 6 months to five years. Meanwhile, the larger AMP Space, housed inside PS 15, is geared toward school-age kids and is where the nonprofit holds most of its classes, workshops and special events. Both spaces offer drop-in open play during designated hours.

My children and I recently visited CAP House and had a blast. My kids particularly loved the ball pit, sensory swing and unique building blocks. They also had a grand time playing with the enormous sponge-stuffed pillows—they make great mountains when stacked on top of each other and they're pretty much injury-proof. The dark room with its sparkly star lights and glowing bubble tube was also a big hit, and is a great place for kids to take a break and relax if the gym area gets too intense. My kids were so busy exploring all of the big attractions, they didn't even get a chance to play with all of the educational toys.

While there, I chatted with communications manager Kate Milford about the various programs Extreme Kids & Crew offers including special needs music and dance classes. She stated that one of the org's main goals is to make sure visitors of all ages and abilities feel welcome and engaged. As such, the staff encourages parents and caregivers to participate in the events, workshops and even open play with their kids. Please note: Both facilities are nut-free, so keep that in mind if you decide to bring a snack.

Although membership is not mandatory, parents who pay a $50 annual fee receive a 15% discount on classes and events, the right to reserve CAP House for playgroups, and 10 free open-play sessions for the entire family. (That's certainly worth a lot more than 50 bucks!)

On Sunday afternoons during designated hours, CAP House offers FREE open play while the AMP Space charges $10 for the first child, $5 for siblings. Check the website for all of the other special needs programs Extreme Kids & Crew offers including 10-week art, music and gym classes, FREE weekly playgroups, monthly family art workshops and music events.

Extreme Kids & Crew's AMP Space is located in Red Hook inside PS 15, 71 Sullivan Street between Richards and Van Brunt Streets. CAP House in Bed-Stuy is located in the Crispus Attucks Playground Parkhouse at 1030 Fulton Street near Irving Place. For more information, call 347-410-6050 or email info@extremekidsandcrew.org.

Read about other great play spaces and programs for children with special needs in our Special Needs Guide.
Places featured in this article:
---
Extreme Kids & Crew AMP Space
---
Extreme Kids & Crew CAP House
Click Here to Sign Up!
i