Special Needs Music Classes for NYC Kids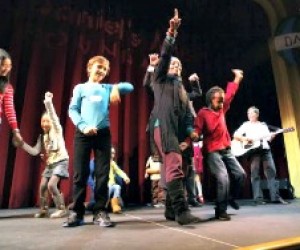 As a musician turned stay-at-home-mom, I've made sure that music plays a major part in my children's lives. But that's been a bit of a challenge with my oldest son, who was born with multiple disabilities, including severe sensory issues. He cried at the sound of applause at concerts, ran and hid whenever he heard the "Happy Birthday" song (you can imagine how well that played out during school) and screamed at me to "Stop singing with the radio! You're hurting my ears!" Bruised ego aside, it killed me that my son wasn't able to experience and love music the way the rest of my family did, but there didn't seem to be anything I, or a team of therapists for that matter, could do about it.

When we moved to New York City, I was thrilled to find so many special needs-friendly activities, and quickly signed my son up for adaptive baseball, soccer and basketball. And, since I refused to let go of my dream of turning him on to music, I decided to give Daniel's Music Foundation a try.

During our initial interview, I explained my son's anxiety with music in general, but the staff didn't seem fazed. His first day of classes went well, and while I waited to pick him up, I heard the teacher announce a birthday. I froze, waiting for the meltdown. Nothing. I peeked anxiously inside. My son was sitting next to a helper, calmly waiting for the next song. It was a miracle! And the progress didn't stop there. Six months later, he stood on stage for the first time in his life and performed in the DMF holiday show. As the end of the song neared, he began to cry in anticipation of the applause. DMF cofounder Mike Trush hopped up on stage and helped my son stay up there through the clapping. Four years later, my son now performs with a proud grin on his face, even during the applause.

While DMF has earned a permanent place in our schedule and my heart, I'm happy to tell you that there are many New York City programs that give children with special needs the chance to learn an instrument or how to sing, and to perform on stage—in front of strangers no less. Here are some of our favorites:
Daniel's Music Foundation – Upper East Side
220 East 86th Street between Second and Third Avenues
I admit, I'm biased about this organization because my son is in it and totally thriving, performing on stage twice a year and singing songs that made him cry two years ago. DMF is truly unique and inspirational, and named for Daniel Trush, who survived a brain aneurysm. The program offers FREE music classes for children ages 3 and up, and adults of all abilities and challenges. When needed, kids are assigned a helper to assist them. Class offerings are too extensive to list here but they include singing, percussion, keyboard, guitar, composition, several bands and various music-and-movement lessons. Best of all, participants get the chance to perform all over the city: at baseball and football games, and even on a Broadway stage during HOPE Week. Currently housed at Go Fish, DMF recently found a new home: a 8,700-square-foot community/condo space at 1595 Lexington Avenue at 101st Street. Construction starts in May and when completed, DMF will have five classrooms and a recording studio. As of now, DMF plans to move in fall of 2013. The organization also offers off-site classes at various locations in NYC.

Brooklyn Conservatory of Music – Park Slope
58 Seventh Avenue near Lincoln Place
BCM offers individual and group music lessons with a trained music therapist for children with special needs. Programs are semester-based however new families can register at any time and pay prorated tuition. Private clients who also join a music therapy group receive a 40% discount on group sessions. In addition, there are music therapy workshops held monthly on a variety of topics. For more info, call Toby Williams at 718-622-3300 extension 216.

Extreme Kids & Crew – Red Hook
P.S. 15, 71 Sullivan Street between Richards and Van Brunt Streets
Extreme Kids & Crew offers a handful of classes and events at its play space/enrichment center. I particularly like the Miracle Project in New York Drama for Special Needs Teens. Under the direction of drama coach Aaron Feinstein and music therapist Gabe Lit, teens with special needs, their siblings and peers create and perform an original musical. The workshop assumes a high level of commitment on the part of families, both in terms of attendance and helping with costumes, props, etc.

Innovative Piano, Inc.
Call 1-800-997-7093 or contacts@innovativepiano.com
Musician Jeffrey Young founded Innovative Piano in 2006 to provide piano instruction to individuals with developmental disabilities. He even developed his own signature teaching method. All students learn at their own pace and teachers use basic ABA style techniques such as shaping, positive reinforcement and the systematic fading of prompts. Private in-home or studio lessons, and group sessions are available.

Kathryn Brickell Music
Various New York City locations. Visit the website for info or call 800-285-5732 or email info@kbmusiclessons.com.
Offering in-home and in-studio music lessons on a variety of instruments since 1985, KBM has locations in every borough except Staten Island, as well as Long Island, New Jersey and Connecticut. KBM embraces all musical styles, from pop hits to classical masterpieces, and also offers vocal training, music theory and composition, and lessons tailored to children with special needs.

New York Therapy Placement Services, Inc.
In NYC, call 718-264-1640 or email therapyli@nytps.com; on Long Island, call 631-473-4284
Is learning to read sheet music too confusing and frustrating for your child? The "Music Box Method" employed at New York Therapy Placement Services uses letters, colors and boxes to teach children to play simple songs using the correct notes, timing and fingers. It also serves as a stepping stone for those who want to eventually learn to read sheet music. This methodology works well with children with special needs in conjunction with ABA training.

Piano Plus – Chelsea & Upper East Side
907 Broadway between 20th and 21st Streets
317 East 89th between First and Second Avenues
212-369-9492 or email info@pianoplusnyc.com
Piano Plus offers adaptive guitar and piano lessons in individual and group settings. Classes accept infants all the way up to adults, and the multifaceted, multisensory approach to musical instruction is intended for people of all abilities.

Find out about other great programs for NYC children with special needs in our Special Needs Guide.