Queens Rising: A Celebration of Arts & Culture
Various locations

2023 Annual Bus Festival
Emily Warren Roebling Plaza

Improv 4 Kids Off Broadway Live
New York Improv Theater Times Square
Sign up for our free newsletters.
New Play 'Studio' Opens in Queens for Babies, Toddlers and School Kids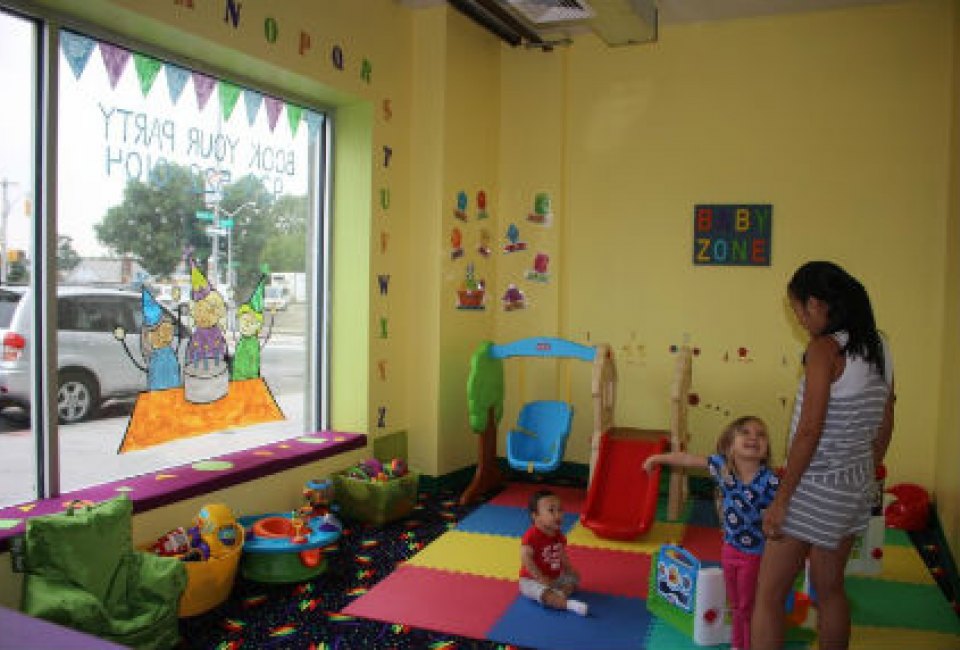 8/19/15
- By
Kelly O
It's no secret that the Queens neighborhoods of Sunnyside and Woodside are loaded with kids and families, and while we're spoiled with fantastic parks and libraries, the popular area is definitely lacking indoor play spaces.
Sure there's Chuck E. Cheese's, but try finding a local drop-in play spot on a rainy or too cold or too hot day, and you're sure to hear other parents complain about the dearth of options—until now. Sabrina's Play Studio opened this summer on busy Queens Boulevard across from the New Calvary Cemetery, and parents immediately, with their toddlers and older kids in tow, began to queue.
Check out our review of this bright, indoor kids' playground in western Queens that offers both weekday and weekend drop-in play sessions.
Sabrina's Play Studio is a 1,900-square-foot play space designed for kids from babies up to age 9. It was opened by a local mom who ran a daycare in the neighborhood for 11 years.
Highlights include a two-level maze, a small bounce house and a play area with a kitchen, toys and dress-up clothes. A gated "baby zone" with a swing, mini slide and toys entertains the littlest visitors, infants to age 2. You'll also find a ride-on push car with a gentle ramp that ended up being a huge hit with my girls.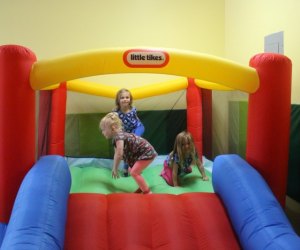 Bounce house fun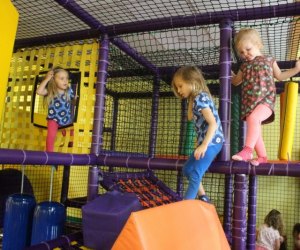 Little daredevils test out the climbing structures.
As for extras, Sabrina's has an area for stroller parking, changing stations in the restroom and an eating area. Visitors are allowed to bring in outside food, and a microwave is available for use. Some limited beverages and snacks are also available for purchase, including a few organic options. The staff was attentive, friendly and helpful when we visited, and the owner was also on hand, helping to keep the place tidy. Children and adults must wear socks to enter play areas.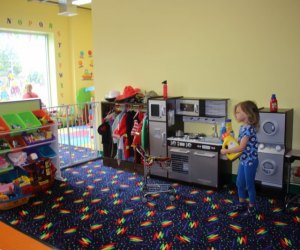 A play kitchen, dress-up clothes and bins of toys keep kids busy.
Sabrina's also offers daycare, summer camp and birthday party options. The studio expects to add yoga classes for kids ages 5-11 years, a storytime with music and puppets for ages 13 months to 3 years old, and a family game night once a month.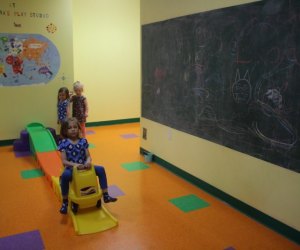 Who doesn't want to take the truck down a slide?
Where: 52-07 Queens Blvd in Woodside, Queens
Open play hours: Monday-Thursday from 9:30am-7:30pm; Friday from 9:30am-5pm; and 9am-11am on weekends.
Cost (Updated Dec. 1, 2017): Drop-in admission is $14 per walking child; $8 for crawlers. Admission covers the entire day. If you opt to leave and come back, there is a one-hour window for reentry. Monthly memberships and loyalty cards are also available.
Check Sabrina's Facebook page for more details, or call (929) 522-0104.
Want to learn more about exploring Sunnyside and Woodside with kids? Mommy Poppins has you covered!
Places featured in this article: