Gertrude Ederle Playground Opens in NYC on Upper West Side
I've paid my dues at New York City's playgrounds after a decade of parenting in this city. My family has visited our share of parks and even ranked our favorites, but we're always looking for our next big adventure. With kids ages 3, 7, and 10, it's no easy task to find a playground where all three are entertained, but our recent visit to the newly opened Gertrude Ederle Playground on West 59th Street was an all-around hit.
Located on Manhattan's west side, Gertrude Ederle Playground offers an escape from the concrete jungle. Nestled behind the recreation center of the same name, the playground packs a ton of fun into its space, which is located between Amsterdam and West End Avenue and spans the width of a full block, with entrances on 59th and 60th Streets.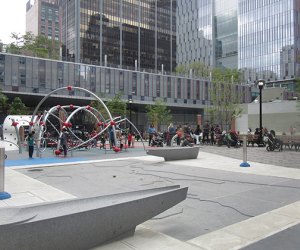 Built on top of what was once an outdoor pool, the playground spans a full block.
The playground has been a long time coming, occupying the space that was home to an outdoor pool that closed in the 1980s. The project required a public-private partnership to cover the $5.18 million renovation cost, with the bulk of that coming from the private developers who have peppered the neighborhood with swanky high-rise apartment buildings.
The playground houses three play areas, catering to kids from ages 2 to 10. My youngest daughter loved the traditional jungle gym, built for 2-5-year-olds, and especially loved the much-closer-to-the-ground monkey bars. Though she never figured out how to traverse their length, she had a ton of fun trying to master a skill she sees her big sister tackle at other playgrounds. There were three slides to swish down, a bridge, stairs to climb, and even a built-in, kid-sized table to share a snack with a friend.
RELATED: Renovated Ramon Aponte Playground in Midtown West Opens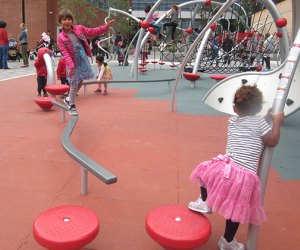 The new playground offers climbing structures for all ages.
My middle daughter delighted in the climbing structures designed for older kids. She scaled the curvy wall over, and over, and over again. There were nets to conquer, a balance beam on which to test her gymnastics training, spinners to ride, springs to bounce on, and more.
A seasonal water-play area divides the two distinct climbing areas and allows a gentle pool of water to collect, providing a cool-down opportunity on summer days. Until the newly planted trees take root, the only shade here is provided by the looming buildings surrounding the play space.
My 10-year-old son is the hardest to please on our outings. He quickly mastered the 5-and-under monkey bars, and scaled the wall that fascinated his 7-year-old sister. He was on the cusp of boredom before heading over to the other side, where a nice-sized turf lawn allowed for room to run or play sports. He found a friend and engaged in a soccer shootout, complaining only when I beckoned him that it was time to leave.
Beyond the ample entertainment, there are plenty of creature comforts to be found. There's a pair of well-maintained bathrooms—changing table included—attached to the rec center, two drinking fountains and plenty of picnic tables and benches for parents. Another feature I appreciated: I could sit on the benches that separate the big-kid climbing structures from the turf field and easily keep an eye on all three kids.
Gertrude Ederle Playground is off the beaten path for those not in the neighborhood, but a worthwhile destination to while away a day, or a fun adventure following a stop at Lincoln Center. For more destination playgrounds, visit our Parks & Playgrounds guide.
All photos by the author.