Tot Town: New Play Space in Crown Heights for Brooklyn Kids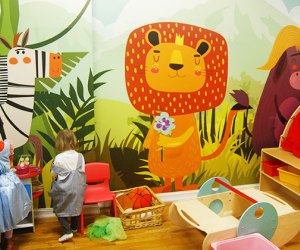 Brooklyn kids have a new place to climb, crawl, and create, but parents will also like Tot Town for the features geared toward them. With touches like cozy couches, free Wi-Fi, and outlets for laptops and phones, parents can relax while toddlers and preschoolers play games, make music, create art, and more. We've got the scoop on Crown Heights' newest play space.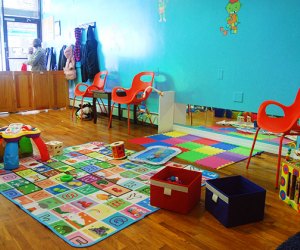 The front room of Tot Town is geared toward babies, with mats on the floor, mirrors at ground level, and soft sensory toys.
Tot Town owner, Nobella Parham, transformed the 1,100-square-foot play space into a bright and airy haven for babies, toddlers, and their parents. The space is divided into two rooms to accommodate varying age groups. Babies will love the front area, complete with bouncers, mats on the floor, wall mirrors at ground level, and sensory toys like a water mat and a bead maze cube.
The larger room in the back is a preschooler's paradise featuring an art corner, dress-up area, book nook, play kitchen, play tent, rocking boat that seats at least four kids, chalk wall, and climbing wall with a mat. Kids will find more toys and puzzles in bins on the shelves, and can make music with their feet on a giant floor piano.
RELATED: 21 Drop-In Play Spaces and Kiddie Gyms for Brooklyn Kids

You can see the climbing wall in the far corner, and part of the art area on the right. Photo courtesy of Nobella Parham.
The expansive grassy turf backyard, which is open year-round, has a small slide, a tunnel to crawl through, a see-saw, and a picnic bench. One entire wall is covered with a mural of trees, which brightens up the space.
Parham envisions parents being able to tend to a baby or get some work done on the computer, or—get this: relax!—in the front room while their older children are playing in the back room. She even hired attendants to work in the back room, helping mind the space and engage kids in activities. At Tot Town, the open playtimes are called "Romp and Relax."
RELATED: Offbeat Brooklyn Baby and Toddler Classes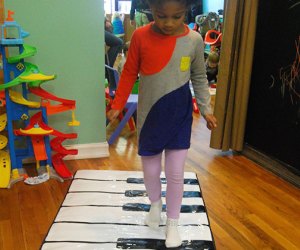 A floor piano even features a record option.
Tot Town welcomes children of all ages, but the toys and space seem best suited for ages 5 and under. My 4-year-old daughter was probably the oldest child there on the day we visited, and I could see her enjoying the space for another year or so but then feeling a bit too old for it.
In addition to its drop-in sessions, Tot Town also hosts yoga, dance, and art classes and even some classes for parents like an upcoming baby CPR session. Not sure if your little one will enjoy a class? Free trial classes are offered, so you can try a class before registering. Tot Town will also host kids' birthday parties and even baby showers.
Good to Know
Open Play hours fluctuate but are available on both weekdays and weekends; the latter depends on party bookings.
Strollers are not allowed inside, and the stroller parking area outside is tight, so bring one that folds up.
Food is not allowed in the back room.
Parents and kids must take their shoes off to enter Tot Town; there are shoe cubbies and coat hooks just inside the front door.
Parents must stay at Tot Town while their children are there.
The bathroom includes a changing table.
Tot Town is located at 636 Classon Avenue in Crown Heights, Brooklyn. Drop-in playtimes are offered during the "Romp and Relax" hours at $12 an hour per child, or $20 for two hours. For two children, one hour is $18 and two hours is $35. A monthly membership that includes unlimited drop-in play is also available. Siblings can earn a discounted rate.
Top image: Kids can play pretend in the play kitchen, on the rocking boat or in the play tent. Unless otherwise noted, all photos by the author.