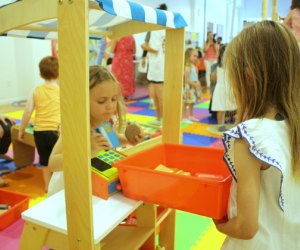 Sunnyside Plays: A New Drop-In Play Space for Queens Kids
Western Queens just gained a new indoor play space for kids with the opening of Sunnyside Plays in, of course, Sunnyside. My family was super excited to have a new indoor playground so close to our neighborhood. In fact, we were amazed when we saw our 7-month-old son start crawling there for the first time. We are already making memories.
The spacious location on 48th Avenue, which just opened this month, is close to Sunnyside Library and Lance Cpl. Thomas A. Noonan Playground. Sunnyside Plays, founded by local parents Ed Kim and Vanessa Quinn, is 1,700 square feet of open, rectangular floor space with 16-foot ceilings. LED track lighting and the studio's vibrant colors give it a refreshing artsy loft feel. Kim and Quinn have art backgrounds and use their knowledge to offer events and classes for kids and adults.
One of the main attractions is a CedarWorks play gym that includes two small slides, monkey bars, a fire pole to slide down, and cubbies to climb through. There are plenty of small toys scattered about for babies and toddlers, including an activity cube, a tunnel to climb through, and soft gym equipment. My oldest daughter loved the colorful art climbing wall. Other attractions include a small climbing web, a kitchen play set and a market equipped with toys, and a play table with trains and cars. For quiet time or a break from play, there are books and a table for coloring.
Note: Currently, there is no separate toddler section, but the whole area is quite little kid friendly. Also, socks are required in the play area, so you'll have to purchase a pair if you forget yours.
Parents will appreciate the cafe area with coffee, non-sugary snacks, juice, and water for sale, as well as chairs and tables where you can sit and watch the kids play.
RELATED: Drop-In Play Spaces and Kiddie Gyms in Queens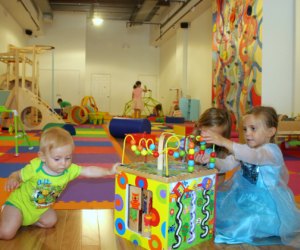 Children have plenty of room to climb, crawl, fiddle, and explore.
Kim refers to his facility as a "flex space," a community space that can be utilized as an indoor playground for families, art area, and events venue. One mom I met there described it as "a refreshing space with artistic sensibility." The art gallery and cafe vibe set it apart from typical play spaces, and Kim says the artwork on the walls will change over time.
The owners say they are open to suggestions from the community in terms of adding to the space. They say the setup will change as the children in the neighborhood grow and change. Right now, the suggested age range is from babies to 7 years old.
Creative classes and events will be added according to demand, and birthday party packages are already available.
RELATED: 11 Favorite Toddler and Baby Classes in Queens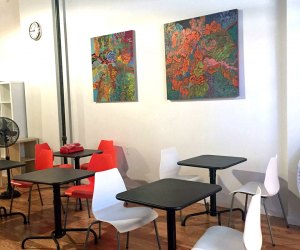 A cafe area serves parents and kids. Photo courtesy Sunnyside Plays.
Sunnyside Plays is located at 43-09 48th Avenue; phone 929-328-0757. It is accessible via the No. 7 train to the 40th or 46th Street stations, the Q39 and B24 buses, and the Brooklyn-Queens Expressway to the 48th Street exit. See the website for directions.
Open-play hours fluctuate but include weekdays and weekend hours, though the latter depends on birthday party bookings. Admission is $15 per child, $7.50 for siblings and crawlers under age 1. Extended hours will begin in September. Stroller parking is available in the front, as are cubbies for shoes. Follow the Sunnyside Plays Facebook page for updates on the latest hours.
Great eats nearby, including de Mole and the newer Cemitas El Tigre.
All photos by the author except where noted.