Maker Spaces for Drop-In Creator Fun with NYC Kids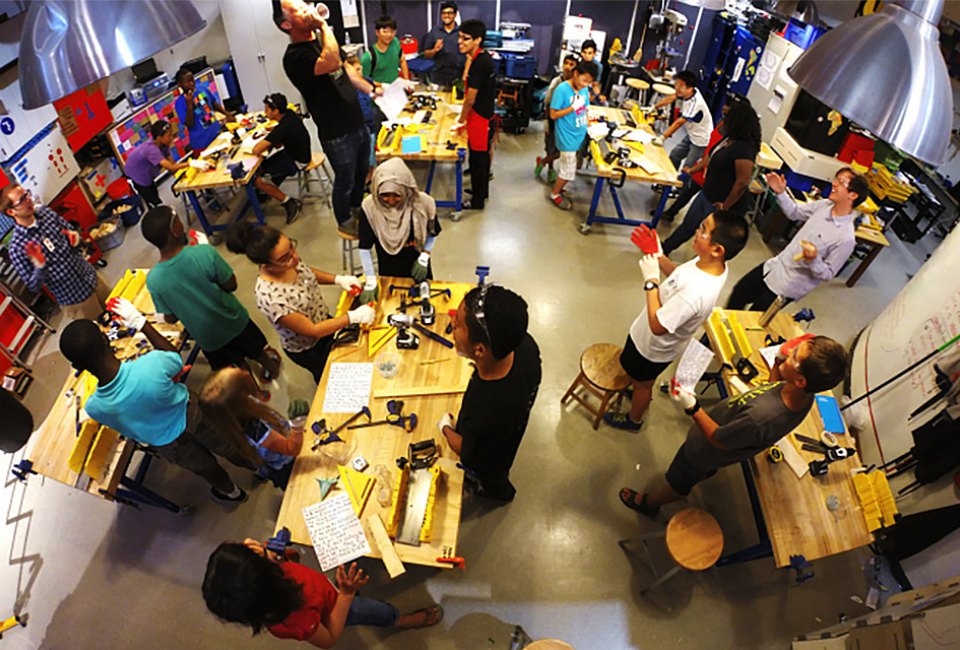 9/17/18
- By
Jody Mercier
The maker movement is alive and well in NYC, annually bringing one of our favorite festivals, Maker Faire, to the New York Hall of Science.
But what to do with your inventive child the other 51 weekends of the year? Of course there are after-school classes, birthday parties, and summer camp options, but for drop-in, one-off workshops and tinkering sessions? Not as many. Still, we've dug in and rounded up nine NYC maker spaces offering chances for year-round STEM-inspired making, building, and creating, from robots to 3D printing and creative coding.
If you're looking for a longer-term commitment, check out our STEM Guide to read up on all the options for maker-inspired camps, classes, and DIY fun.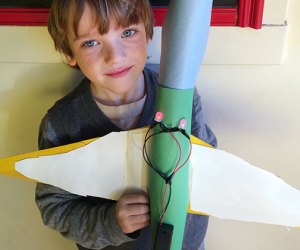 Build a flying plane using circuits at Brooklyn Robot Foundry.
Brooklyn Robot Foundry – Multiple Locations
See website for locations.
This local mini-chain has grown to four locations, and although time at each spot is often filled with regular class schedules and birthday parties, it does host one-off workshops and classes, where kids spend 1½ hours learning about and crafting a robot to take home. Each session offers a variety of bot projects to choose from and costs $65.
Children's Museum of the Arts – Hudson Square
103 Charlton Street
While this space is well-known for its dedication to the arts and arts education, there are plenty of STEM-inspired projects on-site too, which makes it a worthy addition to our list. Little makers can experience the fun of Flubber in the Wee Arts Studio, while older kids can test out the science of sound in the the Sound Booth. The Media Lab allows kids to craft stop-motion animation shorts, edit films, learn photography skills, and more.
The Geek Forest – Williamsburg and Greenpoint, Brooklyn
329 Grand Street
67 West Street
This relative newcomer to the city's maker scene has grown enough to open a second location. Beyond a robust after-school schedule, Geek Forest offers a variety of weekend workshops, many for the whole family and all FREE. Advance registration is required.
RELATED: 9 Robotics Birthday Party Spots for NYC Kids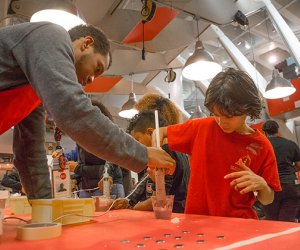 The New York Hall of Science hosts year-round maker workshops, most of which are included in museum admission.
New York Hall of Science Maker Space – Corona, Queens
47-01 111th Street
This Queens mecca for all things STEM debuted its maker space in 2012. Museum educators man the floor to offer drop-in making on weekend afternoons. Most all projects are included in the price of museum admission, and offered on a first-come, first-served basis. Some workshops run a full 90-minute session; others are quicker, drop-in projects families can enjoy at their leisure any time the space is open, currently 1:30-5pm on Saturday and Sunday afternoons. My kids always anticipate our arrival at the Maker Space.
The Makery – Flatiron
39 West 19th Street
The Makery offers a series of one-off workshops, most appropriate for children ages 10 and older. Prices start at $55 per workshop. Aside from its storefront, which currently houses an out of this world puzzle experience, The Makery offers occasional pop-up locations at unexpected spots, turning abandoned storefronts into hubs of creative activity. Visit its Eventbrite page for upcoming workshops.
Pixel Academy – Cobble Hill, Brooklyn
163 Pacific Street
Pixel Academy is well-known for its robust after-school and summer camp offerings, but weekends mean drop-in fun. Parents and kids alike can participate in the weekends-only Family Makerspace, where you'll have access to 3D printers, laser cutters, and more. Kids ages 7-14 can also drop in for two hours of safe, supervised gaming time on weekends.
RELATED: Tech Camps in NYC for Tots to Teens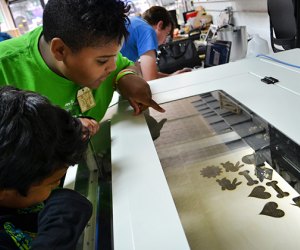 Use a laser cutter to create your designs at Skill Mill NYC.
Skill Mill NYC and Dazzling Discoveries – Upper West Side
Skill Mill NYC, 949 Amsterdam Avenue, between 106th and 107th Streets
Dazzling Discoveries, 971 Columbus Avenue, at 108th Street
Skill Mill NYC caters to an older crowd, but if you've got teens or want to try your own hand at making, this spot offers some serious machinery. Onsite 3D printers and laser cutters are available to bring your digital creations to life, and Skill Mill staff offer design consultations to make sure your creations work with its machines before they set them to print. Weeknight evenings offer a variety of workshops from introduction to laser cutters and 3D printers, to sewing workshops. On Tech Tuesdays, visitors can experiment with Arduino controllers or other tech projects. Weekend workshops are geared at ages 6 and older and meant for a parent and child to attend and make together. If you've got younger kids, check out the sister location, Dazzling Discoveries, which has a robust after-school schedule and vacation camp options, and offers plenty of STEM-inspired birthday party options.
Skyscraper Museum Family Programs – Battery Park City
39 Battery Place, near West Street
The museum's Saturday morning family programs cost just $5 per child and feature hands-on activities and educational themes. The museum requests you RSVP by Friday at 5pm for the following day's workshop. Workshop descriptions denote appropriate age ranges; most are all-ages, though some cater to older kids.
Tech Kids Unlimited – Brooklyn Heights, Brooklyn
2 Metrotech Center, Eighth Floor
This local nonprofit offers tech classes to "Kids Who Learn Differently," focusing its work on special-needs learners. Weekend workshops are held on Sunday afternoons and focus on a different theme each week, providing both tech learning time as well as social time, as attendees enjoy burgers or pizza for dinner. Weekend workshops cost $55 per session, though need-based financial aid is available. Visit the website for more information and to register.
Photos courtesy of the venues/organizers