Best Winter Shows for NYC Kids: Dinos, Circus Acts, Peter Pan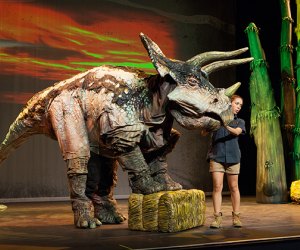 Winter 2017 in New York City is loaded with cool children's theater. Recently, we spotlighted a pair of high-profile family musicals coming to Broadway this season: long-running London hit Charlie and the Chocolate Factory and a screen-to-stage adaptation of the animated movie Anastasia.
But you don't need to shell out big bucks to give your kids a memorable live entertainment experience in NYC—plenty of engaging family productions are playing Off-Broadway for a lot less. This winter there are wonderful options for toddlers to tweens, including interactive shows created specifically for the preschool set (Shadow Play and Ear, Nose, and Tail ), eye-popping spectacles for all ages (Erth's Dinosaur Zoo Live and Cirque-tacular's Snowkus Pocus), and stage adaptations of popular picture books such as Elephant & Piggie and Please Bring Balloons. Best of all, most of these shows cost $25 or under, so you can take the whole family for less than the price of one Broadway ticket.
Click through to our listings for all the details, including prices, schedules, and locations.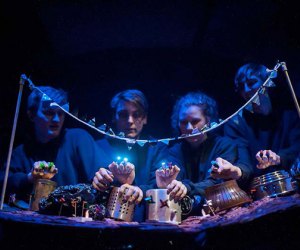 The puppet show Argus captures kids' imagination with everyday items—and maybe a little magic. Photo courtesy of Dead Puppet Society.
Argus — Lincoln Square
Saturday, January 14
Ages 6 and older
Celebrated Australian tabletop puppet theater company (with the best name ever!), Dead Puppet Society, brings this whimsical adventure to Lincoln Center Kids. Everyday items such as bottles, flowerpots, plastic bags, and the puppeteers' own hands transform into a fantastical world in which a tiny outcast tries to find a place to belong. The miniature visuals are magical, as is watching the endless inventiveness of the artists.
Oh Boy! — Midtown West
Through Sunday, January 15
Ages 10 and older
After touring Europe with the original French edition of this solo show, France's Théâtre Du Phare makes its United States debut at the New Victory Theater with an English version of this rich examination of what defines a family. When three nerdy young brothers are suddenly orphaned, will their 20-something gay half-sibling step up and keep the family together? Oh Boy! explores some complicated subjects head-on, including death, sexual orientation, and the responsibility of raising kids. But it's told in a relatable, visually stimulating way, with one versatile performer inhabiting all the characters. Based on Marie-Aude Murail's novel of the same name, it's a great way to prep middle-schoolers for more mature theatrical fare.
Cirque-tacular's Snowkus Pocus: Enchant The Spring — East Village
Thursday, January 19-Sunday, February 5
Ages 3 and older
Yes, Ringling Bros. and Barnum & Bailey is doing its farewell tour stop at Barclays. But if you're looking for a more intimate circus experience, consider this seasonal spectacle from NYC-based troupe Cirque-tacular at the 14th Street Y. A fusion of classical dance, impressive acrobatics, and fairy-tale design, Snowkus Pocus follows a young girl who's whisked away to an enchanted winter wonderland, where she meets colorful and kooky characters. Expect breathtaking visuals to tell this wisp of a tale which, at 70 minutes, moves quickly enough to please fidgety tots.
The History Mystery — Chelsea
Friday, January 20-Monday, February 20
Ages 3 and older
Just in time for the inauguration of our 45th president comes this nonpartisan musical about some of the greatest political figures in our nation's history. The twist? We meet Eleanor Roosevelt, Martin Luther King Jr., Ben Franklin, the Wright brothers, and some Suffragettes when they were kids, as portrayed by the very talented tykes of TADA! Youth Theater's Resident Youth Ensemble. Find out what inspired these men and women to grow up to make a difference while enjoying some toe-tapping original tunes in this little kid-friendly, hourlong production.
Sandglass Theater: Punschi — Upper West Side
Saturday, January 21
Ages 2-6
Symphony Space presents a pair of puppet tales for very young children. In Kasper and the Surprise, Kasper is prepping to go on a trip, but when a cow steals his suitcase he and giant pal Augustin go after the sneaky bovine. In Fritzi's Flea Circus, a minuscule flea with humongous talent does all the feats himself—he even gets shot out of a cannon.
Elephant & Piggie's We Are in a Play — Midtown West
Saturday, January 28-Sunday, February 5
Ages 4-7
Two of Mo Willems' most beloved kid-lit characters leap from the page to the stage in this hourlong musical at the New Victory Theater. Young fans of the Elephant and Piggie book series will love watching these BFFs tackle relatable questions such as, should you share your ice cream, and how can two friends play with one toy? Best of all, the actors aren't saddled with big-headed character costumes. The performers sell the stories and songs using talent and good old imagination.
Shadow Play — Lincoln Square
Sunday, January 29 and Saturday, February 4
Ages 2-5
Apparently Peter Pan isn't the only one with an unruly shadow. In Trusty Sidekick Theater Company's nearly wordless solo show at Lincoln Center Kids, a boy named Flash has just moved into his new home, but his shadow isn't ready to stay put. When he's asleep, it takes off into space for destinations unknown. The various environments and special effects are conjured by a combination of high-tech (projections) and low-tech (a cardboard box TV) trickery, leaving viewers of all ages dazzled by the creativity on display.
Erth's Dinosaur Zoo Live — Greenwich Village
Saturday, February 4-Sunday, February 5
Ages 3 and older
If you know any dino lovers, this show at the Skirball Center is for them. Meet an incredibly lifelike collection of prehistoric creatures, brought to life via realistic puppets and skilled puppeteers. Developed by Erth Visual & Physical of Sydney, Australia with expert advice from working paleontologists, this educational theatrical adventure gives audiences an in-depth look at these extinct creatures. VIP packages come with a pre-show meet and greet during which guests can actually touch the dinosaurs.
RELATED: January GoList: Best Things to Do This Month with NYC Kids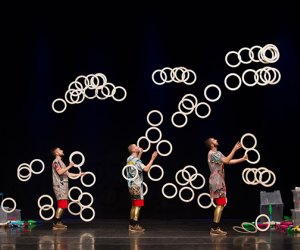 Who knew juggling could be so artistic? The performers in Water on Mars, that's who. Photos by Einar Odenkrans/courtesy of The New Victory Theater.
Water on Mars — Midtown West
Friday, February 10-Sunday, February 26
Ages 5 and older
This Swedish trio takes juggling to the next level. Forget defying gravity with pins and balls, though they're plenty skilled throwing those around. These guys conjure eye-popping visuals by tossing open bottles of water, bags of candy, and toilet paper into the air so their contents stream out to a hypnotic electro-pop soundtrack. Who knew juggling could be so amusing and diverse? Good luck stopping the kids from trying this at home.
NOTE: We're hosting a Mommy Poppins readers' night on Monday, February 20, aka, Presidents Day, for this show, which comes with special activities, including a post-show tutorial with a teaching artist and a 25% ticket discount.
Coyote's Dance — Fort Greene, Brooklyn
Saturday, February 11
Ages 4-10
Dance-theater troupe Treehouse Shakers presents a Native American-influenced spectacle about Coyote as he embarks on a seriocomic journey at the Kumble Theater. Performers sport Native-style costumes and headdresses, and move to percussive music. It's a wonderful way for school-age children to get a taste of the culture of our nation's indigenous people.

Set in Africa, Baobab teaches kids how to make an impact in their communities. Photo by Robert Etcheverry/courtesy of Lincoln Center.
Baobab — Lincoln Square
Saturday, February 11
Ages 6 and older
Canada's Théâtre Motus brings this African folk tale to Lincoln Center Kids about a magical young boy born of a Baobab tree who has the power to end a devastating drought. This interactive hero's journey features live music, actors, masks, and puppets, and reminds the kids in the audience they too can make a difference in their communities.
Do Not Disturb — Fort Greene, Brooklyn
Saturday, February 11-Sunday, February 12
Ages 6 and older
And you thought putting together Ikea furniture was hard. In Granada-based troupe Vaivén Circo's wordless comedy, a quartet of factory workers attempts to assemble a gigantic wheel with hilarious results. Think Buster Keaton meets acrobatic clowns. Got a kid with sensory sensitivities? New this season, BAMkids is offering "relaxed performances" for this show and others, featuring lower volume and house lights, and the elimination of sudden theatrical cues.
The Bookbinder — Lincoln Square
Saturday, March 4
Ages 7 and older
Halloween may be months away, but this macabre mystery about a bookbinder who gets lost in a bad (read: evil) tome is reminiscent of tales by Tim Burton and Neil Gaiman. The hourlong solo show uses shadow and traditional puppetry, paper art, and creepy music to recount this sinister story that puts the "boo" back in books.
Love That Dog — Midtown West
Saturday, February 18-Sunday, March 5
Ages 8 and older
Aimed at school-age audiences, New York City Children's Theater's stage adaptation of Sharon Creech's book of the same name was inspired by the late Walter Dean Myers' poem "Love That Boy." Jack doesn't like to write, and constantly resists his teacher's urgings to try. But as she feeds him various prompts, he discovers he actually has a lot to say, especially about his beloved canine. It's a celebration of unlocking the creativity we all have deep within.
Please Bring Balloons — Midtown West
Tuesday, February 21-Sunday, March 5
Ages 2-5
New York City Children's Theater debuts a new show inspired by Lindsay Ward's picture book of the same name, about a little girl who helps a carousel animal realize his dream of flying. Due to its whimsical story and half-hour run time, this interactive, multisensory experience is ideal for first-time theatergoers.
Ear, Nose, and Tail — Park Slope
Saturday, February 25-Sunday, February 26
Ages 0-5
Another dog story, though this one is about a pup with an identity crisis. Brooklyn-based Spellbound Theatre specializes in shows for very young audiences, eschewing dialog for potent visuals crafted by shadow puppetry, animation, and projection, as the canine transforms into whatever he wants. Tots, who are constantly in the midst of changing, will undoubtedly relate.
Wonderland: Alice's Rock & Roll Adventure — Chelsea
Saturday, March 4-Sunday, March 26
Ages 8 and older
The venerable Atlantic for Kids mounts a rock 'n roll take on Lewis Carroll's iconic tale about a girl trying to march to the beat of her own drum in a mixed-up surreality. In this iteration, band members double as all the crazy characters Alice encounters. Bring your imagination...and maybe earplugs.
Olive & Pearl — Flushing, Queens
Saturday, March 18
Ages 2-5
Another show for tots from Treehouse Shakers, this immersive piece at Flushing Town Hall invites young audiences into the home of a little girl named Olive and her loving grandmother, Pearl. Viewers actually sit in the performance area, made of soft felts, crocheted squares, and colorful fabrics, as they get to know these ladies and witness their unbreakable bond. A related pre-show workshop features puppet-making and storytelling activities.
La Cordonnerie: Snow White or the Fall of the Berlin Wall — Midtown East
Saturday, March 18-Sunday, March 19
Ages 8 and older
Part of the Alliance Francaise/French Embassy's second annual Tilt Kids Festival of edgy family art, this theater-cinema hybrid resets Snow White in 1989 Berlin—the year the Wall came down. This reinvention of the iconic tale examines the drama of being a teenager raised by a step-parent in an unstable environment. Live sound effects, music, and narration are performed in front of an original film, fusing the two art forms for a unique storytelling experience.
RELATED: Winter Fun Guide: Family Events and Activities in NYC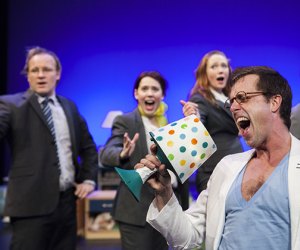 Grown-ups toss aside adulthood for a while in The Peter Pan Experience. Photo by Joost Milde/courtesy of BAMKids.
The Peter Pan Experience — Fort Greene, Brooklyn
Saturday, March 18-Sunday, March 26
Ages 7 and older
Parents may enjoy this physical theater piece just as much as their kids—maybe more. Five grown-ups are thrust into a world of childlike wonder, in which long-forgotten toys, music, and other old favorites materialize out of nowhere thanks to the powers of Peter Pan. The brainchild of Dutch children's theater company Het Laagland, this BAMkids show is all about rediscovering the joys of play and casting off the cage of adulthood. We could use that.
PAW Patrol Live! Race to the Rescue — Midtown West
Thursday, March 23-Sunday, March 26
Ages 2 and older
Paw Patrol, the preschooler TV sensation, arrives on the stage for the first time with this musical, featuring all those friendly, active pups eager to save the day. Expect plenty of singing and dancing as the Paw Patrol gang works together to solve the mysterious disappearance of the town mayor. The touring show plays at the Theater at Madison Square Garden with live actors in costume mixed with Bunraku-style puppetry.
The Lightning Thief: The Percy Jackson Musical — Greenwich Village
Thursday, March 23-Saturday, May 6
Ages 7 and older
We're longtime fans of Theatreworks USA, a national touring company that produces high-quality family shows, usually based on popular picture books like Junie B. Jones and Skippyjon Jones. Back in 2014, in an effort to attract older audiences, the troupe debuted a rollicking one-hour musicalization of Rick Riordan's YA novel The Lightning Thief. Now, after years of development, a full-length version of the tuner is returning to NYC for a commercial Off-Broadway run with new songs, an expanded script, a larger cast, and a live band. We really loved what we saw the first time, especially the humor-filled rock 'n roll songs, so we can't wait to check out this brand-new incarnation. If it's anything like the last one, your tweens won't need to have read the book to follow the adventures of a 12-year-old, modern-day demigod who overcomes challenges both mythical (Medusa, Hades, the Furies) and earthbound (dyslexia, ADD) with a little help from his powerful pals.
Top photo: Watch dinos take to the stage in Erth's Dinosaur Zoo Live at the Skirball Center. Photo courtesy of the venue.