Best Carousels in NYC: 13 Merry-Go-Rounds City Kids Love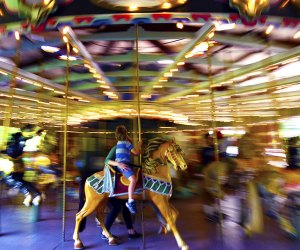 4/27/21
- By
Anna Fader
There's something wonderfully nostalgic about kids getting a thrill from a ride on a carousel. It's the simplest of amusement park attractions, and there are more than a dozen merry-go-rounds in New York City alone. It's easy to stumble upon them on your next park outing.
Each city carousel offers a unique spin on this traditional kiddie ride, from harbor views to a ride inside an iridescent fish. We've rounded up the best merry-go-rounds in all five boroughs.
NYC Carousels in Manhattan
Hudson River Park, Pier 62, 23rd Street at the Hudson River
Open Thursdays through Sundays from April to October; hours vary
Kids can take a whirl alongside the Hudson on one of the beautifully carved animals, most indigenous to our area (Atlantic sturgeon, harbor seal, horseshoe crab—we're guessing the butterfly unicorn is not from around here). A green roof decorated with twinkling LED lights adds to the magic.
Open daily weather permitting
All NYC families know about this famous merry-go-round in the city's most famous park of all. With nearly life-size horses, it's one of the largest in the country. It's surprisingly speedy, so consider riding in one of the chariots if your kid's not a speed demon.
RELATED: Hidden NYC: 23 Fun Things To Do in Central Park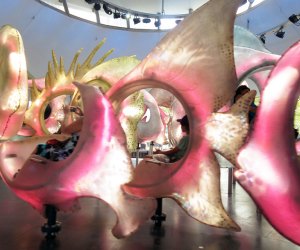 The SeaGlass Carousel is a stunning sight, especially after dark. Photo by Jody Mercier
Open year-round; follow the Facebook page for current hours, which change with the seasons.
More than a decade and $16 million in the making, this custom-designed ride opened in August 2015 as part of the Battery's overhaul. Its sea theme is a nod to the site's history as the original location of the New York Aquarium. Riders step into 30 tall (some up to 13 feet), iridescent fish that seem to swim inside a giant nautilus shell, thanks to a quartet of rotating turntables. Glowing lights, soothing classical music, and aquatic sound effects complete the virtual underwater experience. Note: Kids less than 42 inches tall must ride with a grown-up.
RELATED: Best Amusement Parks for NYC Preschoolers

The more compact, slower Le Carrousel in Bryant Park is ideal for preschoolers. Photo by Marco via Flickr.
Open daily year-round weather permitting
This petite, European-style merry-go-round in Bryant Park features a menagerie of animals in addition to horses. Open daily year-round, it's a top attraction for families visiting this popular Midtown West park that's flanked by the city's central library. It spins very slowly to French cabaret music, making it ideal for younger children.
RELATED: Spring Fun Guide for NYC Families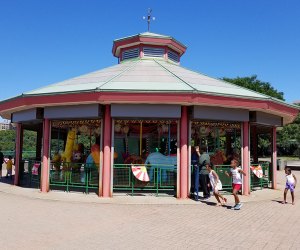 Riverbank State Park's Totally Kid Carousel is a whimsical piece, with each animal brought to life by a child's artwork. Photo by Jody Mercier
Open May-October; hours vary
Local artist Milo Mottola built this funky carousel in Riverbank State Park based on children's drawings of animals, making it truly one of a kind. It's gorgeous, with stunning views of the Hudson River and the George Washington Bridge. Be warned: Hours are sporadic, even in the summer.
RELATED: Best Things to Do in Coney Island With Kids: Luna Park, Aquarium, Beach, Mermaids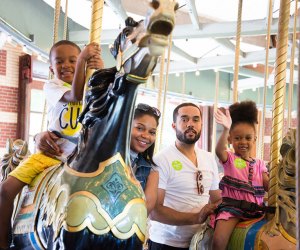 The Prospect Park Carousel makes for a great stop after the zoo or playground. Photo by Paul Martinka
NYC Carousels in Brooklyn
Use the Willink park entrance at Ocean and Flatbush Avenues and Empire Boulevard
Open late April through mid-November
Almost as famous as its Central Park counterpart, this classic carousel, featuring 53 carved animals, opened in Brooklyn's Prospect Park in 1912. It's also wheelchair-accessible. Stop by after checking out the adjacent Prospect Park Zoo or one of the park's many playgrounds.
Open daily June through August; weekends in April, May, September, and October. Park hours vary
Built in 1919, this historic relic from Coney Island's past was saved from the auction block in 2005 by the Bloomberg administration. After a painstaking restoration, the merry-go-round was installed in a pavilion with ocean views alongside the derelict Parachute Jump. Operated by Luna Park, it's a stone's throw from the Brooklyn Cyclones MCU Park.

Jane's Carousel is housed in a stunning waterfront location in Brooklyn Bridge Park. Photo by Justin Kiner via Flickr
Hours vary by the season; visit the website for current hours
It was a project that took years and millions of dollars, but Jane's Carousel—formerly on stationary display in a gallery at 56 Water Street—has been installed and spinning at Brooklyn Bridge Park since September 2011, much to the delight of local Brooklyn families and tourists alike. It serves gorgeous harbor views and is a great spot for a little one's birthday party.
NYC Carousels in Queens
Open April-October; hours vary; visit the website for details
This merry-go-round, which was cobbled together from two other carousels, debuted at the 1964 World's Fair. Some kids might enjoy the wind whipping through their hair, while others will be stoked to ride a giant lion. Since 2013, it has served as the centerpiece of the mini-amusement park Fantasy Forest in Flushing Meadows Corona Park.
Open late April-October; hours vary; visit the website for details.
Ride one of the 49 horses, a tiger, or even a chariot at this carousel. Hours are limited in the spring and fall, but it generally opens every day during the summer months. You'll also find a few games and other mini rides here, such as the Woodhaven Express train ride and a kid-sized Ferris wheel.
RELATED: See Bronx Zoo Like a Local: Top Tips for a Great Visit With Kids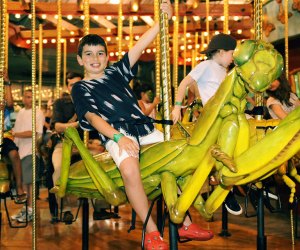 Insects like this praying mantis take center stage at The Bug Carousel at The Bronx Zoo. Photo by Julie Larsen Maher for the WCS
NYC Carousels in the Bronx
Open year-round during normal zoo hours
Don't get creeped out when your kids ride these giant insects at the Bronx Zoo. They're actually cool, and kids can't get enough of the Bronx's only year-round carousel.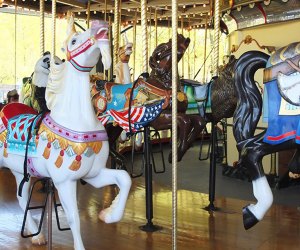 The Carousel for All Children on Staten Island offers rides for those with disabilities, too. Photo courtesy of the Greenbelt Conservatory
NYC Carousels in Staten Island
Open May-October
This gorgeous Victorian carousel in Willowbrook Park stands by its name, accommodating children with physical disabilities. Hop aboard one of the 51 colorfully painted animals, including a giraffe and a gorilla, to enjoy the 2-minute, counter-clockwise spin.
Open select hours year-round weather permitting.
The zoo debuted this merry-go-round in summer 2014. Housed inside a glass pavilion, the carousel features two dozen wooden creatures to ride, including a Komodo dragon, koala, rhinoceros, polar bear, and an anteater-like tamandua. All were handcrafted by Ohio-based Carousels & Carvings.
Headed to the beach this summer? Find out where else you can go round-and-round with our roundups of Long Island and New Jersey carousels.
A version of this post was published in 2017; it has been updated for 2022.