Battery Park City with Kids: 25 Fun Things To Do with Kids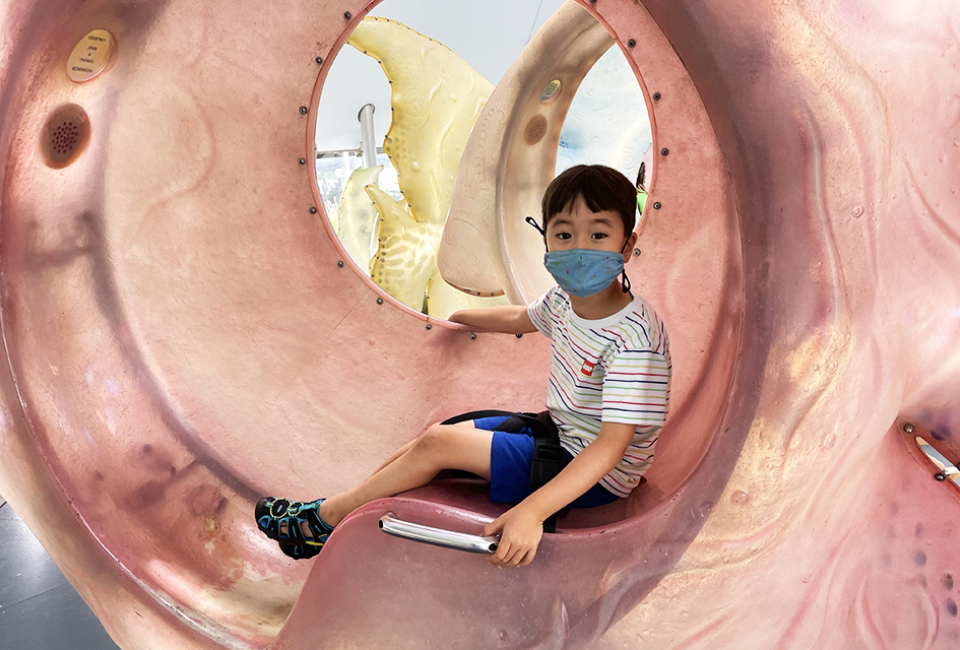 6/27/22
- By
Andy Fenwick
Battery Park overflows with so many family-friendly things to do, it's hard to imagine Battery Park City didn't exist 50 years ago. Built on a landfill, this planned community of high-rise apartment buildings features beautiful parks and a show-stopping riverside esplanade along the southwestern tip of Manhattan. It offers an almost suburban existence, complete with excellent schools, ample shopping, and plenty of parks.
Residents have to cross West Street (aka the West Side Highway) to get to the subway, Whole Foods, and all of Tribeca, but it's not a bad tradeoff for those who dream of a giant communal backyard with river views. And oh, the playgrounds!
There's little mystery why Battery Park City pops up in our picks for day trip itineraries for preschoolers, our list of the best NYC play fountains, and our favorite destination-worthy playgrounds. Read for the best things to do in Battery Park City with kids.
For the purposes of this post, our geographical boundaries are Chambers Street to the north, West Street to the east, and the Hudson River to the west and south.
RELATED: Best Children's Museums in NYC for Families to Visit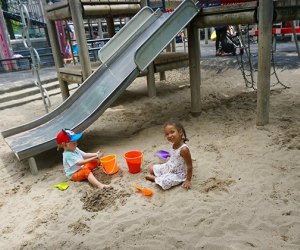 Rockefeller Park has several sandboxes, making it a hit with tots and preschoolers. Photo by Jody Mercier
1. Visit Rockefeller Park
Play in one of three age-based areas and take a spin on the manual merry-go-round at the destination playground in Rockefeller Park.

The Battery Playscape is a nature-inspired playground. Photo by Jody Mercier
2. Explore Battery Playscape
Check out the Battery Playscape, a multi-level playground that will inspire, challenge, and entertain kids of all ages.
3. Cool Off at Teardrop Park
Slip down the giant slide, roll down the hill, and get wet in the geysers at Teardrop Park.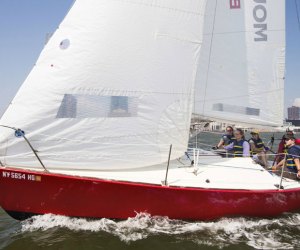 Learn to sail on a J/24 sailboat, a popular boat for beginners and experienced sailors. Photo courtesy of Manhattan Sailing School
4. Sail a Boat
Learn how to captain your own ship at Manhattan Sailing School.
5. Hang Out at Brookfield Place
After a little shopping, attend one of the many FREE family-friendly events at Brookfield Place.
6. Replenish at Hudson Eats
Hungry? One level above the Winter Garden at Brookfield Place, head to Hudson Eats. It's one of our favorite food halls for an easy meal.
RELATED: Best Free Annual Parades in New York City for Kids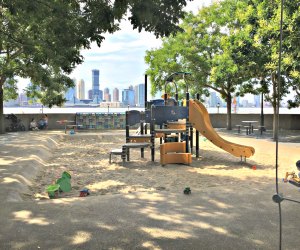 The Kowsky Park Playground is perfect for toddlers. Photo by author
7. Take Toddlers to Play
Just south of the marina and up some steps, find the Kowsky Park Playground, which isn't just one of the best toddler-specific playgrounds in Battery Park City, but one of the best in all of Manhattan.
8. Take a Moment to Reflect
Check out the Garden of Stones by Andy Goldsworthy at the Museum of Jewish Heritage.
9. Get Active
Cycle, scoot, or stroll along the Hudson River on The Esplanade. Stop at the marina and grab a bite while playing some shuffleboard at Tartinery's outdoor setting.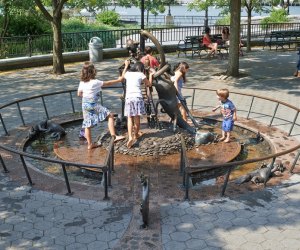 Each Tom Otterness sculpture seems to have its own fantastic story to reveal. Photo by Tom Powel Imaging
10. Interact with Public Art
Battery Park City is filled with kid-friendly, immersive art, from the playful Tom Otterness sculptures in Penny Park (officially called The Real World) to the playground-sized, ruin-like The Upper Room, on the esplanade, off Albany Street. Don't miss Shuli Sadé's Bird's-Eye View, Battery Park City's first art installation to use augmented reality.
11. Discover a Hidden Playground
Open most weekends, PS 89's playground, on Warren Street, offers toddler-friendly things to do, plus two basketball hoops.
12. Go Fishing
Find the fishes in the pretty little koi pond just south of the Nelson Rockefeller Park Playground. There are no railings, so hold toddlers by the hand!
RELATED: Statue of Liberty Tour: Visiting Lady Liberty and Ellis Island with Kids

The revamped Battery Park City Library hosts popular storytimes and more family events. Photo courtesy of New York Public Library
13. Relax at the Library
Arrive early to snag a spot at the popular children's programs at the Battery Park City Library, or just enjoy reading.
14. Join the New York Kids Club
Drop in on a class or join a program at the local New York Kids Club.
15. Enjoy a Meditative Respite
Explore the winding pathways and the architects-meet-artists' installation stairway (informally known as the widow's walk) at South Cove.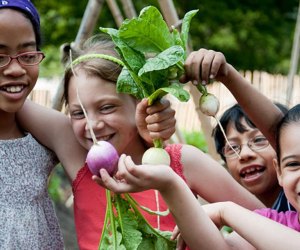 Get involved in the Urban Farm to learn about sustainable farming. Photo courtesy of The Battery
16. Visit the Urban Farm
Learn about sustainable farming and enjoy tasting organic fresh foods at the Urban Farm, which is supported and maintained by students and community groups.
17. Catch a Flick
See a movie at the never-crowded Regal Battery Park Stadium 11 cinemas with its reclining seats.
18. Nosh on Snacks
Head downstairs from the movie theater to Goldman Alley to refuel at Shake Shack, Harry's Pizza, Pick a Bagel, or Wei West.
RELATED: Visiting Governors Island: 20 Secrets for Things To Do and See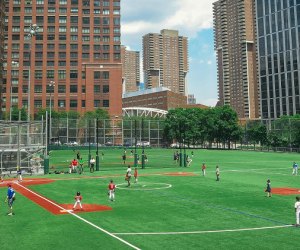 Kids play all sorts of sports year-round on the ball fields. Photo courtesy of Battery Park City Parks
19. Play Sports
Play sports on the Battery Park City ball fields. Or climb, swing, and play basketball at Battery Park City's West Thames Park.
20. Go Ice Skating and Swimming
In winter, go ice skating at Brookfield Place's Waterfront Plaza or enjoy all-seasons swimming on a day pass to Asphalt Green or Stuyvesant High School's Community Center.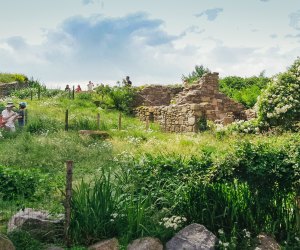 Stroll through the Irish Hunger Memorial, decked out with a bit of Irish countryside. Photo courtesy of Battery Park City Parks
21. Learn About Irish History
Enter an immersive Irish countryside at the Irish Hunger Memorial and learn about the plight of the potato famine.
22. Enjoy the View While Dining Outdoors
Dine outdoors with harbor views while the kids play within sight at Gigino, overlooking Robert F. Wagner Jr. Park.
23. Take a Spin on Magical Fish
The lower end of Battery Park City leads to all sorts of cool kids' stuff at the Battery itself, like the SeaGlass Carousel.
RELATED: Free Boat Rides in the City: Where to Go Canoeing, Sailing, and Kayaking in NYC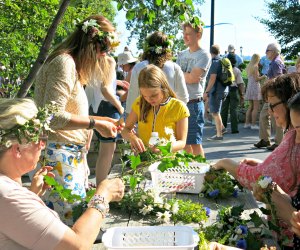 Make flower wreaths at the Swedish Midsummer Festival. Photo courtesy of Battery Park City Parks
24. Attend a Festival
Experience awesome annual family events like the Battery Dance Festival, or the Swedish Midsummer Festival.
25. Learn About Architecture
Visit The Skyscraper Museum and learn about the architecture of the city at Saturday morning family programs.
Read our other posts about exploring Battery Park City with kids, or visiting another Manhattan neighborhood, such as Chelsea or the West Village.
Originally published in 2017.
Click Here to Sign Up!
i