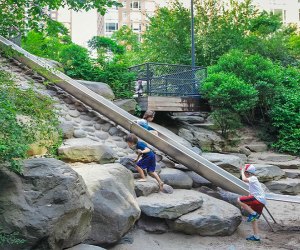 Battery Park City with Kids: Best Things to Do in this Manhattan Nabe
It's hard to imagine that Battery Park City didn't exist 50 years ago. Built on landfill, this planned community of high-rise apartment buildings features beautiful parks and a show-stopping riverside Esplanade along the southwestern tip of Manhattan. It offers an almost suburban existence right in Manhattan, with two excellent, BPC-zoned public schools, small supermarkets, and chain pharmacies.

Residents have to cross West Street (a.k.a. the West Side Highway) to get to the subway, Whole Foods, and all of Tribeca, but there are three pedestrian bridges across the highway, one underground pedestrian tunnel from the World Trade Center Oculus, and via a free shuttle bus. It's not a bad tradeoff for those who dream of a giant communal backyard with river views. And oh, the playgrounds!
There's little mystery why Battery Park City pops up in our 5 NYC Day Trip Itineraries Perfect for Preschoolers, our guide to NYC play fountains, and top NYC playgrounds with shade.
Of course, desirability means BPC has become an affluent neighborhood of luxury apartment buildings, but anyone can enjoy the neighborhood's attractions, or sign their kids up for FREE or low-cost programs offered there. Local families stay connected through the HRPMamas group and keep up on all the area news with the Battery Park City Broadsheet.

For the purposes of this post, our geographical boundaries are Chambers Street to the north, West Street to the east, and the Hudson River to the west and south. Here they are: the top 25 things to do with kids in Battery Park City.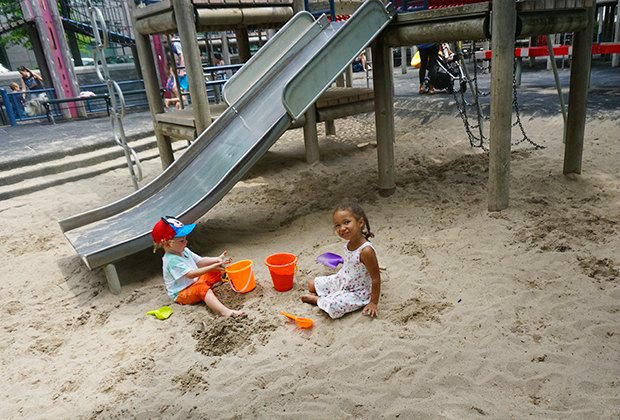 Rockefeller Park has several sandboxes, making it a hit with tots and preschoolers. Photo by Jody Mercier
1. Play in one of three age-based areas and take spin on the recently refurbished, manual merry-go-round at the destination playground in Rockefeller Park. Nearby, you can rent board games or sports equipment at the Battery Park Conservancy Parkhouse.
2. Slip down the giant slide, roll down the hill and get wet in the geysers at Teardrop Park. Midweek, kids ages 5 and up can play organized games or complete art projects at Wednesdays at Teardrop.
3. Attend a free, holiday-themed event like Santa's Winter Garden (2017 TBA) or the Brookfield Place Halloween Party (also 2017 TBA), in the giant indoor Winter Garden at Brookfield Place.
4. Hungry? One level above the Winter Garden, head to Hudson Eats. It's one of our six family food courts that make mealtime easy.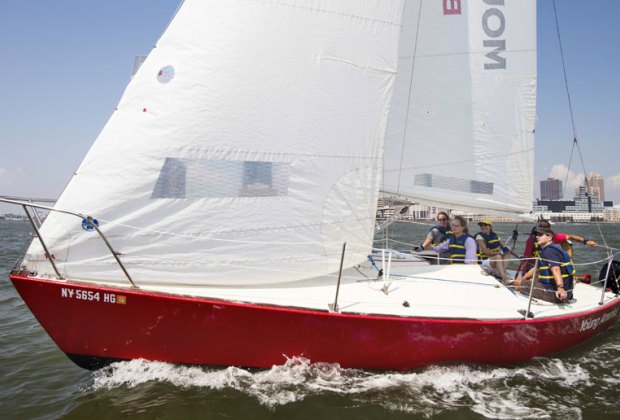 Learn to sail on a J/24 sailboat, a popular boat for beginners and experienced sailors. Photo courtesy of Manhattan Sailing School
5. Learn how to captain your own ship at Manhattan Sailing School's junior sailing programs.
6. Check out the Garden of Stones by Andy Goldsworthy at the Museum of Jewish Heritage.
7. Cycle, scoot, or stroll along the Hudson River on the Esplanade. Stop at the marina and grab a bite while playing some shuffleboard at Tartinery's outdoor setting.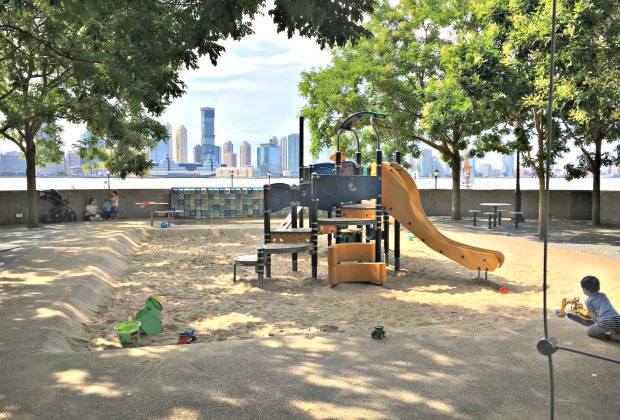 The Kowsky Park Playground is perfect for toddlers. Photo by author
8. Just south of the marina and up some some steps, the Kowsky Park Playground isn't just the one of the best toddler-specific playgrounds in BPC, but one of the best in all of Manhattan.
9. There's another hidden playground! Open most weekends, PS 89's playground, on Warren St, offers toddler-friendly features and two basketball baskets.
10. Find the fishies in the pretty little koi pond just south of the Nelson Rockefeller Park Playground. No railings, so hold toddlers by the hand!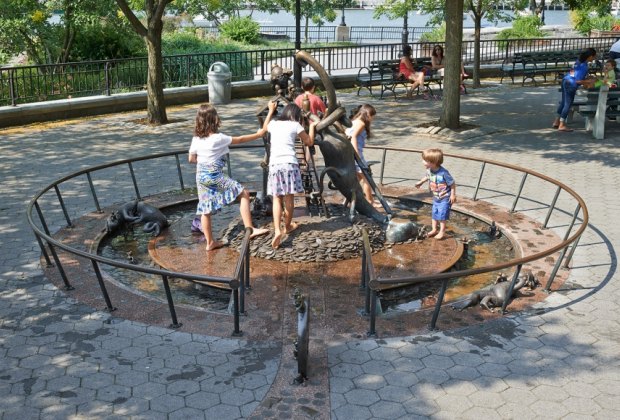 Each Tom Otterness sculpture seems to have its own fantastic story to reveal. Photo by Tom Powel Imaging
11. Battery Park City is filled with kid-friendly, immersible art, from the playful Tom Otterness sculptures in Penny Park (officially called The Real World) to the playground-sized, ruin-like The Upper Roomo, on the esplanade, off Albany Street.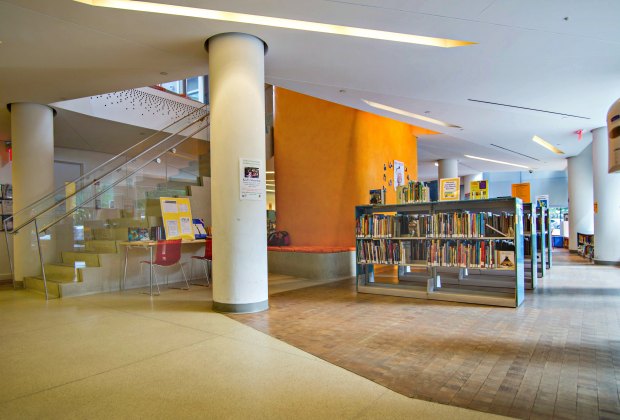 The revamped Battery Park City Library hosts popular storytimes and more family events. Photo courtesy of New York Public Library
Arrive early to snag a spot at the popular children's programs at the Battery Park City Library, or just enjoy reading at one of NYC's newest—and newly renovated in 2017—branches.
13. Enjoy FREE or low-cost programs like preschool play, sports, gardening, chess and more for all ages offered by the Battery Park City Parks Conservancy.
14. See a movie at the never-crowded Regal Battery Park Stadium 11 cinemas, completely refurbished with reclining seats for 2017.
15. Downstairs from the movie theater, in what's known as "Goldman Alley," refuel at Shake Shack, Beans and Greens, Harry's Pizza, Pick a Bagel, or Wei West.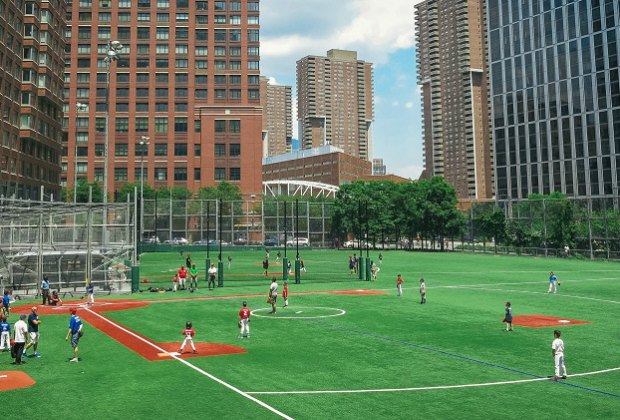 Kids play all sorts of sports year-round on the ball fields. Photo courtesy of Battery Park City Parks
16. Play sports on the Battery Park City ball fields. Or climb, swing, and play basketball at BPC's West Thames Park.
17. Drop in for a Pajama Party or Super Awesome Saturday program at the local New York Kids Club.
18. Get inspired by the educational kids' programs at the Poets House Children's Room, or just read poetry and try a real old-school typewriter.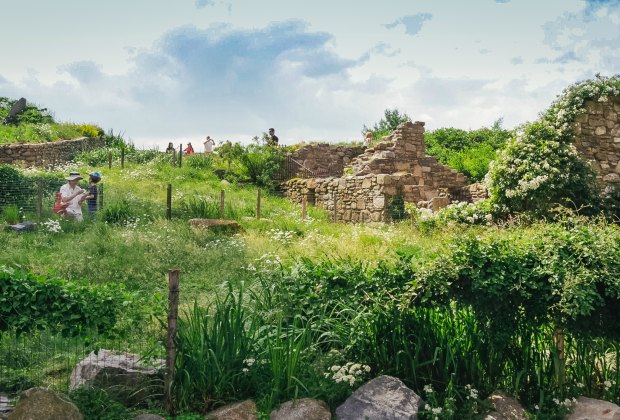 Stroll through the Irish Hunger Memorial, decked out with a bit of Irish countryside. Photo courtesy of Battery Park City Parks
19. Enter an immersive Irish countryside at the newly-renovated Irish Hunger Memorial.
20. Dine outdoors with harbor views while the kids play within sight at Gigino, overlooking Robert F. Wagner, Jr. Park.
21. The lower end of Battery Park City leads to all sorts of cool kids' stuff at the Battery itself, like the Seaglass Carousel, or the newly renovated Battery Playground.
22. Explore the winding pathways and the architects-meet-artists' installation stairway (informally known as the widow's walk) at South Cove.
23. In winter, go ice skating at the Brookfield Place Waterfront Plaza. In summer (or in winter, too) go swimming on a day pass at Asphalt Green or Stuyvesant High School's Community Center.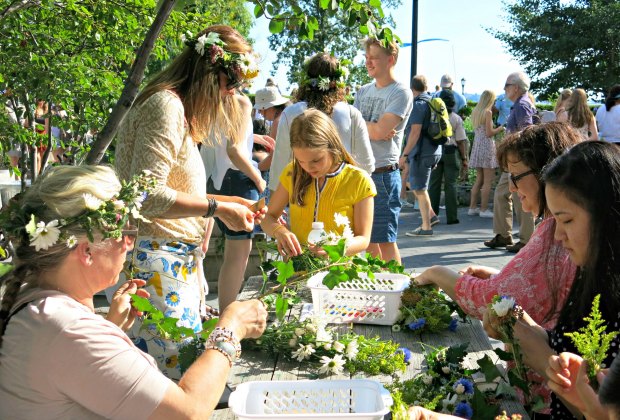 Make flower wreaths at the Swedish Midsummer Festival. Photo courtesy of Battery Park City Parks
24. Experience awesome annual family events like the Taste of Battery Park, the Annual Battery Dance Festival, or the Swedish Midsummer Festival in Robert F. Wagner, Jr. Park, which also hosts the Go Fish! Festival three times in summer, often featuring a very special guest.
25. Learn about the architecture of our great city at Saturday morning family programs at The Skyscraper Museum.
Read our other posts about exploring Battery Park City with kids, or explore another Manhattan neighborhood, such as Chelsea or the West Village.
Top photo of Teardrop Park courtesy of Battery Park City Parks