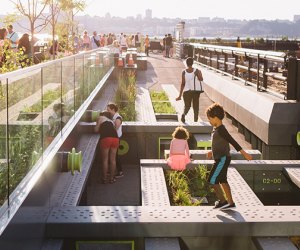 5 NYC Day Itineraries Perfect for Preschoolers
New York can be a big, intimidating place for anyone to visit, but especially our smallest kids like preschoolers. Thankfully, the City That Never Sleeps offers plenty of opportunities to entertain even the most pint-sized of visitors.
Of course, you can visit our top zoos and amazing gardens, the mega stores for a special treat, or our top-notch museums like the American Museum of Natural History. These are all great choices and included in our 100 Things to Do In NYC Before Your Kid Grows Up list of the absolute best children's activities in NYC.
But we wanted to come up with something a little different, and a little more mellow for those preschoolers visiting from out of town, or even locals wanting to check out a new-to-you neighborhood—something that respects the limits of a preschooler's emotional and physical mileage. So we've rounded up five mom-tested itineraries that give you and your kid a glimpse of the city without totally wearing everyone down.
Planning ahead? Check out what special events might be taking place during your visit with our always-up-to-date NYC Event Calendar.
Sign up for our FREE newsletters to get posts like this delivered to your inbox.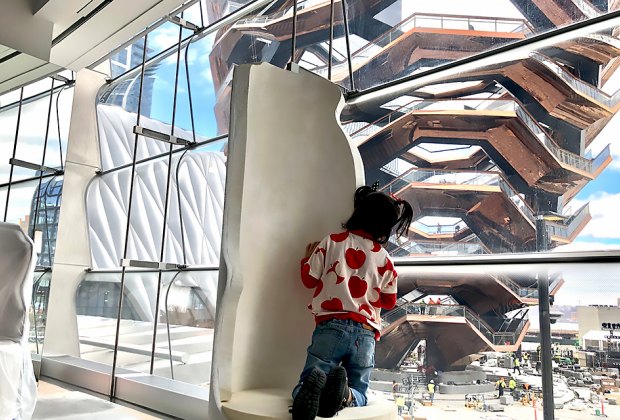 Kids will be in awe of the Vessel at Hudson Yards. Photo by Janet Bloom
Manhattan
Midtown to Chelsea
Head to Manhattan's far-west side to sneak a peek at Hudson Yards. While the shiny new Vessel offers plenty of cool photo ops, preschoolers are likely to tire of its stairs quickly, so head further north and play in its shadow at the Hudson Yards Playground. Preschoolers can climb ladders, lounge in rope hammocks, or just run amok on the playground's padded, rolling hills.
Next, check out the northern edge of The High Line, a former freight rail line turned inventive outdoor park, which opened its last public portion just this month. Wander the elevated tracks to find the Pershing Square Beams, where the park's support beams are exposed, coated in silicone, and open for climbing up, over, under, and inside.
RELATED: Family-Friendly Hotels in New York City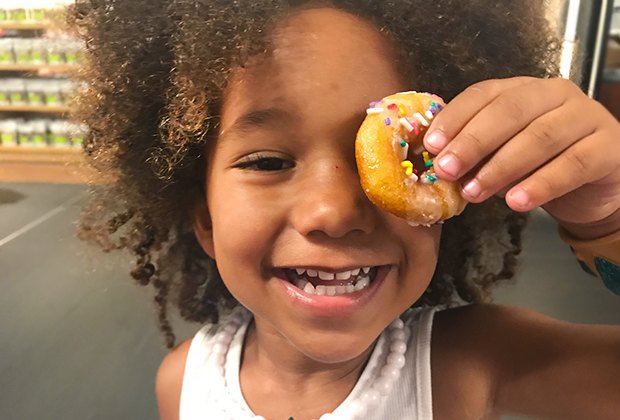 The Doughnuttery's mini donuts are the perfect size for preschoolers. Photo by the author
Your next stop depends on how far those little legs can walk before they tire. If you've worn yourself out on the play equipment, duck into the Shops and Restaurants at Hudson Yards, where you can find treats both sweet (hello, Dylan's Candy Bar) and savory (try the fried chicken from David Chang's Fuku). If you've got a few more blocks in you, try exiting the park at 26th Street and heading east to Hill Country Barbecue where you'll fill your plate from one station to the next, meaning no waiting for table service. If smoked meats don't appeal to your kid, the mac n' cheese and giant chocolate chip cookies will! If your kid can handle a bit more walking, the Chelsea Market, between 15th and 16th Streets at Ninth Avenue, offers culinary delights for every taste type with plenty of casual fare and some seating. The Doughnuttery's freshly-fried, mini donuts might be all the bribery you need to keep your kid moving to this foodie paradise. Make sure you treat yourself, too! For more in-the-neighborhood recommendations, see our list of the best kid-friendly eats plus 50 things to do with kids in the 'hood.
RELATED: Family-Friendly NYC Restaurant Guide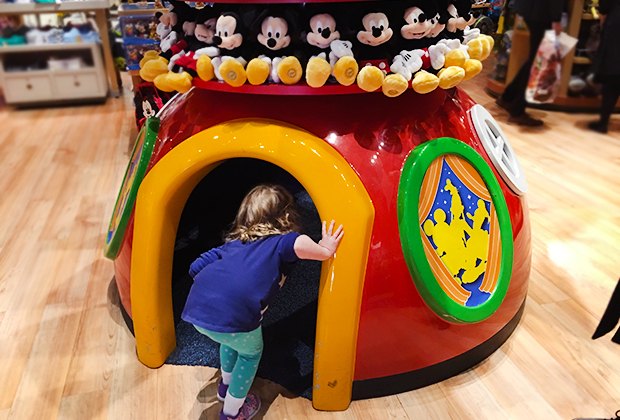 Play at the Disney Store or pick up a new cape or frock. Photo by Rose Gordon Sala
Midtown
Going to be in the Times Square area? Let your preschooler grab a new frock or cape at the Disney Store to kick off a Midtown Manhattan outing. Head back into the square to climb the TKTS red steps for a higher view of this iconic NYC crossroads where you'll enjoy fantastic people viewing. Before sensory overload kicks in, exit southeast, picking up West 42nd Street. You'll hit Bryant Park after just one long avenue block.
Picnic here with a packed lunch or grab something from a food kiosk. You can even test out the very fancy public restrooms for a potty break. Walk to the Fifth Avenue side of the park to ogle the massive lions (Patience and Fortitude) on the steps of the Stephen A. Schwarzman New York Public Library, the Beaux-Arts historic building completed in 1911 when the public library system was first created. Pop in for a look at the Children's Center if you have time. Next, take a spin on Le Carrousel within the park. Depending on the season, there may be performances, shops, games, movies, or other family-friendly activities taking place—most of them completely FREE. Check its calendar for the latest.
Downtown
Battery Park City has to rival the Upper West Side and Brooklyn's Park Slope in the quest to be the most family-friendly nabe in the city. Start your day here with a visit to the local Shake Shack. Whether you opt for a full meal, or just an extra-creamy frozen custard treat, take your meal to go, because there's lots to see!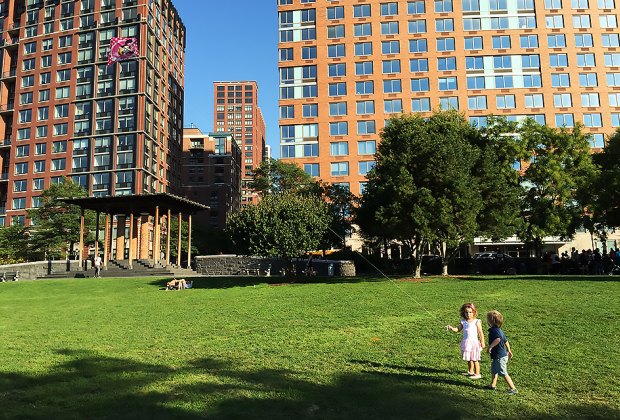 The Nelson A. Rockefeller Playground has something for all ages. Photo by Mommy Poppins
Head west to Rockefeller Park, where you can picnic on the grass or at one of the pergola-covered tables inside the spectacular Nelson A. Rockefeller Playground, one of our favorites in all of NYC and the next destination on your list. While there are towering big-kid jungle gyms, preschoolers have plenty of smaller climbing structures and sand to occupy them, and will surely delight in playing in the water with a pair of friendly pachyderm statues.
Once you've had your fill at the playground, head due north to The Parkhouse. The staff keeps the area filled with kid-friendly activities. On our recent visit, my preschooler made and painted a cardboard cat from up-cycled, pre-cut pieces. As an added bonus, be sure to stop by Teardrop Park for a quick trip down the spectacular, fast slide before you leave the 'hood.
Uptown

Stop in the Sugar Hill Museum where kids under 8 are free!. Photo by the author
Start your outing at the Sugar Hill Museum of Art & Storytelling, which showcases the neighborhood's rich artistic history and offers a pair of studios for kids to get their hands dirty. There are interactive storytimes every Thursday-Sunday (the only days this gem is open). A collection of galleries showcases art old, new, and in-progress, but the space offers plenty of room to get your kid's wiggles out and is small enough to enjoy in a couple of hours, depending on how much art your little Picasso can create. A major bonus: Kids ages ages 8 and younger enter for free.
Follow your visit to the museum with a walk across the street to the recently remodeled Wright Brothers Playground, which has plenty of aviation-inspired jungle gyms to play on, toadstools to traverse, a small sprinkler area, and a well-maintained restroom on site.
Finish your uptown adventure with a stroll along Edgecombe Avenue which leads you to the Morris-Jumel Mansion, Manhattan's oldest house, which once served as George Washington's headquarters during the Revolutionary War. A few blocks west, you'll find Carrot Top Pastries: Stop in for a look at the dazzling pastry case and a quick snack before you leave the 'hood. The carrot muffins are out of this world.
Brooklyn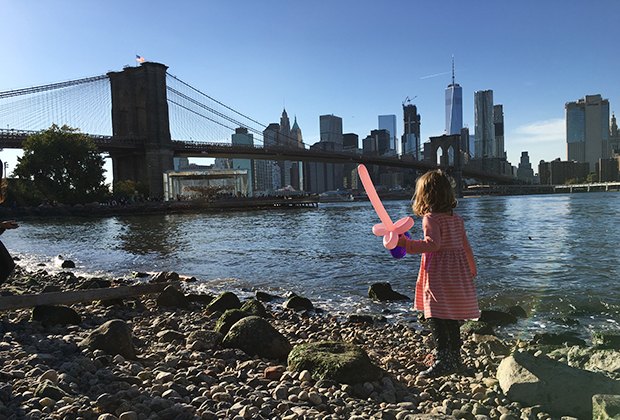 Play at the water's edge in Brooklyn Bridge Park. Photo by Rose Gordon Sala
Brooklyn Bridge Park (from Dumbo to Cobble Hill)
Brooklyn has a lot to offer preschoolers, from mega parks and a zoo to great children's museums and the most indoor play spaces of any borough. For a low-key, but super fun day with a preschooler, we recommend heading to Brooklyn Bridge Park. Enter at the Main Street Playground section in Dumbo. This nautical-themed playground offers a little bit of everything for this age group and sits almost right under the Manhattan Bridge, so kids can watch the trains as they hit the slide.
After they tire of the playground (or you do), walk along the water's edge for views of Manhattan and the harbor. Go for a spin on the famed Jane's Carousel, which juts out into the harbor on its little peninsula.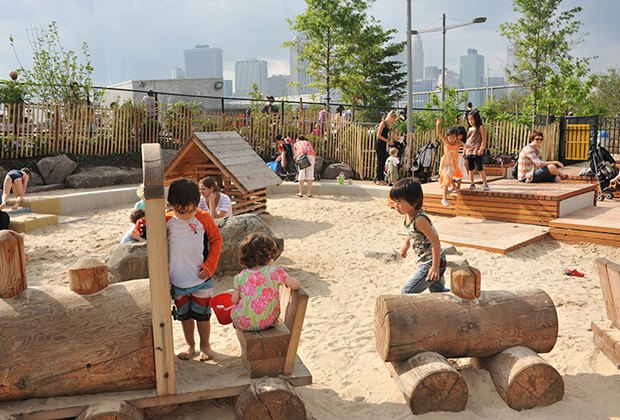 Brooklyn Bridge Park is home to one of the city's most elaborate sandboxes, Sandbox Village. Photo by Julienne Schaer for BBP
Take bikes, a stroller, or the kids' scooters to wind your way through the paved path of the park toward the largest playground, sprayground, and sandbox at Pier 6 (Atlantic Avenue at the border of Cobble Hill and Brooklyn Heights). Along the way, you'll pass ice cream kiosks, grassy parklands where you can stop for a picnic and a roller skating rink in the summer, temporary art exhibits, and even sports fields, plus more playgrounds.
You'll definitely need wheels with preschoolers in tow, though. It'll be a nice lengthy walk for grown-ups, but definitely doable, and you can stop and turn around whenever you've all had your fill. Perhaps make the slightly bouncy, recently revamped Squibb Bridge your early stopping point if you know you don't want to go the whole way. Take it up to the Brooklyn Promenade in Brooklyn Heights for one last view.
If the day is drizzly, hot, or too cold, you could pop into the Brooklyn Children's Museum's Dumbo outpost or the small but FREE and interactive Environmental Education Center instead of the playground. Grab lunch at one of the many nearby family-friendly eateries before returning to the train or car.
Check out our list of Brooklyn's top attractions for preschoolers for more ideas for your special outing.
em>A version of this post was published in 2017; it has been updated. Additional reporting by Rose Gordon Sala and Jody Mercier.