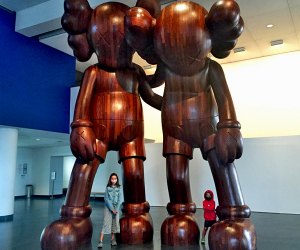 Brooklyn Museum at 25 Percent Capacity: What it's Like to Visit a NYC Museum Now
When NYC's reopening plans allowed museums and cultural institutions to welcome visitors again, my family was beyond excited. We decided to visit our beloved Brooklyn Museum to see what exploring a museum mid-pandemic feels like amid capacity limits and social distancing rules.
The biggest takeaway: It felt so good to be immersed in NYC's rich cultural offerings again, and even though exhibits were limited, our Brooklyn Museum visit produced some unexpected joy along the way, too. Read on for four takeaways from our day at the museum.
While we are trying to promote safer activities that occur outdoors or with social distancing guidelines in place, please keep your family and others safe by always wearing a mask and maintaining an appropriate distance. If you arrive at an event that appears too crowded, try using the "nearby" search feature on our Event Calendar to find something else to do.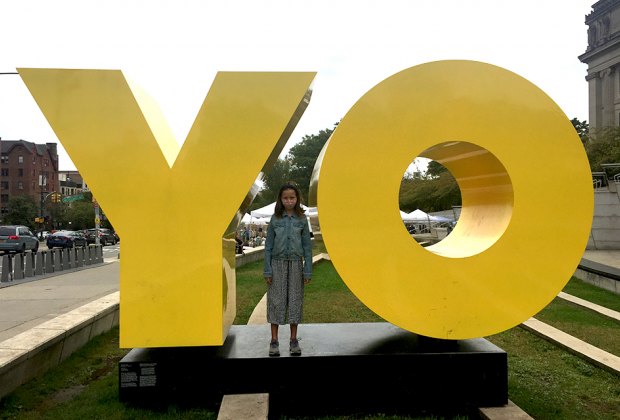 Don't forget to explore the art outside the Brooklyn Museum.
1. Brooklyn Museum Tickets Must Be Reserved in Advance
Reserving tickets to the Brooklyn Museum ahead of time was surprisingly easy. We went online two days before we planned to visit and had no trouble booking four tickets in our desired window: the first timed-entry window at 11am on a Sunday. Entry times are spaced in 15-minute increments to allow for social distancing and adhere to capacity guidelines. Although there are a handful of tickets available for walk-ins, reserving in advance is strongly recommended.
RELATED: The Best Children's Museums for Families to Visit in New York City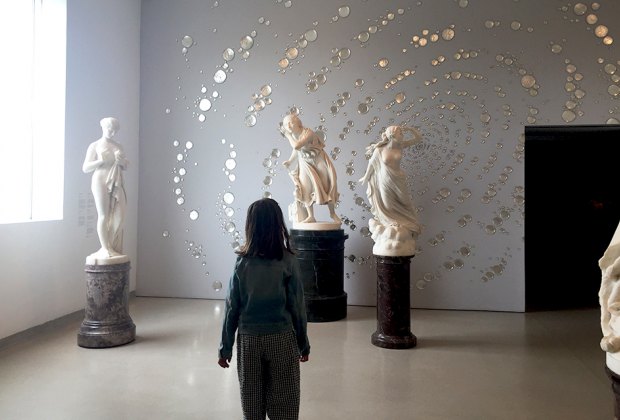 Enjoy the exhibits in uncrowded galleries.
2. Crowds and Exhibits Were Limited
The museum was virtually empty for the duration of our 1.5-hour visit, though many visitors were arriving as we left. Although it was a novelty to have the galleries mostly to ourselves, only the First and Fifth Floor galleries were open when we visited. This made the visit feel slightly strange and the museum deserted. Gone was its usual role as a vibrant and bustling community hub. The fact we were in the first group of guests to arrive probably contributed to the quiet feel. The museum may also get busier as time goes by and more floors reopen; the Fourth Floor galleries have since reopened.
RELATED: MoMA Reopens With Kid-Friendly Art Programs, Family Film, New Galleries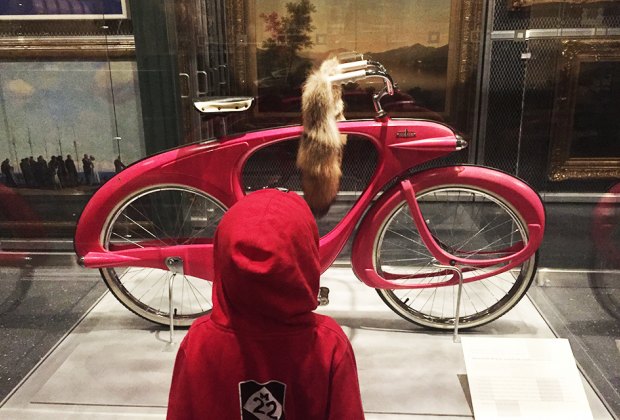 We discovered a new marvel: a bike that stores downhill power to be used when going uphill.
3. We Found New Things to Love
Because exhibits were limited, we definitely took more time noticing the things that were on view, and we all discovered pieces we might have once passed by. We ventured into the Visible Storage area for the first time, where my son delighted in a bike that stored downhill power to be used when going uphill, and my daughter discovered an armchair that turned into a step ladder.
RELATED: Museums, Galleries, and Exhibits Guide for New York City Kids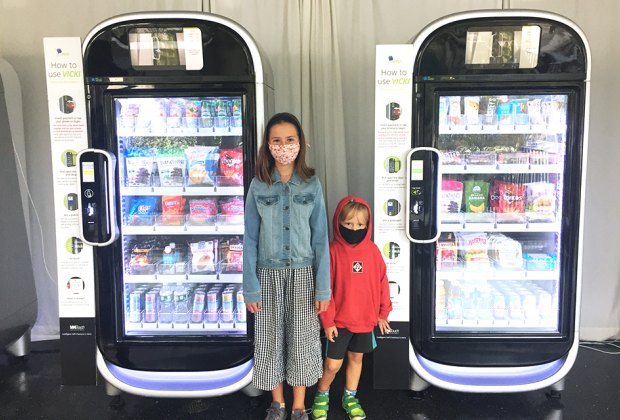 Kids find the futuristic, AI-vending machines entertaining.
Though the cafe and restaurant are still shuttered, my kids got a kick out of the cool AI-inspired vending machines nick-named "Vicki." The machines are fun to use and contain lots of kid-friendly snack and drink options.
We took our food outside and lingered longer than usual at the picnic tables in the museum's large outdoor space. More time outside also meant we rediscovered the delightful and oft-overlooked Steinberg Family Sculpture Garden located at the building's south entrance.
A slightly shorter visit means there's plenty of time left to check out the other great places nearby. When you're finished at the museum, take a stroll through Prospect Park, or check out the Prospect Park Zoo, the Brooklyn Botanic Garden, or the newly reopened Brooklyn Children's Museum (advance tickets required).
4. Things We Missed During Our Brooklyn Museum Visit
The galleries housing the museum's collection of ancient Egyptian art (one of the largest in the United States) was sorely missed. It's the area we usually head to when we first arrive and one of the few galleries where my 5- and 10-year-olds are equally excited and engaged.
The museum usually offers a stellar lineup of kids art classes and uber-popular First Saturday events, which draw thousands of people and offer loads of great FREE programming for all ages; both are currently on hiatus.
Know Before You Go
The coat check is currently unavailable, so try to pack light.
Guests are welcome to use strollers throughout the building, although there may be a few tight areas where they are restricted.
Masks are required for all adults and children over the age of 2.
Bathrooms are open, and extra hand sanitizing stations have been installed.
The Brooklyn Museum is open Wednesday through Sunday, 11am-6pm. Timed-entry tickets are required and can be booked online.
Admission is $16 for adults and FREE for those 19 and younger.
Photos by the author