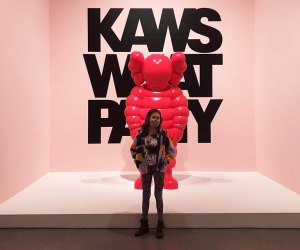 KAWS: What Party Brings Large-Scale Pop Art to the Brooklyn Museum
A pop art-inspired, larger-than-life exhibition has opened at the Brooklyn Museum. KAWS: What Party is a fun, delightful display of contemporary art-meets-pop culture icons that parents and older children alike will enjoy. Read on to determine whether you should visit with your kids, what to know before you go, and how to score tickets.
Find more museum-inspired fun in our Museums and Galleries Guide.
Editor's note: While we are trying to promote safer activities that occur outdoors or with social distancing guidelines in place, please keep your family and others safe by always wearing a mask and maintaining an appropriate distance. Brooklyn Museum capacity is currently limited to 25 percent, and timed-entry tickets are required. See all of its safety measures here.

SEPARATED is one of KAWS' most recent works.
Although KAWS, the moniker used by Brooklyn-based artist, Brian Donnelly, has been on the art scene since the mid-1990s, KAWS: What Party is his first large-scale New York City exhibition.
KAWS began his career as a graffiti artist before transitioning to creating art in various mediums—painting, sculpture, animation, and large-scale installations are all in his portfolio. The Brooklyn Museum installation reflects his far-reaching career and features 167 works, beginning with his early graffiti drawings and notebooks, and showcases his paintings and sculptures, smaller collectibles, furniture, interactive installations, and recent works.
RELATED: Van Gogh Exhibit Hits NYC This Summer and Tickets Are on Sale Now

KAWS draws on many pop culture icons in his work.
Many KAWS' pieces feature familiar cartoon characters like the Simpsons, Smurfs, Snoopy, Elmo, and SpongeBob but present them in subversive ways. Eyes are replaced with Xs, and, in one painting, the figures are decapitated. While some younger kids might find these images slightly unsettling, my 10-year-old daughter found the art fun, unique, and interested in learning about the artist's motivation and inspiration.
For an interactive experience, download the Brooklyn Museum app before visiting to learn more about each work. Or you can text the museum while you're there with suggested questions and receive a lengthy answer right away. We used this service to learn why KAWS calls Snoopy "Joe" and to explore the significance of the poses KAWS uses for his sculptures.
RELATED: Free Times to Visit NYC Museums, Gardens, and Zoos

KAWS Companion figures appear across an array of diverse mediums.
Speaking of sculptures, you'll find a variety of KAWS Companion figures, whose eyes, round belly, and white gloves inscribed with his signature Xs, make it instantly recognizable. Another character, Chum, resembles the Michelin Man, and Bendy makes several appearances, too. Several of the Companion pieces appear with their sides flayed open. KAWS uses these figures to express emotions, human relationships, and states of mind.
The sadness evoked in KAWS' most recent work, Separated, is instantly relatable; here, a Companion figure sits with its hands over its eyes, presumably in reaction to the events of the past year.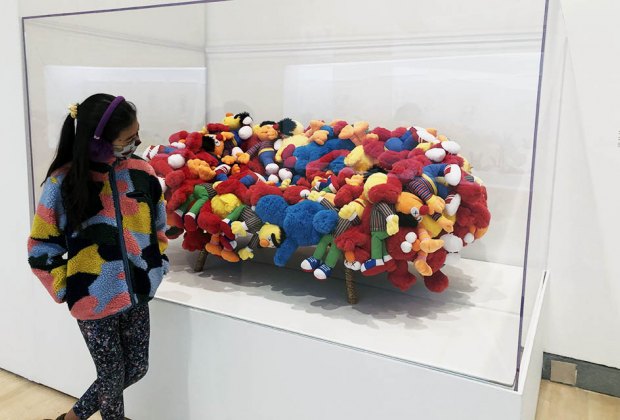 Sesame Street stuffed animals take on a new life in KAWS' work.
KAWS' interest in the intersection of art, commerce, and culture is reflected throughout his works. You'll find Companion figurines, furniture made of Sesame Street dolls, toys, and a video installation documenting his Holiday series, which features temporary, enormous Companion figures erected in Hong Kong, Japan, Korea, and even outer space.
The exhibition's setup beckons visitors to engage with KAWS' artwork. You can walk around the larger-than-life sculptures, take photos and videos, and utilize an augmented reality platform to interact with some pieces.
You'll need about 45 minutes to 1 hour to really absorb the exhibition. If you don't want to leave the art behind, there's a large gift shop at the end, selling T-shirts, posters, books, and some toys.

KAWS: What Party features 167 pieces offering an overview of the artist's diverse, wide-ranging career.
Know Before You Go to KAWS: What Party
While there is no age requirement, the exhibition is best for kids ages 5 and up.
Current Brooklyn Museum hours are Sunday, Wednesday, and Thursday, 11am-6pm; Friday-Saturday, 11am-8pm. KAWS: What Party runs through Monday, September 6, 2021.
Brooklyn Museum capacity is limited to 25 percent, and timed-entry tickets are required. A limited number of same-day tickets are available on a first-come, first-served basis.
Ticket prices are $25 for adults; $10 for children ages 4-12; children 3 and younger are FREE. Admission includes access to all open galleries.
Masks are required, and guests must adhere to social distancing guidelines.
All photos by author