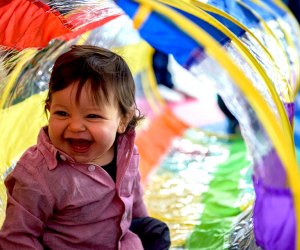 Great Party Spots in Brooklyn for Baby's First Birthday
Let's face it: Your baby's first birthday isn't just about celebrating the start of toddlerhood. It's about acknowledging the fact that you're still standing after a whole year of parenting, even if you can't remember the last time you slept!
At this age, the kids in attendance probably won't be running in circles (in fact, many of them might not be walking), so you don't need as much space as you will in a few years, and there's a good chance that your guest list is heavy on the grown-ups. We've already rounded up great best first birthday spots in Manhattan, and now we've put together a list of top Brooklyn baby-friendly first birthday bash spots that adults and kids will appreciate.
Looking for more party-perfect ideas? Take a look at these Brooklyn gym parties, or visit our handy Party Guide and Directory to find entertainers and more.​​
An ice cream social suited for all ages
Ample Hills Creamery — Prospect Heights, Gowanus, and Red Hook
623 Vanderbilt Avenue; 305 Nevins Street; 421 Van Brunt Street
We all scream for ice cream, right? And Ample Hills knows how to get everyone extra excited about the sweet treat. Its Gowanus location boasts a beautiful private upstairs room with a rooftop garden (weather permitting), and views of the Brooklyn skyline that will have the whole crowd oohing and ahhing. The basic package is $500 for a two-hour space rental, plus the cost of ice cream. Older party guests can make their own ice cream by riding a one-of-a-kind ice-cream churning bicycle!
A soirée to satisfy every sweet tooth
Du Jour Bakery — Park Slope
365 Fifth Avenue
The house-made pastries, incomparable custom cakes, and family-friendly vibe make this cozy cafe a Park Slope staple. Celebrate the big one by renting out the main dining room, equipped with plenty of high chairs and space for strollers. Partygoers are served freshly baked sweets, while the grown-ups make the most of an open coffee bar. In warmer months, enjoy the beautiful backyard, giving guests even more room to roam. A three-hour standard booking for the dining room and garden starts at $375, plus the cost of food and drink.
OUR LATEST VIDEOS
RELATED: Top 30 Things to Do in Brooklyn with Preschoolers and Toddlers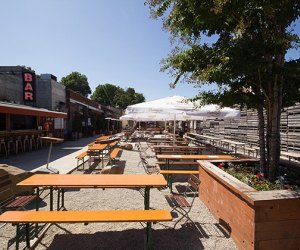 Greenwood Park has plenty of indoor and outdoor space where little kids can roam.
A gathering the grown-ups will love
Greenwood Park — Greenwood Heights
555 Seventh Avenue
A gas station and mechanic shop turned beer garden and bocce ball court? Yes, it's real, and it's totally kid-friendly! The 13,000-square-foot indoor/outdoor restaurant and bar offers plenty of space for kiddos to toddle around, while the over-21 crowd can enjoy sixty beers on tap, specialty cocktails, a seasonal bar menu, and a couple of rounds of bocce. Depending on the weather, there's an indoor fireplace and heat lamps to keep the garden toasty. If you're looking to really liven things up, Greenwood Park can help provide games, entertainers, bands, and more through its network of outside vendors.
The coolest local cafe for baby's day
Good Day Play Cafe — Park Slope
591 Fifth Avenue
Looking for a clean and serene (well, as serene as possible) space to host your first baby bash? Good Day Play Cafe will keep kiddos busy in the enclosed playspace that features a Hinoki cypress wood cube pit, farm table, magnetic wall, an angled climbing wall, and mini gym. Adults will love the Stumptown coffee and snacks. Good Day's base party package starts at $600 and the staff will work with you to customize the special day.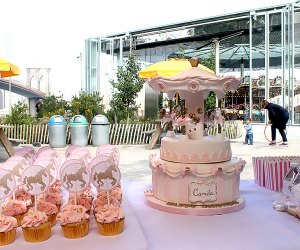 It's hard to beat a party at Jane's carousel.
An iconic Brooklyn birthday
Jane's Carousel — Dumbo
Dock Street
Jane's Carousel is about as close to magical as birthday venues get, from the ride itself to the views and nearby amenities of Brooklyn Bridge Park. The year-round venue set on the East River offers a single party package: two hours of carousel use and unlimited rides for the kids (each with an accompanying adult), and each child receives a souvenir ticket to come back to take another spin at a later date. Food and decorations are not included in the package, but you are welcome to bring your own. Space, including tables, are reserved for the revelers next to the carousel, so you have a spot for enjoying cake. In summer months, outdoor seating is saved under umbrellas in the picnic grove for your party, and in winter months, indoor seating is provided in the heated carousel pavilion. Weekday parties start at $350 and weekend parties start at $400.
A coffee-fueled celebration
Lark Cafe — Prospect Park South
1007 Church Avenue
If the new parents on your guest list need a cup of coffee as badly as you do, this quaint, family-friendly Prospect Park South cafe might be the perfect pick for your party. Not only does Lark serve up locally roasted, much-loved Stumptown java, but it sweetens the deal with treats from nearby foodie favorites, including Dough Doughnuts and Four & Twenty Blackbirds pies. How about that for what might be baby's first dessert? Meanwhile, if you book the entire cafe, you can let the little ones take over the spacious toy-filled side room, which is home to sing-alongs and story times during the week. The hourly rental fee for the whole cafe starts at $350 or $200 if after 4pm, while the side room alone is $85 an hour. Note: The cafe's sister location, Elk Cafe in Windsor Terrace, offers a similar party package for its backyard.
RELATED: Inexpensive Party Room Rentals for Kid Birthdays in NYC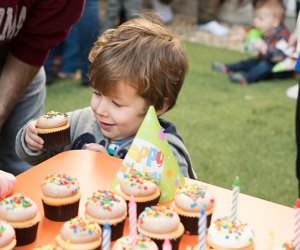 Host your party indoors or outdoors (in warmer weather) at Monkey Do! Yoga.
A fête for yogis young and old
Monkey Do! Yoga — Gowanus
279 Third Avenue
How about getting your "om" on to celebrate this major milestone? Monkey Do! offers everything from open-play parties that include Baked cupcakes and fun favors, to yogi parties featuring a private parent/baby yoga class. Namaste, mom and dad! The studio is bright and spacious with a gorgeous backyard, plus it has stroller parking and plenty of tables and chairs on hand (not to mention a pro party planner who's available to help you out). Crawlers and new walkers will love the blocks, toys, and tunnels, and parents will love letting their kids roam safely and freely. Space rental starts at $275 and party packages start at $425. For an additional fee, you can add on first birthday favorites like a sing-along or balloon animals.
A shindig steeped in history
Old Stone House & Washington Park — Park Slope
​336 Third Street
History buffs will love that your kiddo is blowing out the candles at this Brooklyn landmark. Built in 1699, the Old Stone House is a Dutch family farm turned American battleground turned Brooklyn Dodgers clubhouse turned popular party destination and playground for neighborhood kids. While the house itself is available for large events, the "Cafe"—a paved area with six game tables and seats—and the "Northern Garden"—a wood-chipped area with a picnic table and open space—are the best spots for a warm-weather first birthday. Just bring in decorations, snacks, and cake for the celebration, then point your guests in the direction of the gated area of the playground designated for the tiniest tots, or the crawling-friendly artificial grass field. The park permit required for either outdoor space is $25.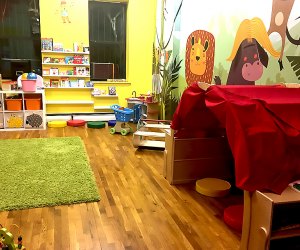 What better place than Tot Town to keep a bunch of 1-year-olds busy? Photo by Mommy Poppins
A play space to keep the preschool set entertained
Tot Town — Crown Heights
636 Classon Avenue
Ideal for the under-five set, this bright and airy play space is available for party rentals on Sundays with a range of packages starting at $400. Babies will love the front room, which has plenty of sensory toys, ground-level mirrors, floor mats, and bouncers, while toddlers and preschoolers will keep themselves entertained for hours in the back room, which features an art corner, dress-up area, play kitchen, chalk wall, rocking boat, climbing wall, and even a floor piano that kids can play with their feet. Outside food and drinks are welcome, and pizza is included in some of the packages. A staff person is also on hand to help serve food and engage kids so adults can truly relax on the comfy couches. The grassy backyard, which has a slide, tunnel, seesaw, and picnic table, is available for an extra fee. Other add-ons include a face painter, live singer, or even a caricature artist (subject to availability).
Unless noted, photos courtesy of the venues.
A version of this story was published in 2017; it has been updated. Katie Nave Freeman contributed additional reporting. Prices and details are accurate as of August 2019.