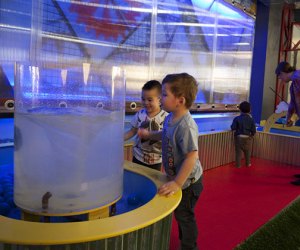 NYC's Best Indoor Water Play Spots for Preschoolers
Few preschoolers can resist the lure of a water table where they can dunk their toys and hands in, fill containers just to spill them out again and of course, splash around. Not many of us have space for such messy playthings in our tiny New York apartments (nor do we want one, right?!) So we rounded up the handful of NYC indoor play spaces that offer water-based sensory stations. No bathing suits or parental cleanup required.
Best of all, these soggy attractions are open year-round, even in summer just in case you can't face another sweltering day in the playground. So for those who beg to play in water (or the sandbox) long after the lifeguards go home, there are options beyond the bathtub.
Twinkle Playspace – Williamsburg
144 Frost Street between Graham and Manhattan Avenues
Visit the website for drop-in pricing options.
Catering solely to the under 6 set, this custom-designed, 4,500-square-foot, indoor romping spot is more like a children's museum than a traditional play space. In addition to unique attractions like a mock salon, grocery store and graffiti-inspired dance studio, Twinkle has a water table featuring a plastic-enclosed whirlpool. Toddlers are mesmerized as they toss balls into the clear cylinder and watch them spin into the abyss. Afterward, head to the fire truck, where tots can fight fake flames with hoses that squirt real water.
RELATED: NYC Indoor Play Spaces & Fun Zones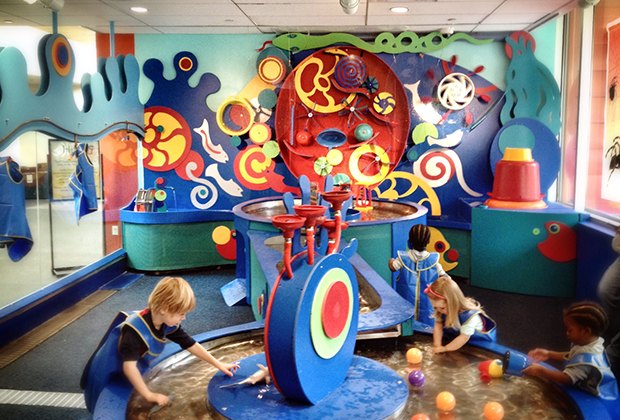 Making a splash at the Totally Tots installation in the Brooklyn Children's Museum.
Totally Tots at the Brooklyn Children's Museum – Crown Heights
145 Brooklyn Avenue at St. Marks Avenue
$11 for ages 1 and up
Located in one of the best little-kid destinations in the entire borough, this sensory playroom for tots under age 6 offers nine hands-on stations to explore. A highlight is its giant water table with plenty of room to splash and scoop and toss in floating toys, plus canons to aim at the wall. Waterproof smocks are provided but best to pack a change of clothes (and maybe shoes!) just in case.
Liberty Science Center – Jersey City, NJ
222 Jersey City Boulevard in Liberty State Park
$21.75 for adults, $17.75 for children ages 2-12
Yes, this STEM hot spot is technically outside of NYC, but it's just a quick train or ferry ride across the Hudson and well worth the trip because hands-on activities abound. For water play, head to the Our Hudson Home exhibit where kids can explore the effects of dredging the river, operate mini cargo cranes and meet some of the creatures that live in the river. For ages 2 to 5, the I Explore section lets toddlers "paint" a blank wall with water.
RELATED: 25 NYC Outings for Preschoolers
Seasonal Water Play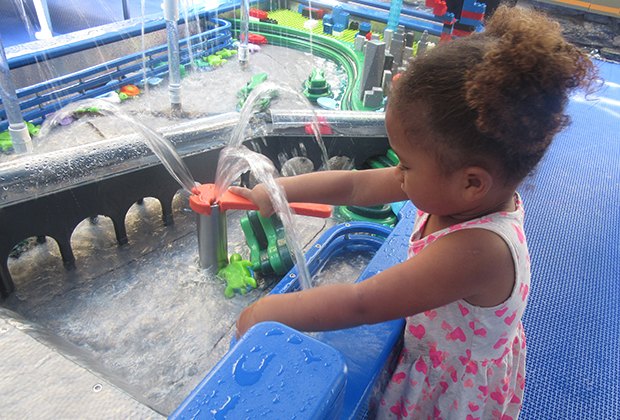 Dynamic H20 at the Children's Museum of Manhattan. Photo by Jody Mercier.
The last two water destinations are actually outdoors and seasonal. They're located at museums, offering a nice alternative to the city's many sprinklers.
Dynamic H20 at the Children's Museum of Manhattan – Upper West Side
212 West 83rd Street between Broadway and Amsterdam
$12 for ages 1 and up
CMOM totally revamped its outdoor water play area debuting the fabulous Dynamic H20 exhibit in May. While the old City Splash table still stands, it's dwarfed by the new, custom-made, three-tier interactive Dynamic H20 table. True to its mission of providing educational fun, the walls surrounding the display colorfully detail the journey water takes from the Catskills to city faucets. Expect lots of good, clean fun and also educational components in the outdoor classroom and at individual activity stations, where kids can try on a different water-themed career for inspiration.
Sea of Boats at the Staten Island Children's Museum – Richmond Terrace
1000 Richmond Terrace
$8 for ages 1 and up
This nautical-themed outdoor play area is devoted to seafaring. From May to October, visitors can enjoy some soggy fun by attempting to net a magnetic fish or trying mock oystering. Call ahead to ensure this seasonal water play spot is open.
Top image: Twinkle Playspace's water area. All photos are courtesy of their respective venues unless otherwise noted.