8 Things to Love About the Brooklyn Children's Museum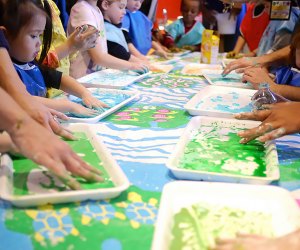 2/21/19
- By
Katie Nave
As the world's first children's museum, the Brooklyn Children's Museum has been a beloved NYC destination since 1899. This Crown Heights institution offers three floors of rotating and permanent interactive exhibits and hands-on cultural and science programs for little ones, ages 6 months to 10 years. BCM aims to inspire children to ask questions and discover answers through exploration and play.
My daughter and I have passed countless hours in the Totally Tots exhibit, designed for children under six. This pint-sized paradise features water, sand, and is usually filled with thrilled toddlers and bleary-eyed parents. Read on to see our top reasons why BCM is one of our top NYC must-see museums.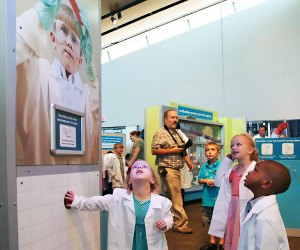 Science + You
Visitors can become scientists for the day at this new exhibit, on view January 15 through April 28, 2019. Families are encouraged to explore and learn about human health, nutrition, scientific tools, and the methods scientists use for problem solving, investigation, and experimentation. Collect germ cells using a magnetic antibody wand before depositing them into white blood cells; practice using a centrifuge and learn about other amazing sorting machines; and get creative in the test kitchen.
Advocacy Lab
Advocacy Lab is a series of programs that introduce the tools of advocacy through voice, word, movement, music, art, performance, and action. Through hands-on activities and exploration, children and their caregivers identify issues in their communities and become creative problem solvers.
Totally Tots
The giant water table alone can entertain little ones for hours. Designed for children ages zero to six, this exhibit features nine different sensory play areas, including dress up, sand, blocks, and climbing structures. The Tots Studio introduces kids to art-making techniques and materials.
RELATED: 10 Must-See Offbeat Museums NYC Kids Will Love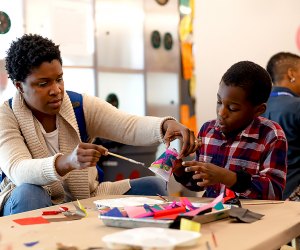 ColorLab
We recently visited ColorLab, BCM's new family art studio and were quite impressed. Now featuring Freestyle Friday, the open-studio art-making experience allows kids to choose from a quirky assortment of materials and tools to make something unique. Look out for special guests, unexpected tools, and objects that spark imagination. ColorLab is now open to the general public four days a week, every week: Thursday through Sunday.
Sensory Room
The Sensory Room is an inclusive space where children of all abilities can engage and explore their senses. Sessions in the space are balanced between self guided exploration of the space and a facilitated program by one of BCM's Educators. Programs include storytime, parachute play, and up-close hangs with the museum's live animals.
Neighborhood Nature
This permanent exhibit invites visitors to examine the many ecologies found in their Brooklyn backyards. The area features a cork garden, a greenhouse, a sand "beach" and live animals. We're big fans of the fish tanks and touch tanks.
World Brooklyn
This nostalgic exhibit takes children back to a simpler time, allowing them to explore and play in kid-sized, old-school Brooklyn shops. They can take on the roles of shopkeeper, baker, grocer, shopper, designer, performer, and builder. This exhibit is designed to foster a greater understanding and appreciation of the world cultures found in Brooklyn. Bonus, adults can take a breather at one of the tables, while kids serve up pretend meals.
RELATED: Got a Library Card? You Can Get Into 40+ NYC Museums for Free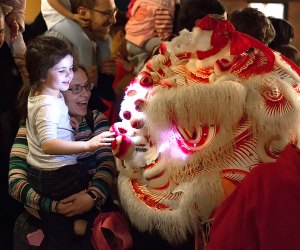 Festivals
It seems there is always a reason to celebrate at BCM. Check out their upcoming 2019 festivals, including Black Futures Festival (Monday, February 18 - Sunday, February 24), Food Justice Festival (Saturday, March 23 - Sunday, March 24), and Earth Rocks Festival (Sunday, April 21 - Sunday, April 28).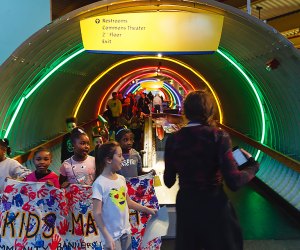 Know Before You Go: Museum Visiting Tips
The museum is closed on Mondays. Regular hours are 10am-5pm on Tuesday-Friday; 10am-7pm on Saturday and Sunday. Check the BCM website for changes.
For non-members, admission is $11 for children and adults, $10 for seniors 65+, and FREE for children under 1 year.
BCM offers "pay what you wish" hours for all visitors on Thursdays from 2pm-6pm, and on Sundays from 4pm-7pm.
BCM does not have a parking lot, but street parking is usually available within a few blocks of the museum.
With the exception of water in plastic bottles and formula for babies under 2, food is not allowed any place in the museum except the café and the roof terrace. The café is located on the second floor and serves a variety of seasonal foods.
Strollers are not allowed inside. However, BCM offers a complimentary stroller and coat check.
All programs and workshops are free with admission. Keep an eye on the museum's calendar for special events.
Photos courtesy of the museum