Brooklyn Children's Museum Opens ColorLab, a Family Art Studio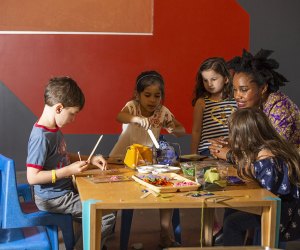 Rainy, steamy, and sticky summer days in New York City have met their match. If you're in desperate need of indoor activities that will engage and inspire the whole family (in the air conditioning!), check out ColorLab, a new family art studio at the Brooklyn Children's Museum (BCM) in Crown Heights.
The just-opened studio space within this top NYC kid museum encourages kids and adults to create collages, sculptures, drawings, and other artworks, through independent exploration, hands-on collaboration, and experimentation—and you get to take your creations home.
The studio is divided into exploration stations for different art materials and projects. Layering materials and creating pieces as a family is surprisingly relaxing within this space, a new permanent exhibit within the Brooklyn Children's Museum that will feature projects inspired by contemporary African American, Afro-Caribbean, and African artists.
RELATED: 50 Indoor Activities for a Rainy Day

Art projects are inspired by contemporary African-American, Caribbean, and African artists and encourage exploration with different materials.
The museum aims to introduce children to high-quality art materials such as charcoal and acrylics, while enhancing their art vocabulary and knowledge. Hands-on programs will be supported by the museum's teaching artists. A story corner in the studio is home to interactive storytime with BCM educators: check the website for dates and times.
One personal favorite feature of the new ColorLab is the multisensory "wonderwall" that wraps around the space. Kids are invited to touch, observe, listen, and engage with the collection. A featured shared art exhibit in the center of the room offers the opportunity for children to grab found materials and contribute.
RELATED: Explore the ImagiNATIONS Center at the National Museum of the American Indian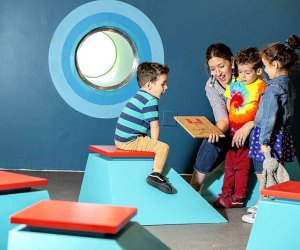 Listen to old favorites and discover new books in ColorLab's story corner.
Rotating programs and indoor activities and projects in the space are an opportunity to learn more about contemporary artists such as Chakaia Booker, Wangechi Mutu, and Jack Whitten—and since the displays in the studio will change every few weeks, repeat visits are encouraged. ColorLab is appropriate for all ages: Younger children will enjoy exploring the multisensory materials, and older children will have the opportunity to dive into creative projects. Plan to spend about 45 minutes to one hour in the space.
ColorLab will be open for public programs on Thursdays between 2pm-5pm, and Saturdays and Sundays between 11am-5pm. All programs are included with museum admission. General admission to the children's museum is $11 per person and infants under the age of 12 months are free. BCM offers "pay as you wish" every Thursday 2pm-6pm and is located at 145 Brooklyn Avenue, Brooklyn, NY 11213.
Photos by Carolina Cabanillas for the Brooklyn Children's Museum