Which Preschool? NYC Parents Spill on How They Found 'The One'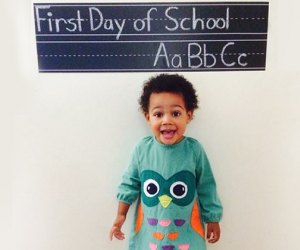 When it comes time to choose a preschool for your NYC kid, especially the first child, the decision can seem daunting. What if you pick wrong and she hates it? What if you hate it? What if he won't get the leg up you're hoping for at this school? What if...what if...what if….?
At the time, it might even feel like the biggest parenting decision you've made to date, besides perhaps where to give birth or which pediatrician would care for your new baby. Seasoned parents, however, will tell you: It'll be OK.
Trust your gut—and it'll be OK—and if it's not, switch, or there's always next year!
Don't take my word for it, though. Here are four NYC parents who have been through the sometimes agonizing process of picking out a preschool and are now sharing their stories on how they whittled down the choices, selected a school, and made it on to
pre-K and kindergarten
without losing their...marbles.
Parents submitted these stories to Mommy Poppins, which we edited for clarity and space constraints.
Sara F. — Brooklyn
Child in kindergarten
What were you looking for in a preschool? We wanted an academic environment where some actual teaching would take place, not just babysitting, and we wanted to start developing her social skills. We wanted a class size that was manageable for two teachers, and options for part-time attendance.
Did you end up liking the one you picked? We liked our first preschool, but they did not have a separate 4-year-old program, so we switched to a Montessori school for pre-K after getting shut out of our local school. We LOVED it, and probably would have gone there for 2s and 3s if we did it all over again.
Top advice for parents in the preschool shopping trenches? Talk to other parents, lots of other parents, to get honest assessments. Figure out what is important to you: Are you a parent who wants a written report at the end of the day? Do you want your child to be able to eat a hot lunch every day? Do you want structured time or do you prefer "open play?" Do you want a school to have its own outdoor space?
RELATED: 10 Questions to Ask During a Preschool Tour
Susan P. — Manhattan
Child in kindergarten
What were you looking for in a preschool? Something that was a nurturing environment, play-based learning, and close to home. We researched online and took tours.
Did you end up liking the one you picked? Overall, yes. The teachers and school staff were great, but the school principal and vice principal were not. The communication was terrible, and it seemed all they did was ask for money.
Top advice? Make sure staff and parents have an open line of communication.
Sydney N. — Queens
Child in kindergarten
What were you looking for in a preschool? No screentime. You'd be surprised that this is an issue, but it is. We looked for clean, safe schools that offered outdoor time and both an academic and arts curriculum. We also wanted a cold-turkey approach to potty training, and we looked at graduation rates and acceptances into prestigious pre-k and kindergartens (Are kids going on to G&T programs? Only private schools?). Cost and location, of course, factored in.
Did you end up liking the one you picked? We chose a Montessori school in Manhattan after taking a combination of tours, researching online, and listening to family. The school met the majority of our expectations. The toddler program was amazing. His teacher was very communicative, potty training went well, lunches were super healthy, and there were plenty of activities to get families involved. The second year wasn't as fantastic. His teachers were kind, but less involved. The school expanded, making it a bit more hectic and crowded. We also realized that the costs were at that point overshadowing the benefits.
Top advice? We all want the best for our children, and it's hard to balance that emotional demand with financial realities. Don't dig yourself into financial ruin for preschool. With additional lower-cost extracurricular activities and classes, you can still receive a good education for a moderate price.
RELATED: Five Ways to Ease the Transition to Preschool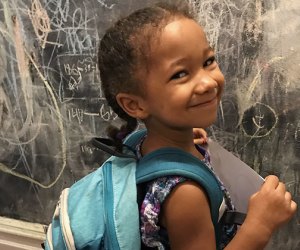 Their grin makes all the research worth it! Photo by Jody M.
Jody M. — Manhattan
Mom to three, oldest entering seventh grade, youngest entering pre-K
What were you looking for in a preschool? I wanted something that was an extension of the environment my child was in, so we were looking at progressive, child-centered schools. We knew our son needed something new, but we also didn't want it to be too academic at such a young age.
Did you end up liking the one you picked? We loved the environment and the academic philosophy, as well as the teachers and staff. We also liked the location, which takes our family on a walk back-and-forth across Central Park every school day. We've sent all three kids to the school, including my youngest who starts this fall. We're all thrilled she'll receive the same foundation her older siblings did.
Top advice? Just by showing up, being concerned and putting in the energy to research and visit schools, you are laying the foundation for school success. Being involved in your child's education, no matter where they end up, is invaluable. Preschool is just the beginning.
Still researching preschools? Find local schools in our Preschool Directory and Guide. Sort by NYC neighborhood and school attributes in the listings directory.
Top photo by Sara F.