5 Ways to Decide Which NYC Pre-K Is Right for Your Child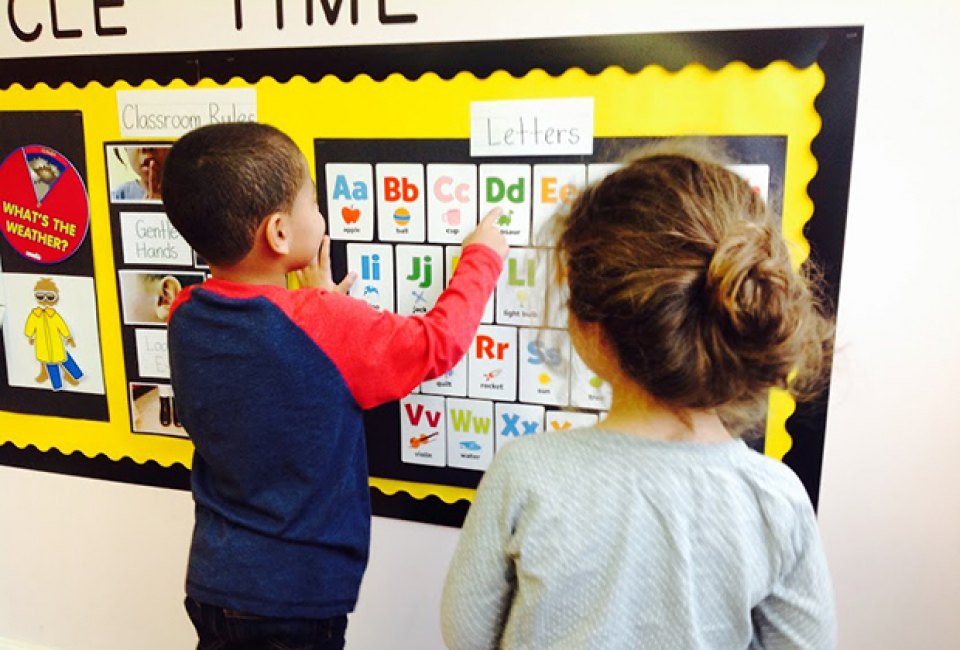 6/16/16
- By
Alina Adams
New York City's universal pre-kindergarten plan is a boon for parents in many ways, offering FREE education a bit earlier to all of the city's 4-year-olds. But it can also make picking a school that much trickier.
NYC parents must apply for spots at their preferred schools, often going on multiple tours, sitting on wait-lists, and then wading through multiple decision rounds to accept or reject offers. (We hear middle school selection is even more fun, by the way.) Last year wait-lists and assignments were fluid through August, so parents might even still have time to consider the right fit for their 4-year-olds for this fall, or get a jump start on next year. After all, those applying for private preschool for 2017 need to start the touring process in September, so there is no better time than summer to narrow down what you're looking for.
We wanted to help parents stay sane through this process, and possibly even make your decision a bit clearer. Read on for five key considerations in determining which pre-K is right for you and your child.
Still sorting through options? Check out our NYC Preschool Guide and Listings for pre-K and nursery options.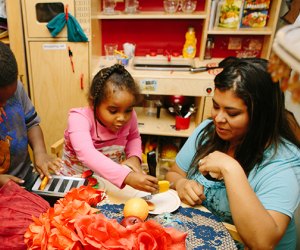 An outstanding teacher makes the difference at every grade level. Photo by U.S. Department of Education via Flickr.
Teachers
After going through the preschool, kindergarten, and high school processes with my kids, I concluded that nothing beats a quality teacher. Some studies have shown that children learn best with a teacher they love and that students with an effective teacher finish ahead of students with an ineffective one. What's more, an outstanding teacher can make children happy to go to school. And when they're happy, you're happy.
So what makes an outstanding teacher? How can you tell if you're looking at one? We asked a few local educators with decades of classroom experience.
Maria Nunziata, co-director of River Park Nursery School on the Upper West Side has more than 40 years of classroom experience. She advises: "Teachers should be down at the children's level, using prompting questions and suggestions that allow children to elaborate, be flexible, sensitive, and good listeners. Lessons should be relative to the child's interest and experiences."
Elena Alexeeva, executive director of the new Evolution Enrichment Center in downtown Manhattan, encourages parents to ask how a teacher would address students' abilities to learn. "Would more advanced students be encouraged to work on more complex projects?" she says. "How are materials from different cultures being incorporated in the program? Do students look like they are enjoying the process of learning? Your child's teacher will be responsible not only for what the children will learn but also how children will feel about learning and themselves."
The Three L's: Lifestyle, Location, Length
When my daughter got into a dual-language preschool across town, I assured my husband it would be no problem getting her there and back every day. After all, it was just a bus ride and a 10-block walk. His reply? "Imagine making that same ride and walk at 7am…in February." I saw his point, and we opted for a school closer to home.
Make sure any pre-K you pick is compatible with your lifestyle. This means not merely location, but things such as the length of the school day and year. Though universal pre-K advertises itself as "all-day," in most places that means 6 hours and 20 minutes only. Are you going to need aftercare? Hire someone to do pickup? Universal pre-K in NYC also doesn't include the summer, but many private centers are open year-round and offer 9 to 5 and beyond coverage. Which option fits your lifestyle better? Remember, if you're stressed and frazzled your child could be, too.
RELATED: 10 Questions to Ask on a Preschool Tour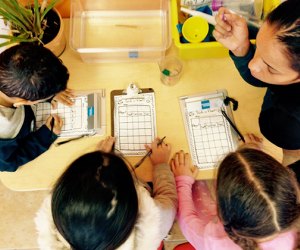 Students learn math and other skills through play at the pre-K level. Photo courtesy of Evolution Enrichment Center.
Kindergarten Prep
Getting into the right NYC kindergarten gets harder each year. (I know, I literally wrote the book on the subject.) Is your pre-K part of an existing school your child can move into? That's true for most private pre-K's, but getting into a public school pre-K does not guarantee your child a spot in its kindergarten.
And what about Gifted & Talented programs and private school test prep? How much will you expect your school to do?
"Our entire pre-K program prepares children for kindergarten admission by helping them develop as confident, self-regulated and whole-rounded individuals with great communication skills and the ability to interact with other children and adults," Alexeeva says.
On the other hand, some schools avoid testing such young children. If you are expecting test prep and admissions help, make sure you find out if it's offered before you sign on the dotted line.
RELATED: Entering NYC Kindergarten: 5 Things to Know

Social time is an essential part of any pre-K. Photo courtesy of Evolution Enrichment Center.
The Setting and Program
Everyone agrees that a pre-K should be clean, and full of toys, books, puzzles, blocks, dress-up and other playthings, perhaps with art on the walls and specially sized-furniture. After that, opinions vary. Do you want computers? Science labs? A separate library? A playground?
"Don't be swayed solely by fancy facilities and perks," Nunziata says. "The most important thing is that the space should encourage sensory experiences, language opportunity, exploration, and investigation."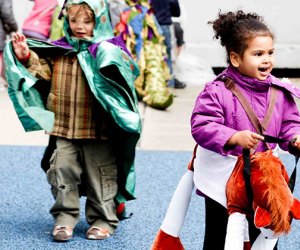 The best pre-K programs celebrate cultural diversity. Photo courtesy of River Park Nursery School.
Your Gut Counts
When I give Getting Into NYC Kindergarten workshops, I tell parents: "You're paying to listen to me. Don't listen to me. Don't listen to your mother, do not listen to other parents on the playground." The person who knows what's best for your child is you. Listen to your gut instinct. If you can imagine your child being happy at a school, go there. If something feels off, even if you can't put your finger on exactly what, don't go. Schools are not interested in families that don't embrace their fundamental philosophy. You will all end up miserable.
But the decision shouldn't be yours exclusively.
"Come for a tour with your child. Let her explore the environment of the school," says Alexeeva. "Trust your child's gut feelings. You want your child to fall in love with the new school, and you don't want to accept anything less than that."
Nunziata agrees: "Be sure the setting meets your own expectations, but consider the child's needs first. A gut feeling is always important. A school that allows children to follow their own interests will produce kids with a positive sense of self."
Been through this already? How did you make your decision? Let us know in the comments.
Looking for more information on how to apply for NYC pre-K? Head to the city's special pre-K education page to find our more about the process.
Top image courtesy of Evolution Enrichment Center.