Queens Botanical Garden: Festivals, Classes, and Family Fun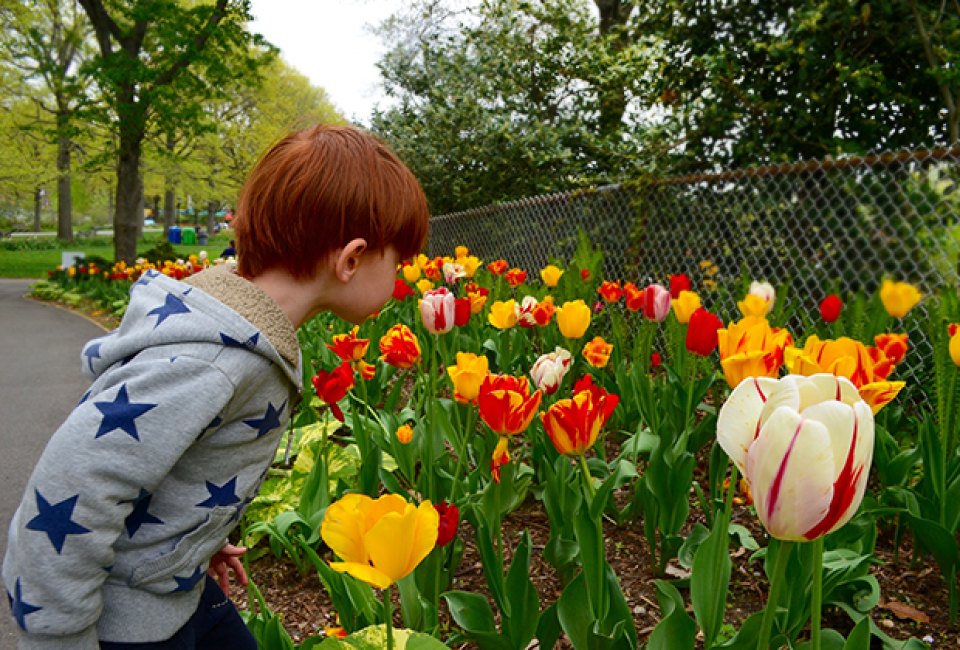 5/11/17
- By
Sydney Ng
Queens hosts one of the city's largest parks, amazing beachfronts and, of course, its own botanical garden. The garden plays host to myriad family festivals and programming for kids year-round. It even offers one of the city's few "forest" or nature-based outdoor preschool programs.
It's a hike to get to if you're not right there in the Flushing neighborhood, though. So is it worth it? We've visited many times and wanted to highlight some of our favorite sights at this top NYC garden when visiting with kids.
Like most famous sites in the Flushing Meadows-Corona Park area, the Queens Botanical Garden began as a humble plot during the 1939 World's Fair. After some renovations, movement, and growth, it grew from 5 acres to the 39-acre family paradise we know today.
The garden's mission is to celebrate nature; it spreads the word through educational programs, demonstrations, and philanthropy. Here's a rundown of some of its amazing offerings for the whole family depending on the season.
Spring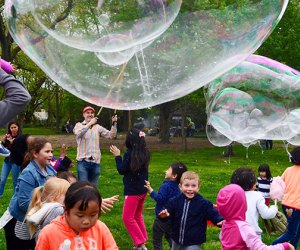 Events like Arbor Fest host fun activities for kids while parents enjoy the scenery. Photo by the author.
From cherry blossoms to Mother's Day celebrations, spring is certainly in the air at the garden. Every week there's something new to see, from tulips in full bloom to roses on display. It's by far the garden's most colorful season, and skipping a week means you may miss an entire bloom. But the good news is, there will always be something else popping up in its place!
This year, my family and I attended Arbor Fest. Though there were tree and rose planting demonstrations, my son particularly loved the bee demo, as well as the games, bouncy castle, and food and crafts this event (and most others) offers.
RELATED: 30 Things to Do in Queens with Preschoolers
Summer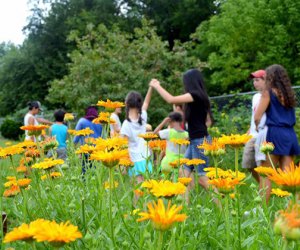 Camps and tours keep kids engaged through summer vacation.
Although colorful blooms make way for lush greenery in the summer months, there's still plenty to see and do. This is primetime to sign up your little ones for gardening clubs and camps, and the fields offer a lot of space to burn that summer vacay energy while benches and trees provide relaxation and shade.
Storytime, crafting sessions, and live music performances kick off in May, while Farmer's Market Fridays start in June and run into the fall.
Note that picnics are not allowed unless specified for special events, but I've never had a problem bringing a small lunch or snack and sitting in the shade at one of the tables outside the Visitor Center by the Cleansing Biotrope (the goldfish pond). Just remember to clean up after yourself.
RELATED: 10 Things to Do on the LIC Waterfront with Kids
Fall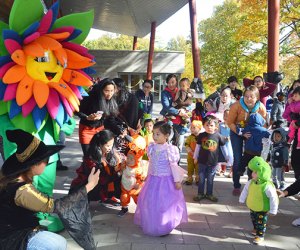 The annual Halloween event is always a crowd-pleaser for kids of all ages.
Fall is my absolute favorite time of year. The leaves change, the pies are baked, and the pumpkins are out. One of the garden's most hopping events this season is the Halloween Festival. Kids (and adults) are encouraged to attend in costume. There are games, crafting, cotton candy, magic shows, storytime, and more fun festivities. The garden also plays host to a seasonal harvest fest and pumpkin patch.
Winter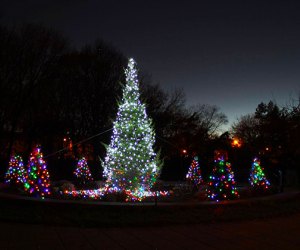 Enjoy the twinkling trees at Christmastime.
Don't give up on the garden in the winter. There's still fun to be had! Programs include indoor classes on cultivating herbs and tabletop gardening that both adults and kids will enjoy, followed by an outdoor nature walk, as well as winter tree tours. Holiday festivities are in full swing: Catch the Christmas Tree Lighting, Santa visits, and other holiday cheer.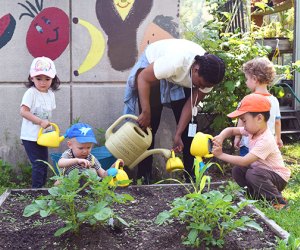 Garden Buds working hard.
Kids Programming
For kids ages 2 to 14, the Queens Botanical Garden offers gardening programs, which range from weekend afternoons to full-day summer camp. There's even a "forest school" style drop-off program for kids ages 2 to 6, which launched in 2017. It offers half-day outdoor learning in the spring, summer, and fall.
Garden Buds (ages 2-3) is a hands-on toddler class where the kiddos can get dirty, eat fresh produce, and craft. Children's Garden (ages 4-10) is summer day camp, where every day is jammed-packed with nature activities such as science explorations and working in the garden. Junior Naturalists (ages 11-14) begins to challenge middle schoolers to scavenge for edibles, learn about birds, and go beetle hunting.
General Info
The garden is not a public park and so it does not allow bicycles, ball playing, picking flowers, dogs, or any other activity that might destroy the wildlife or disturb other guests. Strollers are welcome and the majority of the park is handicap accessible. There's an indoor public restroom in the Visitor's Center and Gift Shop. There isn't a café or substantial food offerings on non-festival days, but you'll never starve in Queens, as there are some amazing selections nearby.
The Queens Botanical Garden is located at 43-50 Main Street in Flushing. The best way to get to the gardens is by car as there is a paid parking lot available during peak season and events, but you can also take the 7 train to Main St/Flushing or Q44/Q20 buses. Its admission times fluctuate depending on the season with reduced hours in the winter, but it is generally open Tuesday through Sunday, and it opens for Mondays on big school holidays, such as Memorial Day and Labor Day. Kids ages 3 and under are FREE.
Top photo: Stop to smell the tulips at the Queens Botanical Gardens. Photo by the author. Unless otherwise noted, photos courtesy of the garden.
Places featured in this article: