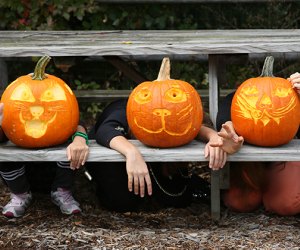 Harvest Fests, Pumpkin Patches, and Hayrides Right Here in NYC
If you think you need to head out of the city for an authentic fall harvest experience, we've got good news: You can pick the perfect pumpkin, go on a hayride, meet farm animals, and even get lost in a massive corn maze right here in NYC.
So if you're looking to skip the car rental, hop onto the subway instead to head out to these fall harvest festivals and pumpkin patches, all located within the five boroughs. Looking for more fall fun? Check out our NYC Fall Fun Guide for the best of the season.
Click through to our listings for all the details, including times, locations, and prices.
NYC's Only Corn Maze

Your city slickers know their way around the streets, but can they navigate the Amazing Maize Maze?
The Amazing Maize Maze – Glen Oaks, Queens
Weekends September 21 through October 26, plus Columbus day
You need a lot of room for a good corn maze so it's no surprise that the biggest one in NYC is located on the grounds of the Queens County Farm Museum. Since the maze changes every year, tackling it has become a tradition for my family. Before you embark on your adventure, staff members explain how to find hidden clues and solve puzzles that help you successfully navigate to the exit. If you've got older kids who enjoy a challenge, try doing it by flashlight: The corn maze will stay open until 9pm on October 12 and 19. Note: If you visit the weekend of September 21-22, you can enjoy the Queens County Fair, and on Sunday, October 27, you can hit the farm's Children's Halloween Festival; both require additional fees.
NYC Pumpkin Patches
At many of the city's harvest festivals, you'll find a one-day or weekend-long pumpkin patches where kids can pick their own, but these spots host pumpkin patches on weekends in late September and throughout October.
Decker Farm Pumpkin Picking Weekends – Staten Island
Weekends October 5 through October 26
This 19th-century farm is part of the Historic Richmond Town living history museum. Pumpkins are set out in a field for kids to "pick." There's also a hayride, small cornstalk maze and face painting. The farm is located off the main grounds but a free shuttle bus is provided. If you visit during Old Home Day on Sunday, October 20, you can also see costumed crafts people doing old-school trades such as stone carving and tinsmithing.
Pumpkin Patch – Glen Oaks, Queens
Weekends October 5 through October 27, plus Columbus Day
Admission to the Queens County Farm Museum is FREE unless there's a special event scheduled such as the Children's Halloween Festival on Sunday, October 27. Like Decker Farm, children are "picking" pumpkins lying on a lawn, but it's a fun experience for little kids and there are lots of other farm attractions. Pumpkin prices vary.
Green Meadows Farm Pumpkin Picking – Marine Park, Brooklyn
Weekends October 5 through October 27, plus Columbus Day
Visit with farm animals, take a hayride, tour the kid-friendly haunted house, and pick your own pumpkin at Green Meadows Farm next to the Aviator Sports Center. Pumpkin included with paid admission.
Queens Botanical Garden Pumpkin Patch – Flushing, Queens
Saturday, October 12-Monday, October 14
This popular Pumpkin Patch includes pumpkin decorating, harvest-themed photo opportunities, and fall crafts. Face painting is available for an additional fee. On Sunday, October 13, patch admission is included in the pricing for the QBG's annual Harvest Fest ($13 Child / $15 Adult / FREE for Members) and pumpkins are $6 each.
NYC Fall Harvest Festivals
Mid-Autumn Moon Festival – Chinatown
Saturday, September 7
Celebrate the Chinese harvest season at this third annual fest featuring crafts, live performances, and pan-Asian eats from area restaurants.
Chuseok Korean Moon Festival – Flushing, Queens
Saturday, September 7-Sunday, September 8
This event celebrating South Korean culture, features musical entertainment with K-pop performances, Korean products, food vendors, and more.

Autumn Moon Festival – Staten Island
Sunday, September 8
Enjoy a multicultural take on the season at this Asian harvest festival in Snug Harbor's serene New York Chinese Scholar's Garden. Ethnic music and dance performances, martial arts demos, and calligraphy lessons are on tap.
RELATED: Get Outta Town: Great Fall Day Trips for NYC Families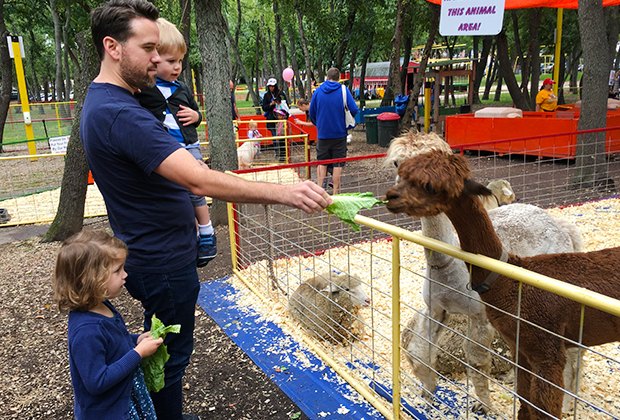 Get up-close with the animals at the Queens County Farm Museum. Photo by Rose Gordon Sala
Queens County Fair – Glen Oaks, Queens
Saturday, September 21-Sunday, September 22
Enjoy a full-fledged county fair right here in NYC at the Queens County Farm Museum with pie-eating and corn-husking contests, pig races, hayrides, a petting zoo, livestock, produce and craft competitions, and lots of traditional carnival rides. You also can get lost in the Amazing Maize Maze, which opens for the season this weekend.
Breukelen Country Fair – Canarsie, Brooklyn
Saturday, September 28
Hit the historic Wyckoff Farmhouse Museum for a PuppetMobile presentation, pony rides, games, face painting, arts and crafts, a pop-up farmers' market, cider pressing, and farm-fresh foods. FREE admission, but some activities cost extra.
RELATED: Best Apple Picking Orchards Near NYC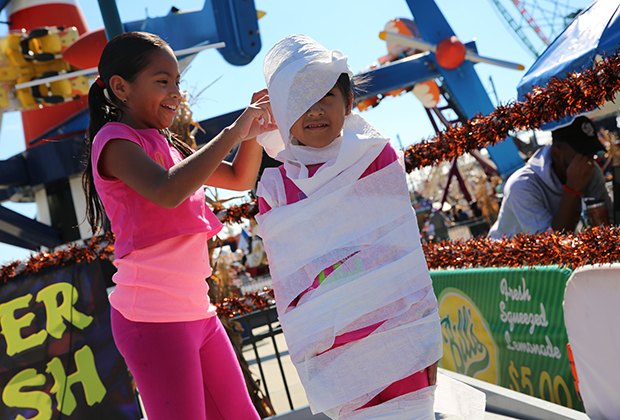 Luna Park's harvest fest includes Halloween-themed fun and a pumpkin patch. Photo by Shira Kronzon
Halloween Harvest Festival – Coney Island, Brooklyn
Weekends, September 28 through October 27
Luna Park's annual harvest fest kicks off in September and runs through Halloween weekend with a pumpkin patch, spooky crafts, dance contests, Halloween-themed temporary tattoos, balloon animals, special events like the dog costume parade, and more. Of course, you'll be able to enjoy all those famous Luna Park rides, too.
Fall Feast – Lefferts Historic House, Prospect Park, Brooklyn
Sunday, September 29
Head to Lefferts Historic House in Prospect Park to help dig up potatoes in the garden. Afterward, cook and sample the harvest, and participate in potato sack races and other retro games. Admission is FREE, but advance registration required.
Oktoberfest & Pumpkin Patch – Sunnyside, Queens
Saturday, October 5
The members-only Sunnyside Gardens Park opens its gates to the public for this annual festival. Enjoy games, live music, a variety of crafts for kids, pumpkin picking and decorating, an artisan market, and classic German-style food and beverages served in the park's woodlands. FREE admission, but there are fees for activities.
Greenbelt Pumpkin Festival – Staten Island
Saturday, October 5
Head to Willowbrook Park in Staten Island's Greenbelt for a festive day of face painting, pumpkin picking, rides on the Carousel for All Children, puppet shows, and seasonal crafts. FREE admission, but there are fees for activities.
Pickle Day – Lower East Side
Sunday, October 6
Over pumpkins already? Well at this fest you can pick the perfect pickle rather than that orange gourd. Taste a selection of the Lower East Side's signature eat, both sweet and dill, from old-school vendors such as Guss' or newcomers such as Sour Puss. Fun for kids includes face painting, dancing, and games. Think you've got pickling prowess? Enter the fair's first pickling contest. FREE
RELATED: Best FREE Halloween Events in NYC for Kids

Join the Randall's Island Park Alliance for a free, family-friendly celebration of fall!
Harvest Festival – Randall's Island
Sunday, October 6
Hit the isle's Urban Farm for seasonal fun, including pumpkin hunting, face painting, fresh apple cider tasting, and tours of the crops. Afterward, explore the attraction-packed isle. FREE
Harvest Festival – Upper East Side
Saturday, October 12
Head to the lovely Carl Schurz Park for a small pumpkin patch, hayrides, and a rocking concert by a local family band. FREE
Fall Harvest Festival – Forest Hills, Queens
Saturday, October 12
Hit Forest Park for this annual shindig featuring pumpkins to pick, kiddie games, live entertainment, and other seasonal fun. FREE
King Manor Museum Fall Festival – Jamaica, Queens
Saturday, October 12
Celebrate harvest season by sampling some culinary delights from NYC's days of yore such as Dutch eats cooked over a fire pit. Apple cider pressing, butter churning, and fall-themed crafts are also on tap. FREE
Vale Park Pumpkin Patch – Williamsburg, Brooklyn
Saturday, October 12
Stop by this sweet elevated park to purchase and paint your own pumpkin. Parents and kids can also buy an autumnal snack from the on-site "Mister Dips" truck.
Honey and Harvest Weekend – Bronx
Saturday, October 12-Monday, October 14
Study all things bees (and honey!) at this sweet event featuring a live hive viewing, honey and honey comb sampling, and recipes inspired by the fall harvest. FREE with garden admission.
Harvest Fest & Pumpkin Patch – Flushing, Queens
Sunday, October 13
Hit the Queens Botanical Garden for live tunes, retro games, garden walks, composting demos, a petting zoo, and pony rides, plus a pumpkin patch. Most activities are FREE with admission.
Bayswater Fall Festival – Bayswater, Queens
Sunday, October 13
Welcome the fall season with pony and hayrides, a pumpkin patch, music, face painting, inflatables, and a magic show. FREE

Get into the Halloween spirit at Brooklyn Bridge Park Conservancy's Harvest Festival.
Brooklyn Bridge Park Conservancy's Harvest Festival – Brooklyn Heights
Saturday, October 19
A pumpkin patch, arts and crafts, face painting, music, and games await at this year's festival on the Pier 6 lawns. FREE
Harvest Festival – Staten Island
Saturday, October 19
Head to Clay Pit Ponds State Park Preserve to carve pumpkins, build scarecrows, play seasonal games, and groove to live music. Don't forget to dress up: A costume contest is on tap.
Old Home Day – Staten Island
Sunday, October 20
Watch costumed crafts people pressing cider, making candles and lace, embroidering and quilting, stone carving, and tinsmithing at Historic Richmond Town. Afterward, hit Decker Farm's pumpkin patch to pick your pumpkin, try the corn maze, and hitch a hayride.
Harvest Homecoming Festival – Prospect Heights, Brooklyn
Sunday, October 20
This fall foliage fest (replacing the annual Ghouls and Gourds event) boasts hay rides, lawn games and a costume parade where kids can join in and strut their stuff.
Halloween Harvest Festival – Long Island City, Queens
Saturday, October 26
The final event of the 2019 season is the much-loved Halloween Harvest Festival, which, this year, is inspired by inspired by the Haitian Festival of the Ancestors. The event includes a spooky costume contest, art-making, fantastical face-painting, and the annual Canine Costume Contest with fun prizes.
Giant Pumpkin Weekend – New York Botanical Garden, the Bronx
Saturday, October 26-Sunday, October 27
Gawk at plenty of impressive gourds in this favorite seasonal exhibit; stick around to see what's happening at the always-popular Everett Children's Adventure Garden.
Children's Halloween Festival – Glen Oaks, Queens
Sunday, October 27
One of my family's favorites, this massive bash at the Queens County Farm Museum features traditional games such as sack races and trinkets-in-the-haystack, live music, bouncy houses, a haunted house, pony rides, and a petting zoo. Families are encouraged to attend in costume, and this is the perfect day to hit the farm's Amazing Maize Maze and pumpkin patch.
This post, originally published in September 2010, is updated annually.
Unless otherwise noted, photos courtesy of the events/organizers