12 Mother's Day Brunch Spots in Queens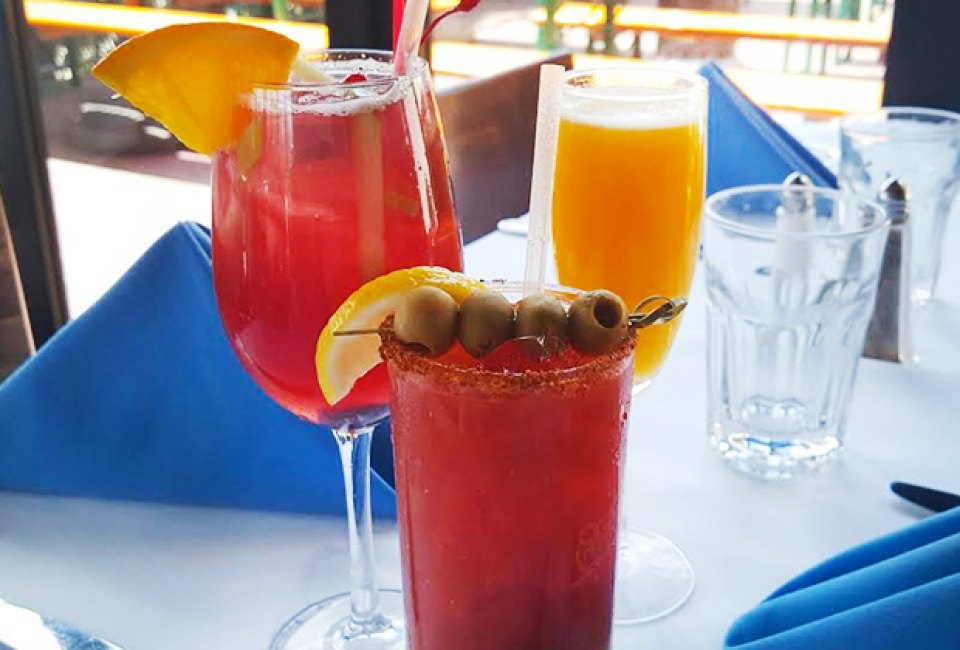 5/1/17
- By
Sydney Ng
Just as its population is diverse, so are options for Mother's Day brunch in Queens. It's mom's special day, and she'll want to relax with family, sip a mimosa and eat great food knowing that spills won't be met with rolling eyes. So we've curated this family-friendly list of brunch options in the borough, offering inventive twists on traditional favorites. Don't worry, omelets and French toast still are represented.
Check out our suggestions for how to spend the rest of your 2017 Mother's Day in NYC, or peruse Brooklyn or Manhattan brunch options if you're thinking of hopping boroughs.
It's a busy day for restaurants, so be sure to make a reservation if required. Also, some serve brunch all day, others serve only within a designated time window. It's best to call ahead.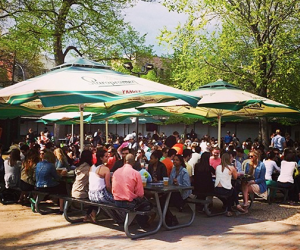 The laid-back vibe and outdoor seating at Bohemian Hall make this beer hall family-friendly.
Bohemian Hall — Astoria
29-19 24th Avenue
All-day prix fixe, noon-7pm
"Beer garden" might not sound like a Mother's Day destination, but for those in Astoria, Bohemian Hall might as well be Alice's Teacup. The Mother's Day menus, both prix fixe and a la carte, consist of bacon lollipops, chicken schnitzel, and sea salt caramel crè​me ​​brûlée. The best part is an expansive outdoor seating area where kids can stretch their legs. There won't be live music on Mother's Day, but it will surely be a fun time, better if the weather holds up.
The Brewery Bar & Kitchen — Woodside
49-18 30th Avenue
Brunch from 10am to 4pm; Mother's Day prix fixe menu ends at 1pm.
You must be thinking, "a bar for Mother's Day?" Well, The Brewery is an Irish pub in the true sense of being a public place to gather with family. It is also one of Woodside's most kid-friendly destinations. The owner and staff love greeting children at this neighborhood restaurant. They'll even share pics of their own kids if you get to chatting. A special Mother's Day brunch menu is planned, but top picks are shepherd's pie, quiches and whatever special French toast is served; slices melt in your mouth. Strollers can be stored at the entrance's coat rack, but the aisles are large enough to keep one beside your booth. It has high chairs but no changing tables. On warmer days, staff open the front window walls to the sidewalk.
Dinerbar — Rego Park
97-45 Queens Boulevard
Breakfast and brunch from 8am to 4pm
Dinerbar is a modern take on that good ole' diner we all grew up with. A prix fixe menu is being developed for Mother's Day, but the regular brunch menu is hard to beat. Favorites include sweets such as red velvet waffles and s'mores waffle tower and savories such as grilled shrimp omelettes. Shh... There's also a "boozy brunch" add-on. Kids, of course, are welcome and high chairs are available. This is also a great spot for a large group in this roomy destination.
RELATED: May GoList: Best Things to Do this Month with NYC Kids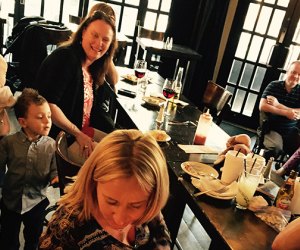 The Dog & Duck has a relaxed vibe that's perfect for kids and moms alike.
The Dog & Duck — Sunnyside
45-20 Skillman Avenue
Brunch from 11am to 4pm
This gastropub takes food to another level. If I could, I'd come here daily just for the carrot and ginger soup. Likewise, the corned beef hash and Bookmaker sandwich are superb. Nestled in tree-lined Sunnyside, you'll feel as if you're lunching at a quaint London bistro. If you'd like to have the kids work off their pancakes or French toast, Lodati Park's jungle gym is just a few blocks away. The Dog & Duck has highchairs, but it's a tight space inside for strollers. If you snatch up a sidewalk spot for brunch, you might have room to store your stroller at your side. Brunch will be off its regular menu, but there will be a Mother's Day prix fixe for dinner.
Jagerhaus — Whitestone
15-16 149th Street
Brunch from 11:30am to 3pm
Looking for a brewski and some stick-to-your-ribs fare on your special day? Head to Whitestone for some not-your-German-grandma's cooking and biergarten. Think traditional dishes with a modern twist and gorgeous presentation. Kids can order a Bavarian pretzel and beef sliders, and "wurst" is, of course, another word for hot dog. There's a special Mother's Day menu in the works. Jagerhaus does not have restroom changing stations, but supplies high chairs and can accommodate strollers.
RELATED: Queens Neighborhood Guide: Best Party and Play Spots, Things to Do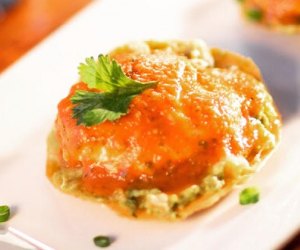 Mexican-style poached eggs at Maizal are sure to delight on Mother's Day.
Maizal Restaurant — Astoria
32-07 34th Avenue
Brunch begins at noon.
Maizal is a tequila bar up front with sidewalk seating and fine dining in a spacious back room. The staff is friendly and knowledgeable about the authentic Mexican cuisine from Puebla. Its regular brunch menu includes the unexpected, such as crepes, sweet with fried plantains or savory with chorizo; and dependable standards such as huevos rancheros. Don't leave without tasting the extraordinary stuffed sweet plantain with garlic shrimp and avocado appetizer. Save room for the pastel tres leches (three milk cake); it is creamy goodness that shouldn't be missed. Most items are gluten-free. Maizal has high chairs and space to stow your stroller, but no kids' menu or changing station. However, the ladies room is sizable.
The Panorama of My Silence-Heart — Jamaica
84-73 Parsons Boulevard
All-day menu from 8am to 6pm​
Taking a break from the meat-heavy selections here, The Panorama of My Silence-Heart is a lovely vegetarian/vegan-style reprieve. Yes, that's its name. The cafe is owned and operated by meditation students of Sri Chinmoy. There is an extensive coffee and tea menu and wonderfully fulfilling options such as satay chicken wraps, Thai curries and Neatloaf. No, that's not a misspelling. Cozy and chill, with bookshelves and couches, Panorama is a relaxed destination for mom to put her feet up and enjoy a warm cup of Matcha hot chocolate.
RELATED: Guide to Family-Friendly NYC Restaurants & Eateries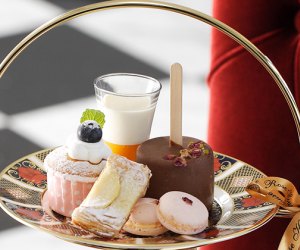 Feast on the exquisite pastry tier at Rose House.
Rose House — Flushing
136-17 39th Avenue
Brunch begins at noon.
"Queen for the day," you say? Celebrate at this uber-fancy (and pricey) tea house and get your pinky ready for a workout because this place is no joke. Staff sprinkle freshly crushed rose petals into your cup before pouring. The owner is a Taiwanese artist who specializes in painting roses and who has been in service to the British royal family, helping out years ago on china decorations for a wedding present to Queen Elizabeth. More recently, he helped on the china used at the wedding of Prince William and Kate Middleton. You might make this your highness' second stop for the day because while the food might not meet lofty expectations, the teas and pastry tiers surely do. You could turn your visit into a multiple mother-daughter dress-up outing. Rose House can accommodate parties of up to 14 and has high chairs and plenty of room for stroller storage.
The Strand Smokehouse — Astoria
25-27 Broadway
Brunch begins at noon; live music begins at 2pm.
Sunday brunch at The Strand is always a party. If you're a mother, or know a mother, that loves live music, this is the place for you. The Bluegrass band, 2nd Avenue Mountain Boys, plays every Sunday from 2pm to 5pm. Kids are welcome and there are plenty of canopy high chairs that adhere to your table. Finger-licking-good smoked meat is the majority of the menu but there are also sides galore such as mac and cheese and mashed potatoes to keep the picky little ones satisfied. With enough space for kids to wiggle their bottoms to country tunes, The Strand is a great destination for the whole family.
Uncle Jack's Steakhouse — Bayside
39-40 Bell Boulevard
Brunch begins at 11:30am.
Popular for its amazing Kobe beef and dinner menu, Uncle Jack's is also a surprising spot for brunch. The menu consists of American favorites with high-end twists such as O.M.G. Short Rib Hash and dry aged New York strip in its B.F.F. Steak & Eggs. Because of the steak knives, wine glasses and slightly upper-scale attire, I'd save this location for kids that won't grab at the flatware.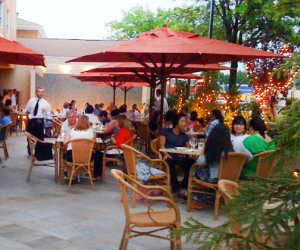 If the weather cooperates, snag an outdoor table at Veranda Restaurant & Cafe.
Veranda Restaurant & Cafe — Bayside
208-01 Northern Boulevard
Brunch from 10am to 3pm
"A classic brunch with a Greek twist in Los Angeles" — correction: Bayside. Some newbies to this eatery say they feel as if they're in LA when they dine outside on the beautiful veranda. Weather permitting, ask for a table outside. The alfresco people-watching definitely summons West Coast vibes. A special a la carte menu is offered on mom's day. Ironically, the go-to omelet, among the many egg dishes, is the California. Veranda is kid-friendly, has stroller parking and high chairs, and the staff will whip up all the typical mini-meals for kids on request. There are no changing tables, but the women's restroom is spacious.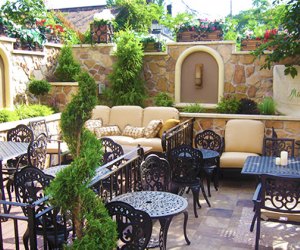 Snag a garden seat for outdoor brunch at the Victory Garden Cafe.
Victory Garden Cafe — Astoria
21-69 Steinway Street
Brunch from 10am-4pm
Although underwhelming in the front of the cafe, what's fun about Victory Garden is the garden, of course. Take a trip to the back of the restaurant and you'll be greeted by a Euro-Mediterranean-styled patio with hanging vines and small fountain. The brunch menu consists of large portion plates, such as Tsoureki French toast, thick bacon slices and, my husband insists, a very decent bloody mary. There's enough space in the front for strollers and high chairs. Come early to secure a table in the garden.
Top image: Drinks at the Jagerhaus biergarten​. All photos courtesy the restaurants.
Click Here to Sign Up!
i