10 Things to Do with Kids at the Long Island City Waterfront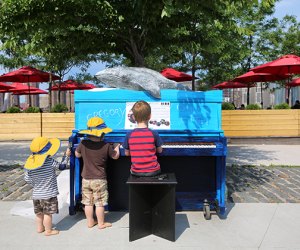 Long Island City, Queens, is known for its picturesque waterfront and spectacular panoramic views of central Manhattan and Roosevelt Island. The promenade—part of Gantry Plaza State Park—runs along Long Island City's waterfront and has undergone major renovations over the last several years, resulting in major fun for NYC families and kids.
From scenic walkways to vibrant playgrounds, there's something for everyone at The Gantry and the adjacent Hunter's Point South Park. Read on for our top 10 picks for enjoying this riverside oasis in Long Island City.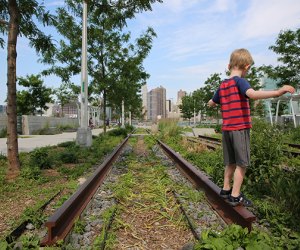 Walk across abandoned train tracks without fear!
Play on the train tracks
How often do you get to let your kids play on train tracks? Long Island City used to be quite industrial, so along the boardwalk you'll spot patches of abandoned train tracks called gantries that were used to load and unload cargo during the area's peak manufacturing period. Today, they are much more kid-friendly, landscaped with flowers and plants. Just a little FYI old New York history lesson for the kids!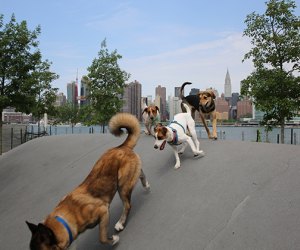 The mountainous dog run not far from the playground makes for great canine watching.

Watch the puppies
If your child is a dog-lover, they'll be thrilled to spot many furry friends at Gantry Plaza State Park, especially along the boardwalk. Leashed dogs are allowed in the Garden area near the South Gantry and the Plaza area in front of the Gantries. (Signs will indicate if dogs are a yay or nay in a particular section.) Additionally, there is a dog run on the corner of 48th Avenue and Vernon Boulevard.

Go fishing
Fishing may not be your first thought when considering Queens, but there are four long piers along Gantry's boardwalk offering up great photo-ops for families with the Empire State Building behind you. Along Pier 4, guests young and old are permitted to fish. Bring your rod and hope for a good catch!
RELATED: 8 Swim Lesson Spots Around Queens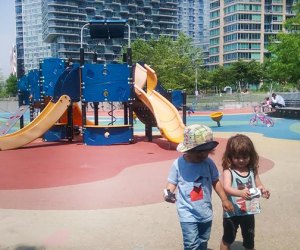 The modern Gantry playground offers plenty of cool jungle gym fun—and even sprinklers! Photo by the author.

Romp in Gantry's vibrant playground
No concrete here! The playground at Gantry has a soft, cushiony ground and bold, bright colored play structures. Amenities include a jungle gym, a climbing structure that looks like a net, spinning bucket chairs and more. Plus, there are tall sprinklers that spray water skywards, which makes for some unforgettable water play, too.

Have a picnic
Although grilling is not permitted at Gantry, there are picnic tables right near the Boardwalk's historic Pepsi-Cola sign. Didn't bring your own lunch? Place an order to go at nearby Sweetleaf coffee shop, Skinny's Cantina, or Foodcellar & Co. Market.

Gaze at the historic Pepsi-Cola signage
Just this spring, the iconic Pepsi-Cola sign was designated a New York City landmark. Show it off to the kids and take a few seconds to appreciate its simple beauty—it once stood on top of a Pepsi-Cola factory and has since been preserved. Located on the Northern part of Gantry Plaza, it's also viewable from Roosevelt Island. (Fun fact: The sign makes a cameo in the movies Munich and The Interpreter.)
RELATED: 13 Queens Kiddie Gyms and Play Spaces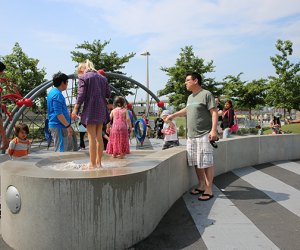 The city-run Hunter's Point South Playground offers climbing structures, swings, and even a wading spot in the summer.

Visit Hunter's Point South Playground
Gantry Plaza is state-run and nearby Hunter's Point South Park (which runs along the same boardwalk) is a city park. The parks are adjacent to each other on the promenade, separated by gantries/old train tracks. Hunter's Point South features a traditional playground with swings, climbing structures, slides, and a small splash pad where kids can cool off.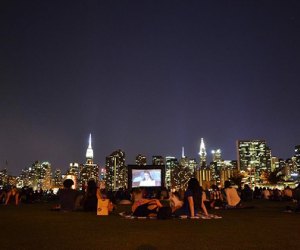 Skyline Cinema. Photo courtesy of Hunters Point Parks Conservancy.​

Enjoy a blockbuster
This summer, outdoor movies will be shown in just about every NYC park, including Hunter's Point South Park's Landing Events space. Movies will be broadcast outside every Thursday evening (and one Saturday) throughout the summer and include faves such as Spider-Man and Zootopia. Best of all, screenings are FREE.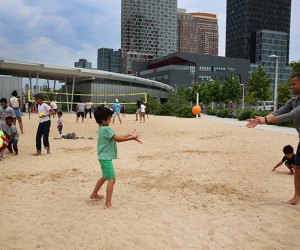 Play catch or bring your pail and shovel to hit this LIC beach.

Hit the beach
Are you at Coney Island? Nope, just hitting the LIC beach! This sandy shore is parked next to the Landing Events space at Hunter's Point South Park (where the concession stand is located and the ferry departs). There are no waves, boogie boards, or sea shells, but there is a large area of nothing but soft, beautiful white sand. Grab a pail and shovel and dig in! Right next to the beach is COFFEED, an outdoor café that offers burgers, fries, chicken fingers, and other typical concession stand fare.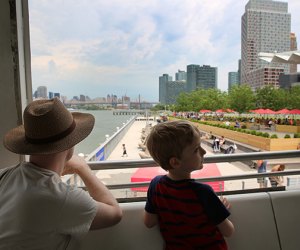 Part of the fun of getting there from Manhattan or Brooklyn is taking the ferry.

Take the ferry to Midtown or Brooklyn
A breezy trip for young boat-lovers, the NY Waterway's East River Ferry departs daily from Hunter's Point South Park. Tickets can be purchased online in advance or at the ferry terminal. The ferry—which has indoor and outdoor seating—takes passengers to and from Midtown and downtown Manhattan, plus Greenpoint, Williamsburg and Dumbo in Brooklyn. Children five and under are free.

Additional recreational facilities for families include basketball courts and handball courts. Sporting events such as soccer games are often held in the green circular fields at Hunters Point Park. There are many shady sections along the boardwalk, as well as benches and chairs, for those who need a little break. Restrooms are located near COFFEED (which has a changing table in the largest stall); additional restrooms can be found near the Gantry Plaza dog run and athletic field.
Top image: A bright blue piano is one of the several public art installations on view this summer. Unless otherwise noted, all photos by Shira Kronzon.