The Adventures of Tortoise & Hare The Next Generation
The Sheen Center

The Very Hungry Caterpillar Show
DR2 Theatre

NYC Easter Brunch Cruise 2023
Event Cruises NYC
Sign up for our free newsletters.
Peek Inside the New Hunters Point Library in Long Island City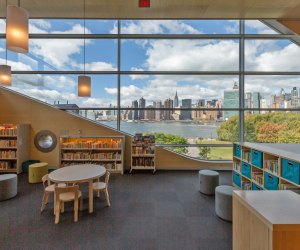 10/11/19
- By
Katie Nave
The highly-anticipated Hunters Point Library in Long Island City is now open to the public, with a lovely waterfront location, a sunny children's section, a packed calendar of family programming, and that delicious "new library smell." (Just kidding. Sort of...)
An estimated 15 years in the making, the $41.5 million Queens architectural marvel is now welcoming visitors of all ages. So if you're looking for an indoor adventure and the allure of your local library has worn off, here's a peek inside NYC's newest literary jewel box.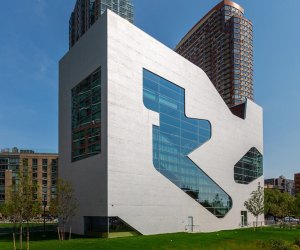 You could spend all day exploring the 22,000-square-foot building, designed by Steven Holl Architects, with six levels of stacks and community spaces that stretch up to a rooftop reading area. An elevator is available, but if your child is anything like my energetic little one, prepare to climb the lengthy interior stairs.
We love that there is a Children's Room with toys and books, along with dedicated children's reading areas. Plus, it doesn't hurt that there are sweeping water views of the Manhattan skyline to take in as you peruse. The bamboo walls and giant windows help to create a much-needed serene space for visitors.
The library has created programming to cater to the growing number of local families in Long Island City, including Toddler Times, Saturday Pre-K Music and Play Times, Wednesday Crafternoons, and Thursday STEAM Afternoons. Teen programming includes weekly Friday games, a weekly writing club, monthly trivia night. Check out the calendar for ongoing events, like family movie nights and concerts.
RELATED: Long Island City Preschool Guide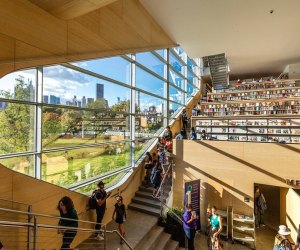 Other creature comforts include comfy chairs to relax and read, charging stations, free WiFi access, and public restrooms.
The Hunters Point Library is located at 47-40 Center Boulevard. Make a day of it by experiencing all that the ever-changing Long Island City neighborhood has to offer.
Photos courtesy of the NYPL