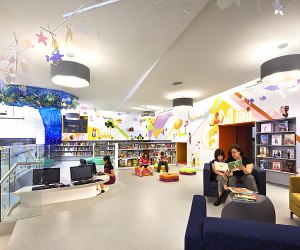 New York City Libraries with Great Play Spaces and Children's Rooms
It's too cold or rainy to play outside and the kids are bouncing off the walls. What to do? Don't feel like spending money to take the kids to an indoor play activity? The best default option, hands-down, is the library. Your kid can never finish reading all the books available, and many libraries also have children's rooms and activities. And not only is a trip to the library an always-FREE activity, your library card gets you free access to more than 40 other institutions around NYC. To mix things up, venture beyond your own local library to these gems that have some of the best children's play spaces in the city.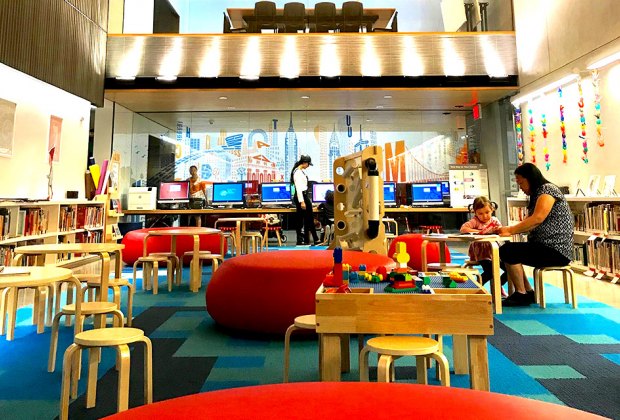 The 53rd Street Library has a massive cozy kids' area with plenty of computers. Photo courtesy of the library
Manhattan
Children's Center at 42nd Street, The New York Public Library – Midtown East
476 Fifth Avenue at 42nd Street
(212) 621-0208
For starters, this is the best library in NYC, regardless of age. The iconic stone lions out front (Patience and Fortitude) are sure to enthrall before you even make it through the entrance (and on a nicer day, running up and down the stairs out front is a great way for your little ones to burn off energy). Once inside, the Children's Center boasts the largest selection of kids' books in the city. And the whole family will enjoy perusing the historic toys and paintings, including the original Winnie the Pooh! The library main branch calendar is bursting with free events from theater and music, to readings and spoken word.
53rd Street Public Library – Midtown West
18 West 53rd Street
(212) 714-8400
Just half a mile up from the main library in Manhattan, the 53rd street library, renovated in 2016, is a perfect place for kids of all ages. The children's room is great for cozying up at a table and reading a stack of new books, or playing a game. There's even a "teen zone" for older kids. The 21st Century library has lots of digital access and media as well, and cool programs that include movies and music, and even homework help for your too-cool-for-school older kids.
Harlem Library – Harlem
9 West 124th Street
(212) 348-5620
The Harlem Library branch, which first opened its doors in 1826, has had many long decades of practice serving kids. There's a separate children's room on the second floor with toys and games where kids can entertain themselves for hours, and plenty of events for when they're done. There are toddler story time and family movie events, and plenty of events for older kids from S.T.E.A.M. to sign language learning to video game clubs.
Brooklyn
Brooklyn Public Library – Prospect Heights
10 Grand Army Plaza
(718) 230-2100
The Brooklyn version of the New York Public Library, this grandiose main library sits on Grand Army Plaza opposite the entrance to Prospect Park. With more than a million books and a million annual visitors, the Brooklyn Public Library is an ideal place to read, play, and people watch. They have an amazing focus on children, from designated space in the building to extensive programs for all ages, including learning series and one of the first (and most popular) drag queen story hours.
Park Slope Library – Park Slope
431 Sixth Avenue
(718) 832-1853
The neighborhood that many famous children's authors call home had better have a great library for kids. The Park Slope Library doesn't disappoint, with a fully-stocked kids' space that takes up almost half of the first floor, plus an outdoor amphitheater that hosts seasonal fun events for all ages, including the more traditional readings and story times, and classes like coloring and chess club. Plus, the building is incredibly historic and beautiful.
RELATED: Got a Library Card? You Can Get Into These NYC Museums and Gardens for FREE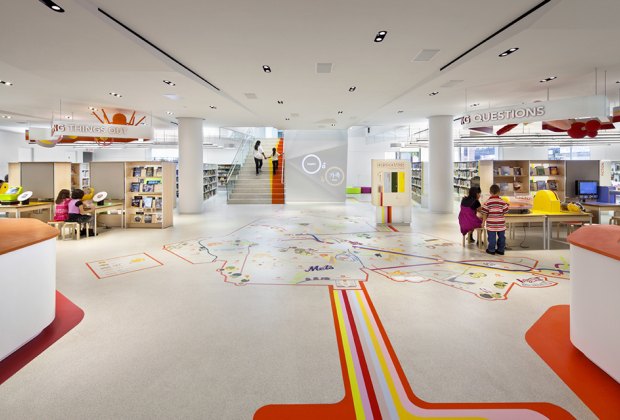 Kids can play with numerous hands-on exhibits and desktop computers at the Library Discovery Center. Photo courtesy of the library
Queens
Children's Library Discovery Center– Jamaica
89-11 Merrick Boulevard
(718) 990-0133
What could be better than a free public library that doubles as a science museum? Not a whole lot (except for maybe a kids-free night with a glass of chardonnay and your feet up on the couch). This incredibly unique and awe-inspiring public library has a Discovery Center aimed at kids ages 3 to 11, with hands-on exhibits, including a giant, interactive map of Queens, and programs including arts and crafts of all kinds.
Queens Library at Flushing– Flushing
41-17 Main Street
(718) 661-1200
This giant library in the heart of Flushing opened a brand-new children's room in 2017. The space is huge, with nearly 6,000 square feet of kid-friendly library fun. They have an entire wall built out of detachable Legos, a puppet theater, a playhouse, and tons of events and activities for all ages. There's also a dedicated early learning center with trained staff focused on teaching your little ones through play.
Bronx
Belmont Library – Belmont
610 East 186th Street
(718) 990-0133
This slice of history (close to really good slices of pizza) in the "Little Italy" section of the Bronx is worth checking out with the kiddos. The Belmont Library, known by locals as the Enrico Fermi Cultural Center, has an amazing collection of art and unique programs for kids that is sure to keep them engaged. From card and board game events, to coloring time, Lego challenges, movies, and graffiti and manga art studio time, the Belmont Library and its dedicated children's space and toys and activities make this the perfect escape from a boring afternoon at home.
Kingsbridge Library – Kingsbridge
291 West 231st Street
(718) 548-5656
Truly one of the nicest libraries you'll ever set foot in, the Kingsbridge Library is brand-spanking new and a lot of thought went into its design. The children's room is below street level, but the windows extend down and let in plenty of natural light to make the space feel welcoming. The floor is soft, and bean bag chairs and crisp colors add to the charm. There are of course plenty of books to fill the time, and for the digitally-entrenched, there's also a Wii.
Staten Island
St. George Library Center – St. George
5 Central Avenue
(718) 442-8560
This spacious library means plenty of room for your family to spread out and take advantage of the large collection of reads and activities. The designated children's space offers toys and games and cool educational activities including bilingual events and homework club. And for kids, they have PlayStations set up with designated teen video game time.
Mariners Harbor Library — Mariners Harbor
206 South Avenue
(212) 621-0690
This stunning, decade-old 10,000 square foot library doesn't have a distinct children's room, but does have a kid's section, separated by book shelves (in fact, there are no separate rooms in the library; it is all one, big open space). There is, though, a distinct children's area with a children's-only bathroom, and lots of fun perks like a photo booth, a terrace for nicer weather, plenty of programs from story time to homework help and arts and crafts.