Exploring Arthur Avenue: The Bronx's Own Little Italy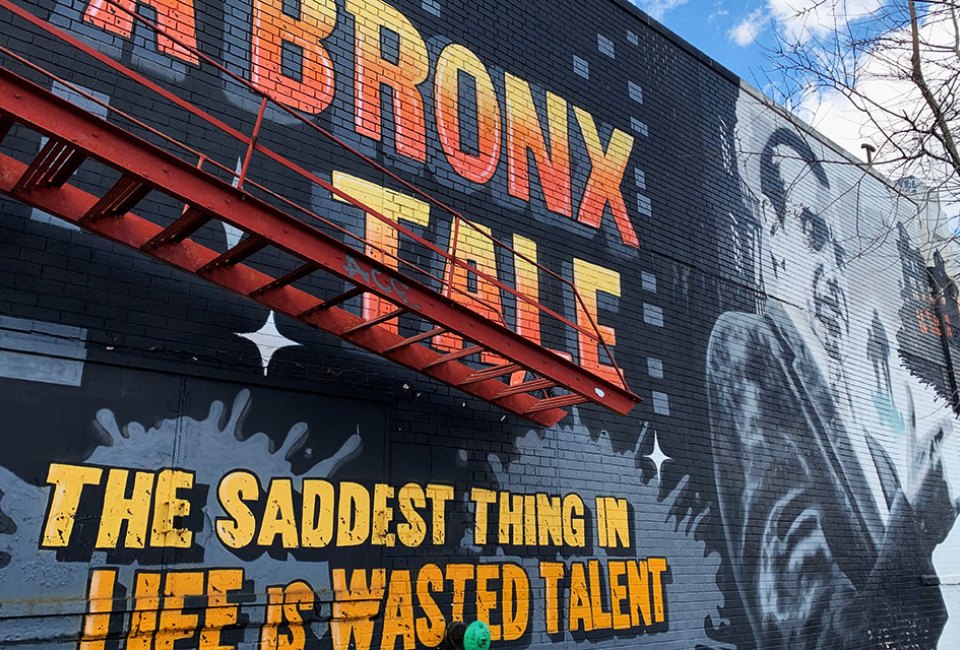 3/25/21
- By
Sonia Gonzalez
The Bronx's famed Arthur Avenue probably needs no introduction. Often dubbed NYC's "real" Little Italy, this area in the Belmont section of NYC's northernmost borough has been known for its Italian heritage dating back to the 1850s. The neighborhood has been featured in many films and TV shows—most notably, A Bronx Tale, Robert DeNiro's directorial debut starring DeNiro, Chazz Palminteri, and Lillo Brancato.
In many ways, Arthur Avenue remains the same as it has for decades—distinct Italian bakeries, delis, restaurants, and markets—and in other ways, it has evolved in the way many NYC neighborhoods do. Mexican eateries like Estrellita Pablana and Rancho Estella on 187th dot the area, while Mexican specialty store Panderia Lucero offers fresh-baked sweet breads, Mexican candy, piñatas, and more.
Arthur Avenue's location, conveniently close to the Bronx Zoo and New York Botanical Garden, makes it a fun stop en route to the attractions, though it's a worthy destination in its own right. Now is a great time to visit—the city is starting to thaw, and spring excitement is in the air, so read on for nine things to do in the Bronx's Little Italy with kids.
Though Arthur Avenue is the most famous street associated with the neighborhood, many of our picks are actually off Arthur, on 187th Street, and nearby. Of course, this is not a comprehensive list. There are too many great eateries, delis, and shops to mention here. Our advice: Visit more than once, arrive ready to eat, and have empty tote bags ready to carry your haul.
We'll start our "walking tour" on Fordham Road, following Arthur Avenue to D'Auria-Murphy Triangle at the corner of Crescent Avenue.
Where To Eat and Shop on Arthur Avenue
2477 Arthur Avenue
Don't let the outside fool you. From the sidewalk, you might expect a tiny restaurant, but head inside, and you'll be delighted to find the narrow hall opens to a huge outdoor seating area in warmer months and a covered, heated space in colder months. It's such a treat, and with a menu full of pizza, salads, and pasta, it's a family-friendly delight.
RELATED: Kusama: Cosmic Nature Set to Debut in April at NYBG

Casa Della Mozzarella carries its namesake cheese and enough other goodies that they're strung from the ceiling.
604 East 187th Street
The name says it all. Visitors come from all over to score the best mozzarella in town, hands down. Of course, you'll also find cheeses and meats of all kinds, plus pasta, olives, and my personal favorite, sun-dried peppers. Casa Della Mozzarella is not a restaurant, and the shop is tiny, packed with goods—they literally dangle from the ceiling—so you'll have to grab-and-go. No worries, though. Just stock up on goodies for home and order a specialty sandwich to enjoy as you stroll through the neighborhood. It's worth noting that a line often forms (especially around holidays), so plan to arrive early or chalk up the wait as part of the experience and enjoy the delayed gratification (you won't be disappointed).

De Lillo's pastry case is a feast for the eyes.
610 East 187th Street
If you just want sweet treats and delicious coffee, head to De Lillo Pastry Shop. You'll find beloved Italian classics—everything from rainbow cookies to cannolis and gelato—plus divine espresso that fuels your trip to the zoo or gives you the boost you need post-trip. And with plenty of seating inside and out, you can take a seat and enjoy your treats without worrying about sipping or munching on the go.
RELATED: See Bronx Zoo Like a Local: Top Tips for a Great Visit with Kids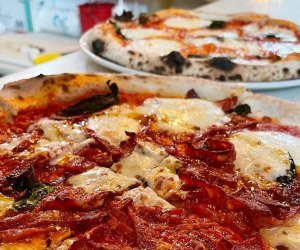 You can't beat the fabulous brick oven pizza at Zero Otto Nove. Photo courtesy of the restaurant
2357 Arthur Avenue
Serving up authentic Italian dishes in an open, airy space that evokes the spirit of an Italian grotto, Zero Otto Nove (meaning "089," the area code for Salerno, Italy) is one of my family's go-to spots. The main dining room has soaring ceilings and a large skylight that floods the area with natural light. Brick oven pizza, mozzarella Caprese, and spaghetti with tiny meatballs, tomato sauce, and goat cheese are all kid favorites, though you really can't go wrong with anything here.

Madonia Brother Bakery is a carb-lovers paradise with Italian breads and freshly filled cannolis waiting for customers.
2348 Arthur Avenue
This old-school bakery has been a staple on Arthur Avenue for more than 100 years. Here you'll find your fill of specialty cheese bread, olive bread, and any other bread your heart and tummy could ask for, along with cannolis filled while you wait—it doesn't get any fresher than that!
RELATED: 10 Things to Love About the New York Botanical Garden

Stepping into the Arthur Avenue Retail Market is akin to visiting an open-air market in Italy.
2344 Arthur Avenue
This festive spot is an ode to open-air Italian marketplaces, except this one is indoors. Still, you'll find it's packed with stalls featuring fresh produce, Italian meats, cheeses, olives, pastries, and more. There's a small beer hall, deli counter, and pizza counter to grab quick and delicious bites, plus seating. Kids enjoy the bustling scene, and you may even want to snag a souvenir T-shirt or tchotchke.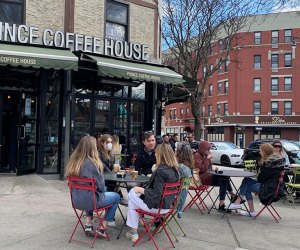 Prince Coffee House serves coffee and pastries and is a great spot for people-watching.
2306 Arthur Avenue
Perched at the corner of Arthur Avenue as it rounds onto Crescent Avenue, this coffee shop serves delicious coffee and pastries with a charming quintessential coffeehouse vibe. Its storefront consists entirely of floor-to-ceiling, wall-to-wall windows, offering a panoramic view of the neighborhood with ample sitting outside and in.
Where to Play Near Arthur Avenue
East 188th Street between Arthur and Hughes Avenues
This spacious playground offers newer play structures for kids and tots, plus game tables, a bocce court, spray showers (designed to look like oversized bocce balls), fitness equipment, and ample seating for breaks and snacks.
How to Get to Arthur Avenue
To reach Arthur Avenue via subway, take the No. 4 or D trains to the Fordham Road station and board the Bx12 bus heading east. You can take the Nos. 2 or 5 trains to Pelham Parkway and catch an eastbound Bx12, too. If you're traveling via Metro-North, take the Harlem or New Haven Lines to Fordham Road. Prefer to drive? Metered street parking is available in addition to local garages.
Unless noted, all photos by the author. Updated August 2023.
Click Here to Sign Up!
i