Go Fish: Where to Go Fishing with NYC Kids for Free (Even If You Don't Have Gear)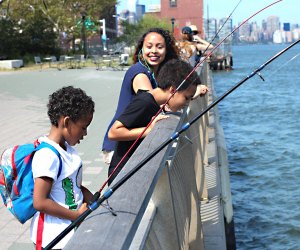 8/19/19
- By
Stephanie Ogozalek
Fishing is a classic family activity, but it can only be done outside of NYC, right? Wrong. My husband and I have been fishing with our 9-year-old son in the five boroughs since he was a preschooler. It's relaxing and a great way to bond, plus it teaches patience (you definitely need it for this sport).

Not only does NYC offer different kinds of fishing experiences (freshwater, salt water, catch-and-release), there are organizations that even supply the rod, reel, tackle and bait so all you need to bring is a good attitude. Our rivers, lakes, ponds and beaches are truly teeming with fish, and we've got the scoop on where you and your kids can catch them.
Children under age 16 don't need a license to fish in New York State, however grown-ups do, so make sure you get one if you're looking to drop a line, too. If you have your own equipment, NYC's shorelines offer great saltwater angling while our inland bodies of water are perfect for freshwater catch-and-release fishing. Make sure to check the websites or call ahead before heading out in case weather or other issues interfere with fishing. This summer, for example, a few regular fishing spots are closed due to algae blooms in the water around NYC.
Catch-and-Release Fishing – All Equipment Provided
Dana Discovery Center – Harlem
Harlem Meer in Central Park, enter at 110th Street and Lenox Avenue
Daily mid-April to mid-October; check the website for hours
FREE
Leave your ID and you can pick up a simple rod (no reel), a barb-less hook and dish of corn for bait. Then try to catch and release the bass, sunfish and carp that call the man-made lake in Central Park home. Afterward, stick around and explore the gorgeous northeast corner of Central Park, which includes an impressive playground and the Olympic-size Lasker Pool. Note: Fishing is currently suspended in this location due to algae blooms.

Big City Fishing at Hudson River Park – Tribeca, Midtown West, & Greenwich Village
Various locations and days. Check the website for the complete schedule.
FREE
The nonprofit Big City Fishing offers free instruction along with rod, reel and bait to children ages 5 and up at three Hudson River Park piers: Pier 51 at Jane Street, Pier 84 at West 44th Street and the attraction-filled Pier 25 at North Moore, which also features a fantastic water playground and inexpensive mini-golf.

Lower East Side Ecology Center – Gramercy & Lower East Side
Various locations and dates throughout the summer, see the website for complete schedule.
FREE
This environmental org hosts a series of no-cost fishing and nature clinics for families every summer. All equipment is provided, though you're welcome to bring your own. Preregistration is required.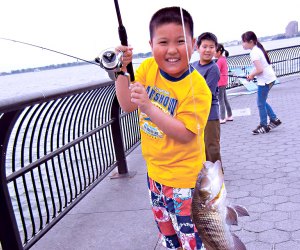 Go Fish! at Wagner Park in Battery Park City.

Go Fish! – Battery Park City
Saturday, October 19
Robert F. Wagner Jr. Park, just north of Historic Battery Park off Battery Place
FREE
My son and I love these family fishing events in Wagner Park sponsored by the Battery Park City Parks Conservancy. Not only does the org provide everything families need to fish, there's also live entertainment, art projects, and other children's activities.

Pop Up Audubon – Prospect Park
Prospect Park Lake
Saturdays and Sundays July 4 through August 31 at 1pm & 3pm
FREE
Learn about local fish species, fishing safety, and instruction on how to use tackle at these FREE workshops, geared for families with children under 8. The program offers limited walk-up spaces on a first come, first serve basis.

Seining the River Wild – Dumbo
The Cove at Empire Fulton Ferry in Brooklyn Bridge Park
June 1, June 22, July 13, August 10, August 31; various times
FREE
Instead of using a rod and a reel, catch fish by dragging a giant net through the water. A naturalist will be on hand to help the kids. Brooklyn Bridge Park offers seining programs on select weekends throughout the summer. Reservations suggested.

The new fishing clinics at BBP are geared for kids and adults.
Fishing Clinics – Brooklyn Bridge Park
July 28, August 17, September 14, August 9; various times
FREE
New this year, Brooklyn Bridge Park Conservancy and Brooklyn Bridge Park are offering fishing clinics for kids and adults. Learn how to tie knots, bait a hook, cast a rod, and maybe even reel up a fish at Pier 5. Reservations suggested.

Plus, the NYC Parks Department and the Urban Park Rangers offer free fishing programs all season long throughout the city with all equipment provided.
Fishing – Bring Your Own Equipment
You can drop a line at any of the designated fishing points on New York City's 500-plus miles of shoreline, including official spots in on Governors Island and in Brooklyn Bridge Park.

You can also go catch-and-release inland fishing in most of NYC's major bodies of water. In addition to the aforementioned Harlem Meer, Central Park's Lake and Pond are full of bass, as is the Lake in Prospect Park. Meadow Lake in Queens' Flushing Meadows Corona Park has perch and shad (plus snakehead fish, yikes). There is also fishing in Van Cortlandt Lake in the Bronx and Cloves Lake Park on Staten Island.

Tips for Fishing with Kids in NYC
Children under age 16 can fish without a permit. However, adults need a license which can be purchased online or at a few locations in town. They are inexpensive and come by the day, week or year.

There are size limits and other rules and regulations regarding fishing in the city. Make sure you read the rules before you go.

Freshwater inland ponds and lakes in the city are usually catch-and-release only so barb-less hooks are required.

For additional tips on fishing with kids, visit the New York State Department of Environmental Conservation website.
This post originally published in July 2014, it has been updated for 2019. Katie Nave Freeman contributed additional reporting.