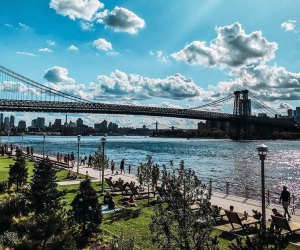 35 Best Things to Do with Kids in Williamsburg
Williamsburg has a reputation as a haven for the hipster set, but families are just as at home in this buzzy, culture-rich neighborhood. Sprinkled in among all the nightlife and trendy boutiques are lots of family-friendly restaurants, shopping, and activities. And the neighborhood is home to some of NYC's most action-packed parks: McCarren Park, a 35-acre park with playgrounds, sports fields, and a pool; East River State Park, home to Smorgasburg and skyline views; and the newly-opened Domino Park, the exciting waterfront playspace inspired by the former Domino Sugar refinery, a neighborhood landmark.
Williamsburg is easily accessible by subway from the G, J, M. Z, and L lines, so even if you don't live in the neighborhood, you can experience all of the culture and color of this unique part of Brooklyn. Here are some of the best things to do with kids in Williamsburg.
1. Shop for clothes, books, toys, and more at Smoochie Baby.
2. Catch a flick with your little ones at one of Nitehawk Cinema's kid-friendly movie series.
RELATED: Kid-Friendly Beer Gardens in Brooklyn and Queens

Kids will get a kick out of all the trinkets and toys at The City Reliquary.
3. Get a glimpse of the city's past at The City Reliquary. Check out old subway tokens, trinkets from World's Fairs of the past, and more.
RELATED: Best Children's Museums in NYC

Make a pit stop at the famous Motorino Williamsburg for tasty brick oven pizza.
4. Share a pie at Motorino Williamsburg, home of delicious brick oven pizza.

The Geek Forest offers classes for families, kids and tweens.
5. STEAM is fun at The Geek Forest, which offers afterschool programs, teen meetups, and free family workshops.
6. Shop the gear, gadgets, and toys at children's boutique Wee Babe.
7. You won't be able to eat just one of the mini buttercream cupcakes at Sweethaus.
8. Encourage your kids to sample something new among the 100 vendors at the Smorgasburg food market at East River State Park on Saturdays.
9. Try cannoli, gelato, and pignoli cookies at Fortunato Brothers Cafe, home of delicious Italian pastries since 1976.

The McCarren Park Pool provides much needed respite from the summer heat and hours of fun.
10. Beat the summer heat by taking a dip in the McCarren Park Pool.
11. Stop in for story time or check out your favorite books at the Leonard Branch of the Brooklyn Public Library.

MOFAD is the world's first large-scale food museum with exhibits you can eat!
12. See, smell, and taste the exhibits at the Museum of Food and Drink. Be sure to check out the fortune cookie machine.
13. From ballet to hip-hop to musical theater, there are plenty of classes to get your kids moving at the Williamsburg Movement and Arts Center.
14. Rock out to Music for Aardvarks with AudraRox at Mini Jake and Wild Was Mama kids' boutiques.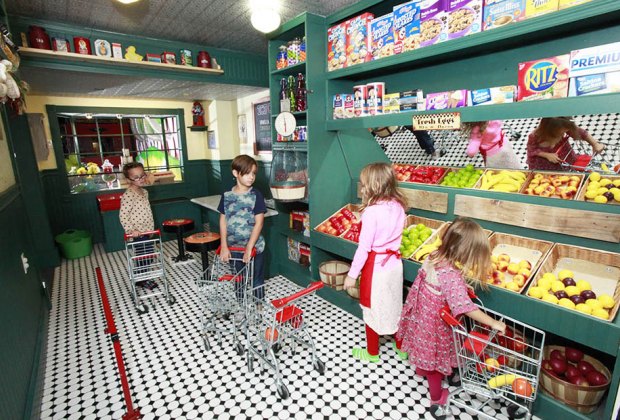 Shop in the 1950s market at Twinkle, complete with food replicas and a checkout with a real conveyor belt.
15. Don't let a little rain stop your fun. Head over to Twinkle, an indoor play space for kids under age six.
16. Make veggies fun by shopping the local goodies at the Greenmarket at McCarren Park on Saturday and in South Williamsburg on Thursday.
17. Stop in for a fresh haircut at Edamama, and stay for one of the many singalongs, story times, and puppet shows on their busy calendar.
18. Satisfy your sweet tooth with a sampling of the French pastries at Caprices by Sophie. Gluten-free options are available.
19. If you have to do laundry, why not do it at Celsious, an eco-friendly laundromat with a kid-friendly cafe inside?
20. AquaBeba offers fun swim classes for kids beginning at age 4 months.
21. Head to Brooklyn Bowl on Saturday and Sunday afternoons for fun, family-friendly bowling, and weekly kids' dance parties hosted by Rock and Roll Playhouse.
22. Burn off some energy playing with the equipment at the Vincent Abate Playground in McCarren Park.

Ms. J's Gymnastics and Dance has classes for all ages, plus a drop-in play space for members.
23. Flip, jump and have fun at Ms. J's Gymnastics and Dance for classes from 12 months to 12 years.
24. Let your little ones cultivate their creativity with classes in painting, sculpture, collage, and more at The Painted Cloud.

The simple, tasty tacos at Tacocina are a hit with the whole family.
25. Climb the colorful sugar plant-inspired structures at Domino Park. Head to Tacocina for tacos and guac afterward.
26. Hop on the East River Ferry and hop off to explore a new part of the city.
27. Slide, swim, and climb at William Sheridan Playground.
28. Try one of the creative burgers on the menu at Williamsburger. There are delicious meatless options as well.

Taiyaki NYC brings you a unique fish-shaped Japanese waffle that blends perfectly with the artisan soft serve flavors.
29. There's nothing more cooling than eating ice cream in a fish-shaped waffle cone at Taiyaki.
30. Enjoy cool comfort food at Sweet Chick, which serves up Southern fare with a hip twist.
31. Stop in for story time at McNally Jackson Bookstore.
32. Stop and smell the flowers and listen to the birds in the Green Dome Garden.
33. Cool off in the spray showers at Jaime Campiz Playground.
34. Gaze at the Manhattan skyline from Grand Ferry Park.
35. Take a tour of the cool and colorful street art on the Williamsburg Walks tour.
Unless noted, photos courtesy of the venues
A version of this story was published in 2016; it has been updated.