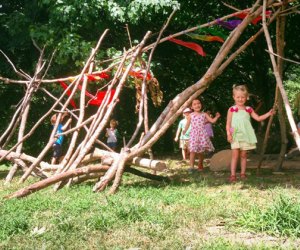 Preschool in the Park? Outdoor and Nature-Themed NYC Classes
Nature provides the perfect classroom for preschool-aged kids. Even New York's little urbanites love to jump in puddles, make mud pies, climb trees, and dig for worms. For parents looking for a classroom that draws its lessons from nature, we've rounded up the city's best preschools, "forest schools," and toddler classes in which kids spend a significant part of each day outdoors or interacting with the natural world. As classes are often held rain or shine, proper outdoor gear is a must, so get some sturdy boots and rain pants and let your kids explore!

For more preschool options, be sure to check out the directory of schools, as well as our New York City Preschool Guide with tips on what to ask during a tour and how to ease the transition for kids (and parents).
Brooklyn Botanic Garden — Prospect Heights
Ages 2-6 years
The garden's two once-a-week programs for young children, Trees & Saplings (ages 2-3, with a caregiver) and Seeds (ages 4-6, drop-off), are hands-on classes held outdoors in the newly renovated Children's Garden. Activities include scavenger hunts, harvesting (and eating) from the garden, singing, stories, and nature crafts. The garden also offers City Farmer classes for kids in first through eighth grade.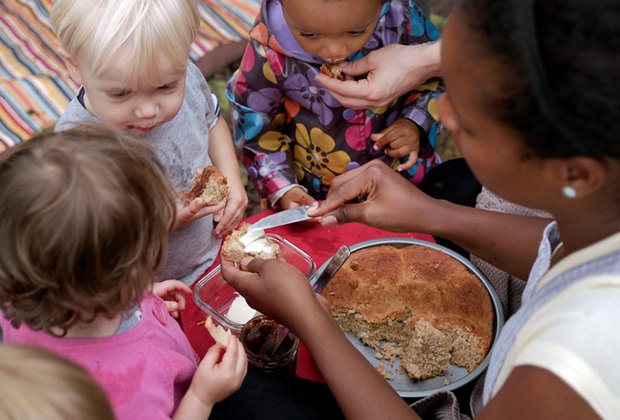 Homemade snacks are on the menu at Brooklyn Forest. Photo courtesy of the school.
Brooklyn Forest — Prospect Park and Central Park
Ages 1-5 years
Brooklyn Forest offers once-a-week classes in Prospect Park and Central Park for young children accompanied by their caregivers. There's also a dedicated 3 to 5-year-old afternoon class for the "older" ones this fall. Classes are held entirely outdoors regardless of the weather and consist of a gentle rhythm of imaginative play, singing, meaningful work, exploration, and a picnic of homemade bread, apples, and berry tea.
RELATED: 10 Dual-Language Preschools in Brooklyn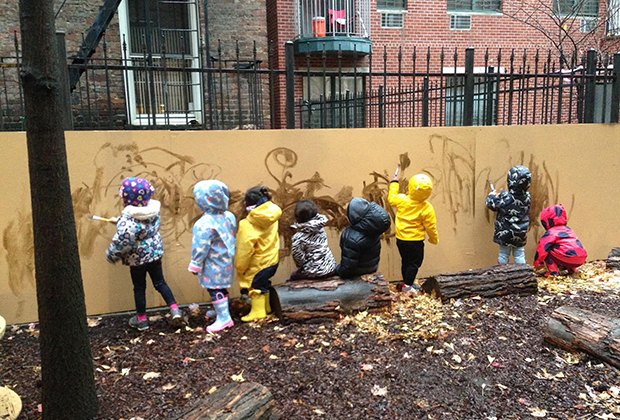 Painting with mud in the backyard at Elements Preschool. Photo courtesy of the school.
Elements Preschool — Lower East Side
Ages 2 months-4 years
Elements Preschool's indoor classrooms are flanked by a huge backyard garden. The school's child-led, inquiry-based program includes stories, music, movement, art, gardening, nature exploration, building with natural materials, puzzles, imaginative play, and cooking.
New York Botanical Garden — Bronx Park
Ages 3-5 years
The NYBG's esteemed 60-year-old children's program offers the Garden Sprouts class for young children and an accompanying caregiver (classes for children ages 6-12 are also available). The once-a-week outdoor class, which runs rain or shine, provides a hands-on introduction to planting and harvesting as children explore the garden, pick fresh produce, dig for worms, and make crafts.
Tinkergarten — citywide
Ages 18 months-8 years
This parent-founded national play-based program can be found in NYC parks all over the city (and the surrounding 'burbs): Prospect Park, Riverside, Astoria Park, Central Park, Forest Park, and many, many more. Taking place wholly outdoors, Tinkergarten aims to spark kids' natural wonder while helping them develop life skills and social skills. Though Tinkergarten is not just for preschoolers, children are grouped with similar ages and classes are led by trained parents and local community members. Curiosity, self-dependence, and a defined play-based learning are emphasized.

Kids learn to plant and harvest with the Garden Buds program at Queens Botanical Garden. Photo by Anne Tan-Detchkov.

Queens Botanical Garden — Flushing
Ages 2-3 years
The Queens Botanical Garden's Garden Buds program offers toddlers and an accompanying caregiver a four-week outdoor class series where children explore the outdoors through play and hands-on work. Kids get to plant, observe, harvest, and eat what they have grown. Classes are also offered for children through age 14.
Note: In 2017, Queens Botanical Garden launched a brand-new drop-off program, Forest Explorers, for ages 2-6. The preschool alternative is "rooted in the Forest School" model.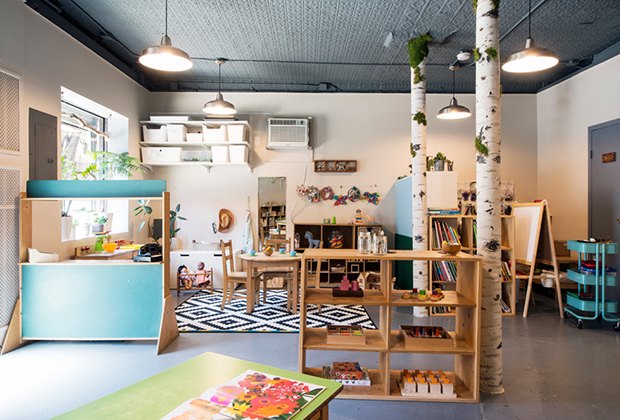 In addition to outdoors time, wBees Forest School brings the outdoors into the classroom. Photo by Hee Jin Kang​.
wBees Forest School — Greenpoint
Ages 2-3 years
This nature-themed preschool offers a mornings-only program in a play-based environment that pulls in materials from nature. Children spend half their days in the preschool's "outdoor classroom," nearby McGolrick Park, as well as in the school's own side garden. Climbing trees, digging, observing insects and birds, and celebrating the changing seasons are all part of the regular curriculum. wBees also has as an after-school program for kids in pre-K through second grade.
Top image: Building a fort with Brooklyn Forest school. All photos courtesy of the schools.