Forest Schools and Nature Classes in NYC for Toddlers and Beyond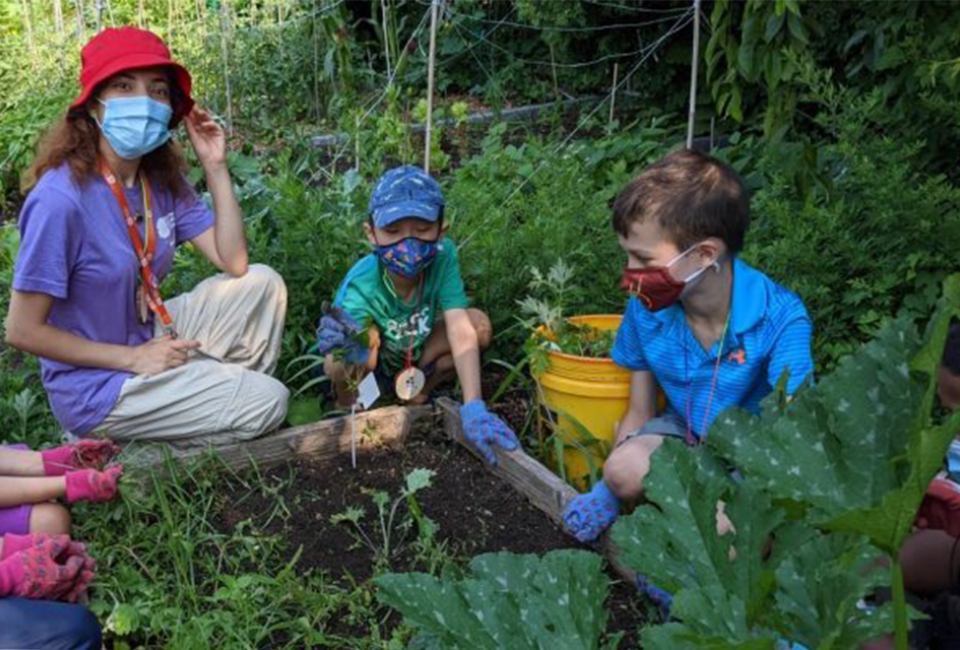 9/12/21
- By
Caitlin Van Dusen
Nature provides the perfect classroom for kids. New York's little urbanites love to jump in puddles, make mud pies, climb trees, and dig for worms. Nature preschools and forest schools have gained in popularity recently. If you're looking for preschool classes in New York City that draw lessons from nature, we've rounded up the city's best nature preschools, forest schools, and toddler classes which allow little ones to spend a significant part of each session outdoors interacting with the natural world. As these nature classes are often held rain or shine, proper outdoor gear is a must, so get some sturdy boots and rain pants and let your kids explore with the help of these forest schools.
If you've got older kids, take note. Several of these forest schools offer classes for older kids, including after-school nature classes. Find more preschool classes for NYC kids and classes for all ages in our Guide Classes and Activities in New York City.
Subscribe to our newsletters to get stories like this delivered directly to your inbox.
Ages 2 to 6 years
The garden's two once-a-week programs for young children, Trees & Saplings (ages 2-3, with a caregiver) and Seeds (ages 4-6, drop-off), are hands-on nature classes held outdoors in the Children's Garden. Activities include scavenger hunts, harvesting (and eating) from the garden, singing, stories, and nature crafts. The garden also offers City Farmer classes for kids in first through eighth grade.
Ages 2 to 12 years
The NYBG's esteemed 60-year-old children's program offers a trio of programs for little nature loves. Young children and their adults can enroll in its Nature Explorers program and spend an hour-long session each week immersed in a different corner of the garden, exploring, singing, hearing stories, and crafting a take-home project. Its Garden Sprouts class for children ages 3-5 and a Crafters class for kids 6-12 also meet weekly—rain or shine—and provide a hands-on introduction to planting and harvesting as children explore the garden, pick fresh produce, dig for worms, and learn about topics from pollination to composting.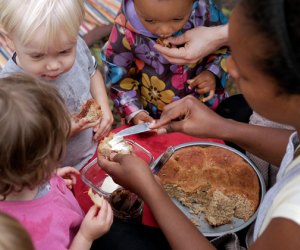 Homemade snacks are on the menu at the Brooklyn Forest. Photo courtesy of the school.
Brooklyn Forest – Prospect Park, Brooklyn, and Central Park
Ages 1 to 6 years
Brooklyn Forest offers once-a-week classes in Prospect Park and Central Park for young children accompanied by their caregivers. There's also a dedicated 3 to 6-year-old afternoon class for the "older" ones this fall. These forest school classes are held entirely outdoors regardless of the weather and consist of a gentle rhythm of imaginative play, singing, meaningful work, exploration, and a picnic of homemade bread, apples, and berry tea.
Ages infant to 8 years
This forest school operates out of a home daycare setting on the edge of Forest Park. Kids in this mixed-age setting spend the majority of their days exploring the park's 538 acres. In the play-based program, hands-on learning is encouraged. Admission is offered on a rolling basis, and the program operates on a school-year calendar with optional summer add-ons. After-school programming is also available for older kids. Full- and half-day programs are offered for younger kids.
RELATED: 30+ Fun Mommy-and-Me Classes in NYC for Kids

Run around in the natural backyard at Elements Preschool. Photo courtesy of the school.
Ages 3 months to 5 years
Elements Preschool's indoor classrooms are flanked by a huge backyard garden. The school's child-led, inquiry-based program includes stories, music, movement, art, gardening, nature exploration, building with natural materials, puzzles, imaginative play, and cooking.
Ages 18 months to 8 years
This parent-founded, national play-based program can be found in NYC parks all over the city (and the surrounding 'burbs): Prospect Park, Riverside, Astoria Park, Central Park, Forest Park, and many more. Taking place wholly outdoors, Tinkergarten aims to spark kids' natural wonder while helping them develop life skills and social skills. Tinkergarten is not just for preschoolers; children are grouped with similar ages, and classes are led by trained parents and local community members. Curiosity, self-dependence, and play-based learning are emphasized.
RELATED: Swim Lessons for Kids in New York City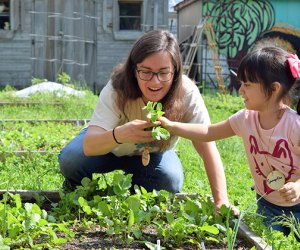 Kids learn to plant and harvest with the Garden Buds program at the Queens Botanical Garden. Photo by Anne Tan-Detchkov
Ages 2 to 10 years
The Queens Botanical Garden's Garden Buds program offers toddlers and an accompanying caregiver a four-week outdoor class series where children explore the outdoors through play and hands-on work. Kids get to plant, observe, harvest, and eat what they have grown. There are also Children's Garden classes for kids 4-10 to spend time planting, playing, observing, and learning in a nurturing environment. They'll have the opportunity to grow and harvest vegetables, put the garden to sleep for the winter, and explore the environments around them.
Ages infant to 7 years
Started by a husband-and-wife team who wanted to re-create his Danish forest school experience for their own daughter, Upper Manhattan Forest Kids offers classes on Central Park's Great Hill and along the John Muir Trail in Van Cortlandt Park, including weekend options. Kids learn teamwork and resiliency while building their imaginations, social skills, motor skills, and more.
RELATED: Soccer Classes for Kids in New York City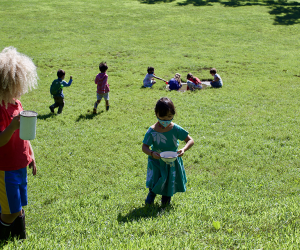 Prospect Park is your classroom at Adams & Hack Studio.
Ages 3 to 5 years
Adams & Haack's nature preschool playgroup spends half its school day in Prospect Park, and half the day in its classroom nearby. Teachers lead a nurturing environment where a love for nature and its endless discoveries are encouraged. The curriculum is built around four central elements—mindfulness, nature, the arts, and play. Its class size is intentionally small, with just eight students and two co-teachers leading the group.
Ages 2 to 8 years
Kids take over Prospect Park with the help of Brooklyn Nature Days educators. There, they're invited to move, create, explore, discover, and question the natural world while engaging with one another. Classes are held rain or snow, and the calendar operates on a school-year schedule, though students may enroll from one to five days a week. Classes generally run from 10am-2pm and after-school and summer camp options are available as well to students up to second grade.
Originally published in 2016. Diana Kim contributed additional reporting.
Photos courtesy of the schools except where noted
Click Here to Sign Up!
i