Soccer Classes for Kids in New York City
8/18/21
- By
Yuliya Geikhman
Soccer is a year-round sport in NYC. If your child is ready to get in the game, consider signing them up for one of these soccer classes for kids in New York City. We've found a variety of soccer programs for budding athletes, from preschoolers just learning to kick to middle schoolers ready to master fancy footwork.
If your kid falls in love with the beautiful game, you'll find many of these local soccer organizations also offer day camps and leagues. Read on for 12 soccer classes for kids in NYC, and find more enrichment opportunities in our guide to the Best Kids Classes and Activities in New York City.
Subscribe to our newsletters to get stories like this delivered directly to your inbox.
Ages 3 to 18 years
The soccer program at Aviator Sports is operated by FC Copa Academy, which strives to teach kids as young as 3 the fundamentals of soccer in a fun and educational environment. Soccer classes here teach proper technique (dribbling, passing, finishing), new skills on the ball, body movements, and mechanics, and help children learn to love the game while making friends along the way. Older kids can try out for its competitive teams and participate in tournaments, showcases, and more.
Ages 6 to 14
The Riverdale Soccer Club offers spring and fall sessions in Seton Park. The popular programs fill up fast, so it's a good idea to register early. A 90-minute "Peewee" instructional soccer program for first- and second-graders is held Saturday and Sunday mornings and includes drills and gameplay. Older kids can join its recreational leagues or try out for its travel soccer program.
Visit the website for locations.
Ages 2 to 11
Children can enroll in seven-week seasons with Soccer Kids NYC throughout the year. It also offers summer camp and after-school sessions for older kids. Classes are grouped by age to ensure no one is left out. Kids will sprint, jump, dribble, and even crawl through obstacle courses. Although the program is headquartered in Middle Village, classes are held all around Queens, including Elmhurst, Flushing, and elsewhere. No trial classes are offered, but this program gives you a full refund if your kid decides it just isn't their thing before the third class.
RELATED: Swim Lessons for Kids in New York City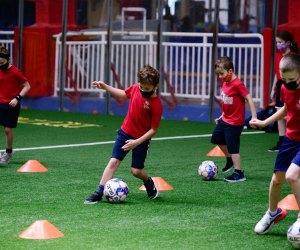 Preschoolers through teens can join a soccer class or camp at The Field House. Photo courtesy of Chelsea Piers.
Age 2 to 16
Chelsea Piers is a year-round sports hub, with classes in more than a dozen disciplines for all ages. Its soccer programs are divided by age and skill or interest level. Little Athletes, ages 2 to 5, learn the fundamentals of the sport and how to work together. Ages 5 to 14 tackle more advanced soccer skills, and the organization also runs a competitive youth soccer league for ages 6 to 14, plus travel teams starting at age 10.
Soccer Shots – Multiple Brooklyn Locations
Visit website for locations
Ages 2 to 8
Found by two former professional soccer players, Soccer Shots focuses on classes for kids under age 8. The foundation of the program is the three "Cs"—coaching, curriculum, and communication. Classes focus on basic soccer skills like dribbling, passing, and shooting. Teamwork and having fun are also emphasized. Classes are held in Brooklyn Bridge Park, Cadman Plaza, and at the JJ Byrne Park/Washington Park Turf Field.
Visit the website for locations.
Ages 3 to 11
The Sonic Soccer Academy offers sessions both indoors and outdoors throughout Park Slope, Brooklyn. Typical classes aim to develop motor skills, teach soccer basics, and give kids a chance to put their skills to the test with scrimmages. While the youngest athletes might focus on balance, older kids move on to dribbling, defending, and developing technical skills and a love of the game. Older kids ages 8+ can join one of its developmental teams.
Super Kickers – Multiple Queens Locations
Visit the website for locations.
Ages 1.5 to 12
The soccer programs at Super Kickers focus on exercise, teamwork, and developing soccer skills. A more advanced soccer program is also available for kids who want to take their game to the next level.
Visit the website for locations.
Ages 1 to 18
Super Soccer Stars classes introduce the skills necessary to enjoy the sport to kids as young as 1 year old in its parent-&-me classes and build from there all the way up to advanced travel teams. Choose from full-semester sessions, drop-in classes, after-school lessons, and even summer camp. Classes take place indoors and out in all five boroughs, as well as the Hamptons, Long Island, Westchester, and New Jersey. Classes are held year-round, including on weekends, and locations are scattered throughout the city, including some in city parks and local school gyms. Virtual classes and private sessions are also available.
RELATED: NYC Classes Guide for NYC Kids: Sports, Art, Tech, and More

Soccer R Us offers classes for kids in Prospect Park. Photo courtesy of Soccer R Us
Soccer R Us – Prospect-Lefferts Gardens, Brooklyn
Ages 4 to 12
Courses are divided by age and start as young as 4. Younger children work on skill-building activities like simple drills and warmups. Preschoolers and kindergartners can build on their budding skills, while older kids can foster a sense of teamwork and cooperation. Classes move to an indoor space in Prospect-Lefferts Gardens during the fall and winter and take place on the Prospect Park Parade Grounds during the spring and summer. A parent or guardian must be present at all times.
Visit the website for locations.
Ages 18 months to 8 years
Register for long-term classes or choose a drop-in option at this Williamsburg youth soccer club. Classes are held mostly outdoors, with one indoor location. Weekly classes build skills, focusing on a new one each session. All are led by qualified and background-checked coaches, too, who emphasize a love of the game alongside learning skills.
Ages 4 to 13
Utilizing the fields on Randall's Island (fall) and in Central Park (spring), the Yorkville Youth Athletic Association sponsors everything from intro classes up to competitive leagues and even sleepaway camps for those interested in the beautiful game. Indoor training is available when the weather turns and takes place on Sundays at the 92nd Street Y.
Ages 4 to 11
Group soccer classes and clinics are offered at Commonpoint's locations in Little Neck and Bayside. Children are taught fundamental skills of the game through drills and scrimmages with the goal of building a foundation for future learning and a love of the game.
A version of this story was published in 2016; it has since been updated.