Ninja Warrior Gyms and Parkour in NYC for Kids: Cool Classes for Your Little Daredevil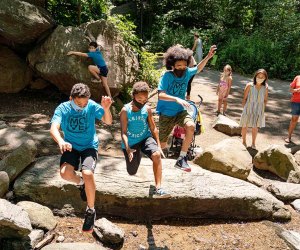 If you've got an active kid who's looking for a physical challenge, why hit one of these ninja warrior gyms where they can learn parkour in NYC? These local parkour classes specialize in building the skills necessary to conquer ninja warrior obstacles and take place at ninja warrior gyms in NYC, plus parks in the great outdoors, helping kids build physical skills, push their limits, and gain confidence all while having fun in a safe and supportive environment. These ninja warrior gyms and parkour classes in NYC are sure to keep exercise fresh and exciting.
If you're looking to learn parkour in NYC, we've profiled several kid-friendly destinations that offer an introduction to the sport with classes and free play, including Area 53, and the New York Ninja and Brooklyn Ninja Academies. Many of these ninja warrior gyms and parkour classes accept kids as young as age 6, and some even teach parkour in NYC to adults.
You can find more sports classes for active kids in our directory of classes and listings. Check our New York City Classes for Kids Guide for more kids' activities and classes for kids of all ages and interests.