Brooklyn Ninja Academy Brings Parkour Gym to Park Slope
3/10/22
- By
Diana Kim
The New York Ninja Academy is expanding, opening a brand new Brooklyn location for budding ninja warriors to train and get fit. Here, kids can experience the parkour obstacles made famous by the hit American Ninja Warrior television show. The Brooklyn Ninja Academy coaches kids (and adults) in skills and techniques to improve balance, agility, and strength to master its various obstacles.
I recently checked out the new ninja warrior facility with my 11-year-old daughter and her friend, who experienced first-hand what it's like to be trained by ninja champions. Read on for the full review and find more cool places to train in our guide to Sports Centers, Gyms, and Fun Zones in NYC.
Subscribe to our newsletters to get stories like this delivered directly to your inbox.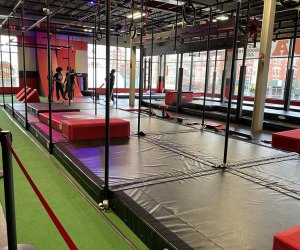 The Brooklyn Ninja Academy occupies a sprawling space accessible to multiple popular family neighborhoods.
The Brooklyn Ninja Academy is located right at the intersection of Park Slope and Gowanus, perfect for families to easily get to. The new facility spans 7,000-square-feet and features state-of-the-art equipment and training apparatuses. With high ceilings and large windows spanning the entire length of several walls, the gym feels light and airy.
RELATED: Adventure Parks, Zip Lines, and Ropes Courses Near NYC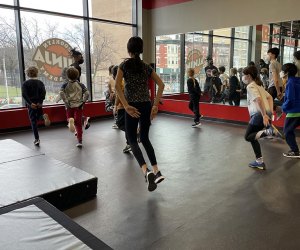 Each session begins with a warmup and stretching session.
My kids took a one-hour introductory class for kids ages 6-12. The class was led by one main coach and several assistants. The class began with a short pep talk about the importance of respect and listening, and then the kids did a 15-minute warmup with stretches, jumping-jacks, and exercises.
After the kids were pumped and warmed up, the coach divided the kids into groups of 4-5 to work on the various obstacles. The group my kids were in first tackled an apparatus that had them running up a warped wall and pushing themselves up onto a platform and then properly coming down the wall. The assistant coaches were very encouraging and gave the kids specific tips to master the obstacle. After about 10 minutes, the group moved on to the next obstacle.
RELATED: Paintball and Laser Tag Arenas in NYC for an Action-Packed Outing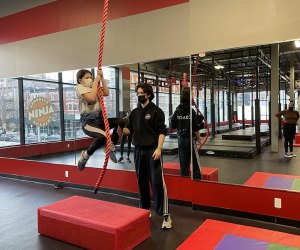 Kids test their ninja skills on a number of obstacles at Brooklyn Ninja Gym.
The other obstacles included swinging rings, ropes, balance beams and my girls' favorite–sloping jumping blocks, aka the quintuple steps. Here, kids tried to jump from block to block without touching the ground, a feat made more difficult because each was angled downward. They said they felt like ninjas jumping from rooftop to rooftop. The class ended with a round of stretching and deep breathing.
Kids with prior experience in gymnastics or parkour may be familiar with some of the obstacles, but the exercises and training are great for anyone who wants to challenge themselves. The coaches keep the kids motivated with lots of energy, praise, and goal-setting—if you opt to enroll in a semester-long course, difficulty increases over its course. While my kids may not be ready for American Ninja Warrior, they had a great time learning new skills.
RELATED: Kid-Friendly Rock Climbing Walls in New York City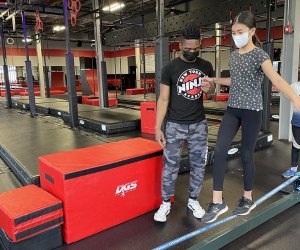 Test your balance on the slack line at the Brooklyn Ninja Factory.
The Brooklyn Ninja Academy offers semester-long classes and registration is now open for the 10-week spring session. If you're not ready for that level of commitment, opt for a drop-in class to check it out. Discounts are available for siblings or if you register for multiple classes. Classes are divided by age, and there are advanced teams for kids with exceptional skills. Summer camps are also offered.
For an action-packed party, you can throw your child's birthday party at the Brooklyn Ninja Academy. Kids train on the ninja obstacle course for 90 minutes. No food or cake is allowed, though.
Adults can also get in on the action with drop-in classes or class packages available for purchase.
Know Before You Go To Brooklyn Ninja Academy
Anyone entering the training area must wear sneakers and proper attire for active play. Long hair should be pulled back.
Despite recent changes to COVID guidelines, everyone is required to wear a mask and show proof of vaccination.
Spectators are limited to one per athlete.
Photos by the author
Places featured in this article:
t Click Here to Sign Up!