31 Things To Do in Gowanus, Brooklyn with Kids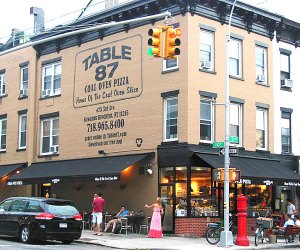 9/26/19
- By
Louise Finnell
Gowanus may be sandwiched between the famously family-friendly enclaves of Carroll Gardens, Boerum Hill, Cobble Hill, and Park Slope, but the neighborhood holds its own in terms of cool hangouts and play spaces for kids.
With the promise of a $500 million Superfund cleanup of its odoriferous waterway, the Gowanus area is transforming from an industrial pass-through to a destination in its own right, complete with new condo development. Following in the footsteps of nearby Red Hook, warehouses have become art houses, and boutiques and restaurants are opening up left and right. It's no surprise that this Brooklyn neighborhood is attracting young families in droves.
Gowanus spans the area from Baltic Street to the north and the Prospect Expressway to the south, Fourth Avenue to the east, and Smith and Hoyt Streets to the west. Despite all the development in this formerly industrial neighborhood, Gowanus maintains its status as a hotbed for artists, makers, and entrepreneurs. Easily accessible by subway, and
walking distance from the Barclays Center
, the area is exploding with activities for families and
kids of all ages
. Enjoy an
ice cream cone
, explore the art scene, or
get busy creating
in the up-and-coming 'hood.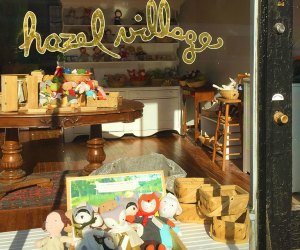 Kids will love the sweet critters at Hazel Village. Photo courtesy of Hazel Village
1. Stop in Hazel Village to play with its lovable handmade critters, browse its beautifully made children's clothes, or swing by for a special crafting event.
2. Romp in a sandbox, a tree house, and a playhouse with ladders and slides at indoor kiddie gym Powerplay, which offers open-play sessions every day of the week.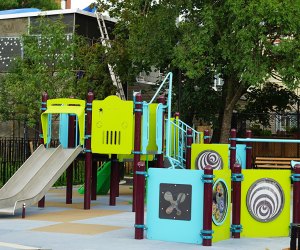 Have a bite to eat then hang out at the newly renovated Ennis Playground. Photo by Jody Mercier
3. Hit neighborhood green space Thomas Greene Playground, which also hosts a number of annual family events like a Halloween parade, or check out Gowanus's newest play spot, the renovated Ennis Playground.
4. Savor an artisanal ice cream at Ample Hills Creamery; its menu changes with the season. There is a small play area inside, and a roof deck with an amazing view.
5. Take a workshop or attend camp at Curious Jane on Third Avenue, offering engineering, science, and design classes just for girls.
RELATED: Drop-in Play Spaces Around Brooklyn for Kids and Tots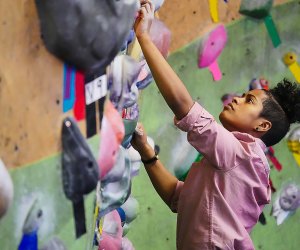 Check out open climb during weekend family hours at Brooklyn Boulders. Photo courtesy the gym
6. Tweens too old for play spaces? Hit wall-climbing center Brooklyn Boulders during weekend family hours.
7. Axe throwing is suddenly a thing, and it's no surprise that Gowanus offers the city's first spot, Kick Axe. Kids as young as 7 can test their throwing arm here.
8. Learn the art of cloth diaper folding at a workshop at Diaperkind, one of the city's few diaper services.
9. Sign up for creative kids' classes at Third Avenue Clay, or at the Textile Arts Center, which offers occasional one-off parent-and-kid workshops if you don't want to make a commitment.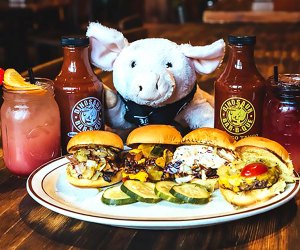 Dig in to some delicious BBQ at Dinosaur Bar-B-Que. Photo courtesy the restaurant
10. Indulge in the famous, family-friendly Dinosaur Bar-B-Que located on Union Street, where you can roll the stroller up to a picnic table in warmer weather. Or compare flavors with Fletcher's Brooklyn Barbecue, known for its sustainably farmed, traditional pit-smoked BBQ.
11. Sensing a BBQ theme? The neighborhood is practically a mini Austin. Bring the whole family (dogs included!) to Pig Beach, a laid-back indoor/outdoor beer garden and restaurant on the banks of the Gowanus Canal (thankfully, it's not too close to the water's edge...).
12. Grab a microphone and a lettuce wrap for award-winning Korean barbecue and themed, private karaoke rooms (complete with disco balls!) at Insa.
13. Relax with tacos, blue corn tortillas, and shuffleboard at Parklife, a fun and family-friendly "taco garden" with lots of outdoor seating.
14. Eat and play at Whole Foods where you can do your grocery shopping downstairs, and then relax upstairs at The Roof bar and restaurant while your kids romp around the modest (but still awesome) play area.
15. Let 'em eat pie at the much-revered Four & Twenty Blackbirds, a cozy café and bakery.
16. Cool down in the summer at the FREE outdoor neighborhood Double-D pool, which was recently given a cute facelift as part of NYC's Cool Pools program. There's even a toddler/baby pool.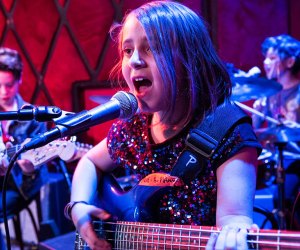 Take a variety of music classes at the Brooklyn Music Factory. Photo courtesy The Brooklyn Music Factory
17. Make some noise at Brooklyn Music Factory! This awesome music center offers classes and private lessons for kids 4 and up. Little ones can dance and sing, as well as write and record their own songs.
18. Get crafty at the Artist & Craftsman Supply, tucked away in an unassuming warehouse building on 2nd street—right on the cusp of Park Slope.
19. Sift through mannequins, slot machines, stained glass, vintage doors, and other funky detritus at New York Old Iron salvage yard.
20. Learn to skateboard at Homage Skateboard Academy, offering camps and classes for kids.
RELATED: Sunset Park with Kids: 25 Fun Things to See and Do in this Brooklyn Nabe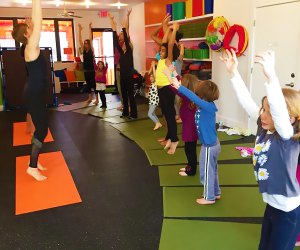 Stretch, jump, and play at Monkey Do! Yoga. Photo courtesy of the studio
21. Monkey Do! Yoga is another neighborhood go-to for indoor play. Bonus tip: It also throws great birthday parties furnished with cakes from Baked and sweet happy hour deals.
22. Although the Canal earned the nickname "Lavender Lake" for its infamously polluted water, the restaurant and bar Lavender Lake features delicious food and a beautiful outdoor space that welcomes families.
23. Grab a map and hit the street to experience Gowanus Open Studios. This annual event, organized by Arts Gowanus, gives visitors the chance to wander through the neighborhood exploring the studios of local artists and makers. During the rest of the year, keep your eyes peeled for street art, or take a walk through Trestle Gallery, a local gallery filled with a rotating roster of local artists. The next event is scheduled for October 19-20, 2019.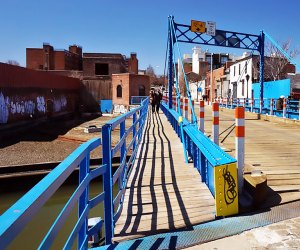 Walk across the historic Carroll Street Bridge for a full view (and smell) of the infamous canal. Photo courtesy of NYC.gov
24. Stroll across the historic 1889 Carroll Street Bridge and read the hilarious sign: "Any person driving over this bridge faster than a walk will be subject to a penalty of five dollars for each offense." Tell your kids about the historic WWII Shipwreck that lay visible in the 4th Street Basin of the canal until it was cleaned up in 2016. There are still plenty of surprises to discover in the Canal, as cleanup of the site continues.
25. Bang on a drum all day at Keur Djembe African Drum Shop, where Senegalese owner Ibrahima Diokhane teaches classes with a warm smile.
26. Feeling adventurous? Get in touch with the Gowanus Dredgers Club for a DIY canoe tour of the sludgy waters of the Gowanus. (It can provide personal flotation devices for children over 40 pounds.)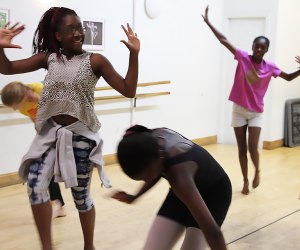 Dancewave's mission is to provide access to dance to all NYC youth who want to take classes. Photo courtesy the studio
27. Catch a show or get involved in dance classes at nonprofit Dancewave 182, offering classes, camps, events, and workshops for a range of ages.
28. Learn to fence at Brooklyn Fencing Center (ages 7 and up), or hold a bow and arrow at Gotham Archery, offering camps and classes for kids (8 and up).
29. For those who prefer a game of tennis, become a member at Court 16 BK. This kid-centric tennis hub offers classes for children as young as 2.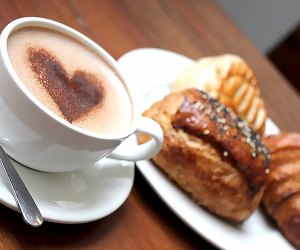 All bread and pastries at Runner and Stone are made in-house. Yum! Photo courtesy of Runner and Stone
30. Neighborhood favorite Runner and Stone offers pastries, bread, and a menu offering carefully crafted cuisine that changes with the seasons. Marvel at the award-winning architecture (including walls made of old flour sacks!) in this stunning restaurant space.
31. Pizza! Table 87 (of ABC's Shark Tank fame) offers some of the freshest, tastiest pizza in the neighborhood. Impress your non-NYC friends by sending them a flash-frozen slice in the mail.
Read all of our posts about exploring Brooklyn with kids.
A version of this post was published in 2017; it has been updated for 2019.