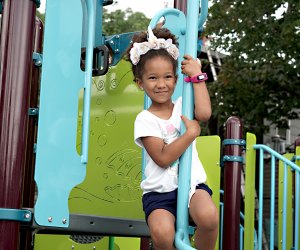 Ennis Playground Gives Gowanus a Freshly Updated Playspace
We're suckers for a destination-worthy playground, but we also have big love for NYC's smaller neighborhood playgrounds. In a city like ours, a playground doesn't necessarily need an elaborate theme or deluxe play features to be a huge boon to the neighborhood. The newly renovated Ennis Playground in the heart of fast-changing Gowanus is one such gem. Ennis Playground reopened last month after an 11-month, $2.9 million renovation—here's a look at what's new.
Located in a corner of Gowanus that still feels industrial, Ennis Playground was long overdue for a facelift. The park's renovation, supported by City Council Member Brad Lander, Brooklyn Borough President Eric L. Adams, and Mayor Bill De Blasio, brings greenery and new life to the lot, located mid-block between 11th and 12th Streets and Second and Third Avenues in Brooklyn. But while the surroundings may feel a bit gritty, parents take note: There's a great coffee shop (Crop to Cup) within half a block, and one of the neighborhood's best coal-oven pizza places, Table 87, is right around the corner. You're still in rapidly-gentrifying Brooklyn, after all.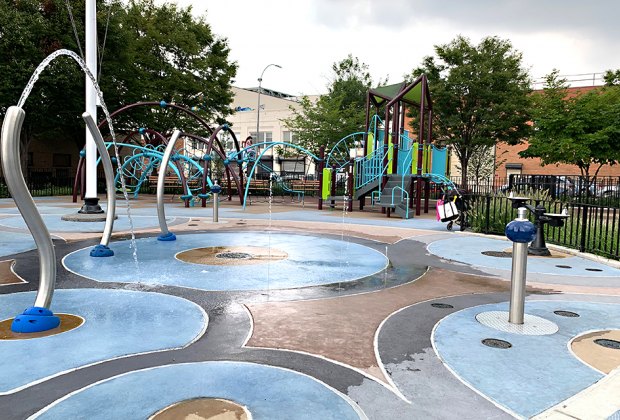 This park has a little of everything: Sprinklers, green space, climbing structures, and more!
A pair of new jungle gyms cater to kids of all ages—my 6, 10, 13 year olds all got in on the action here. The brightly colored, modern equipment offers plenty of opportunities to climb, swing, and slide. A toddler-friendly jungle gym has low-to-the ground monkey bars just right for preschoolers and kindergartners, plus tunnels to crawl through and slides to glide down.
A new swing set offers swings for all ages, from baby-sized bucket swings to kid-friendly strap swings.
RELATED: 10 New and Updated Playgrounds You (Probably) Haven't Visited Yet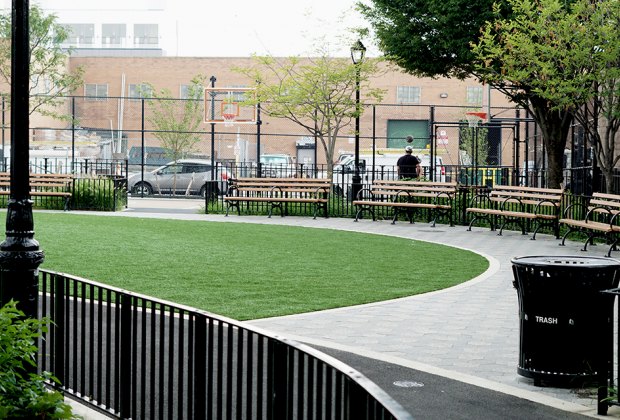 For kids who want to shoot hoops, Ennis Playground has basketball courts.
Brand new basketball courts occupy the opposite side of the space, and the mid-park area offers a turf field to encourage other sports, plus a series of benches and tables, complete with painted-on checkerboard surfaces to encourage more leisurely activities in the great outdoors.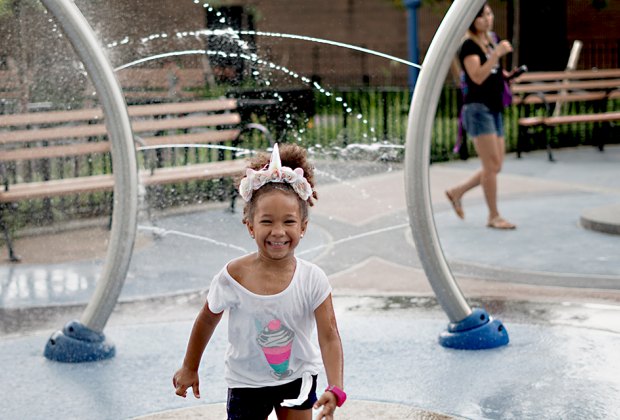 There's plenty of fun to be had in the water area!
The new user-activated spray shower conserves water, but offers plenty of cooling fun. Small arcs of water spout along the perimeter, while a wilder waterfall is ready to drench those brave enough to camp out underneath it.
New plantings soften the edges of the park, providing a welcome shot of greenery. Plenty of benches dot the perimeter of the play area, too, offering caregivers a spot to rest and supervise.
RELATED: 50 Best Things to Do in Park Slope With Kids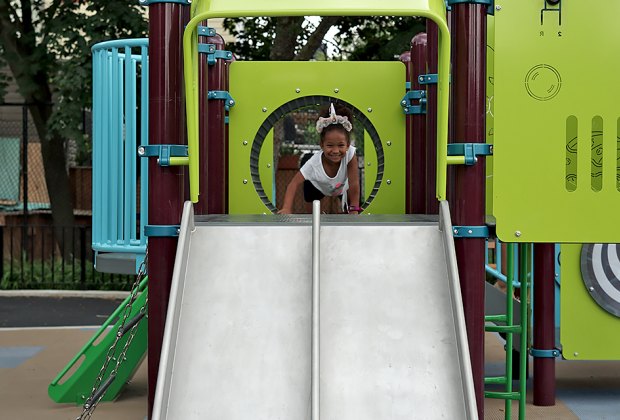 This playground is sure to keep kids smiling!
Looking for something to do before or after you visit to Ennis Playground? Check out our Gowanus Neighborhood Guide for the best things to do with kids.
Photos by the author