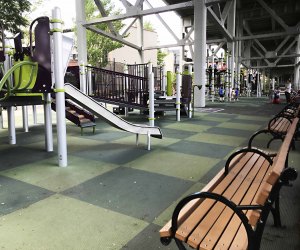 10 New and Updated NYC Playgrounds You (Probably) Haven't Visited Yet
Are your kids suffering from a bit of "been there, climbed that" playground fatigue at their tried-and-true favorite play spot? It may be time to explore a new romping ground. Fortunately, the NYC parks are ever changing. Here, we present 10 new (or nearly new) and updated playgrounds you probably haven't visited yet.
And of course, you can find all our favorite spots, old and new, in our Parks and Playgrounds Guide.
Astoria Heights Playground – Astoria, Queens
30 Road between 45th and 46th Streets
Reopened in summer 2018 after a $5.5 million renovation, Astoria Heights Playground, which sits adjacent to The Horace Greeley Middle School, offers plenty of active play for children ages 2-15. Separate playground equipment for ages 2-5 and 5-12 are situated near the park's border. There's a new spray shower, too, and a trio of courts for tennis or volleyball, plus a pair of basketball courts, a walking track, and adult fitness area.
The Big Park – Staten Island
Grandview Avenue at Continental Place
A $6 million overhaul transformed this Staten Island spot into a true-to-its-name haven. Improvements include new jungle gyms for big and little kids, remodeled sports courts, and much more green space. A new lawn is a centerpiece. There's also an added picnic area, a new comfort station, and a fitness trail to enjoy.

The renovated Billy Johnson Playground features a new swing area. Photo by Jody Mercier
Billy Johnson Playground – Upper East Side
East 67th Street at Fifth Avenue
Billy Johnson has long been one of our favorite Central Park playgrounds and the Central Park Conservancy just invested big bucks to make this playground even cooler. The giant granite slide remains the highlight, but a second, more tot-friendly slide has been added. The water play elements have been enhanced, and a new swing area has been added. New this spring: The custom rope climber is installed and ready to explore!
Black Rock Playground – Soundview, the Bronx
Between Watson and Blackrock Avenues and Virginia and Pugsley Avenues
Community input was integral to the redesign of this playground, which serves students of the nearby P.S. 119 during the school year. The space got a brightly colored redesign with jungle gyms suitable for kids of different ages. As a parent who's seen her older kids tire of the usual equipment and instead climb on the outside, I particularly like the fact that there's no bridge connecting two platforms on the big-kid climber—rather, it's a more challenging apparatus that looks like a Dr. Seussian ladder turned on its side.
RELATED: 12 Cool Themed Playgrounds to Inspire Kids' Imaginations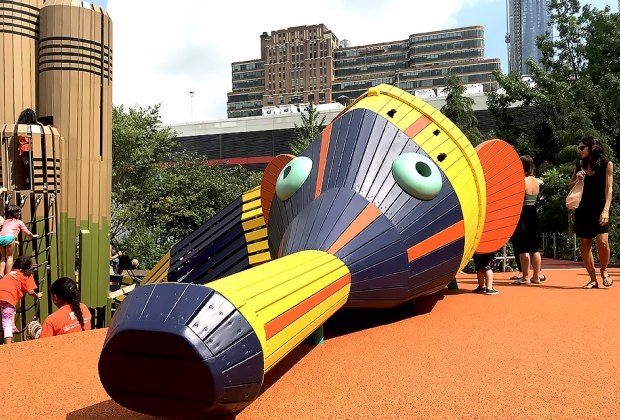 The one-of-a-kind pipefish at Chelsea Waterside Playground is a kid magnet. Photo by Jody Mercier
Chelsea Waterside Playground – Chelsea
23rd Street at 12th Avenue
This playground may have a small footprint, but its striking rainbow-hued, custom-built pipefish climber centerpiece makes a big impact. Traversing up and down the multi-level playground, there's plenty to do for all ages. One of my favorite features is the completely separate water play areas. A small, bubbling area near the entrance is perfect for babies and toddlers, while older kids can have a more wild romp on the opposite end, where the water comes at you from seemingly every angle. The giant slide is lots of fun, if you dare climb to the top.
RELATED: Ice Cream Shops Near Great NYC Playgrounds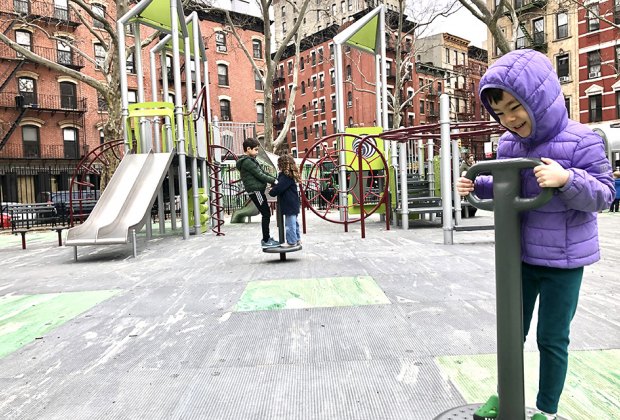 Lower Manhattan has a fresh new playspace in Nolita's DeSalvio Playground. Photo by Janet Bloom
DeSalvio Playground – Nolita
Recreation areas can be hard to find in the tightly woven streets of Lower Manhattan, and the newly redesigned DeSalvio Playground is sure to draw a crowd of neighborhood kids and tourists alike. The playground's renovation offers brightly colored jungle gyms to climb, plus non-traditional elements like a faux rock wall. There is also a basketball court here. Parents will appreciate the many benches, especially if you've been checking items off our long list of kid-friendly activities nearby.

The spray park overlooking the river at Domino Park is a refreshing destination on a hot day. Photo by Rosalind Muggeridge
Domino Park – Williamsburg, Brooklyn
15 River Street
This stunning new addition to the Brooklyn waterfront opened last summer and drew plenty of fanfare. We particularly love the multi-level playground inspired by the site's sugar-factory past and the nearby sprinkler area. Add to that the cool breeze off the water and stunning waterside views and this spot is definitely a must-visit for the playground and beyond.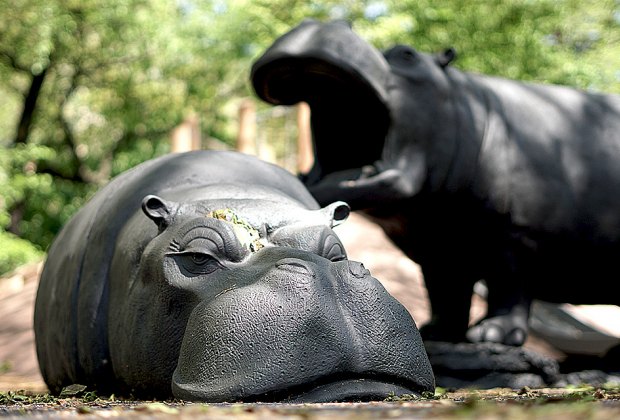 The sassy hippos are back at Safari Playground. Photo by Jody Mercier
Safari Playground – Upper West Side
91st Street at Central Park West
Another Central Park Conservancy project, the Safari Playground has reopened. Its cheeky hippos, who have called this Upper West Side tot spot home since 1997, have made a triumphant return (albeit as brand new replicas of the originals!). Joining the playful pachyderms are a pair of canoes, a brand new user-activated sprinkler, and a new climber on the playground's north end, which adds another element to the space. The colored safety surfacing gives the illusion of hills giving way to a river valley, tapping into the imaginative play enjoyed here. The lower fences allow the playground to be better integrated to the surrounding landscape and offer a gorgeous view of the Reservoir.
St. Mary's Park – Carroll Gardens, Brooklyn
Smith Street between Nelson and Huntington Streets
Built under the Culver Viaduct, this Brooklyn playground is definitely in a unique urban spot. The train tracks above provide some respite from the elements, but there are plenty of bright playthings below. A lime-green and purple hued jungle gym begs to be conquered. There are also swings and sprinklers to romp in at this neighborhood hot spot.

Like Dad always said, a little dirt won't hurt. Photo courtesy of The Yard
The Yard – Governors Island
This one isn't necessarily new, but its seasonality and the fact that there's always something new to build, create, or discover make it worth visiting again and again. If you're looking for traditional playthings, you'll find a playground near Liggett Terrace—but this spot, filled with reclaimed materials plus plenty of tools for building whatever your imagination spawns, is for a different kind of play. Parents beware: The fun here is only for the kids; you'll have to wait outside. Trained staff keeps the creative play safe while you observe from a distance.