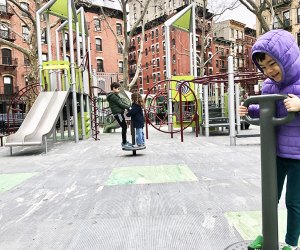 Destination Playground: DeSalvio Playground in Nolita
Nested within Soho, Nolita is a neighborhood best known for its chic cafes and fashion forward boutiques. But it's also a family destination thanks in part to one of the city's most new and improved playgrounds. After a two-year long, $1.7 million renovation funded by the borough president and city council, the DiSalvio Playground recently re-opened to the delight of both neighborhood kids and kids who have traveled from other parts of the city. Read on for an overview of our recent visit.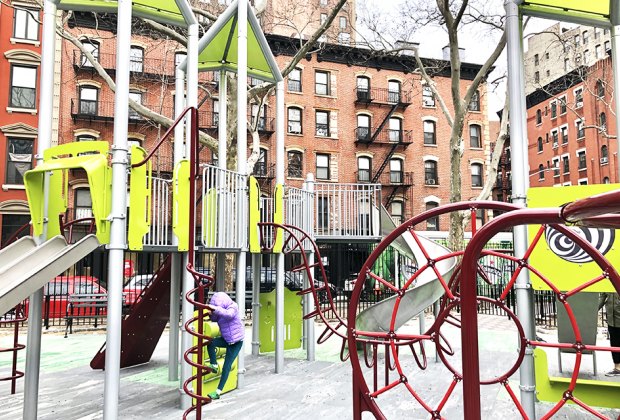 This standout playground excites kids and grown-ups alike.
The bright and cheerful colors splashed all over the playground are hard to miss. As we turned onto Spring Street, my daughter shrieked with glee as she caught sight of the multi-hued foam-padded floors and bright green accents peppered throughout the jungle gym. As an adult who appreciates good design, I silently shrieked in agreement.
The playground has three jungle gyms; one for crawlers and early walkers, a toddler-friendly version, and a larger one with two standard slides and a curly slide. Several climbing structures and ladders allow a variety of entryways into the largest jungle gym.
RELATED: 35 Things to Do with Kids in Soho and Little Italy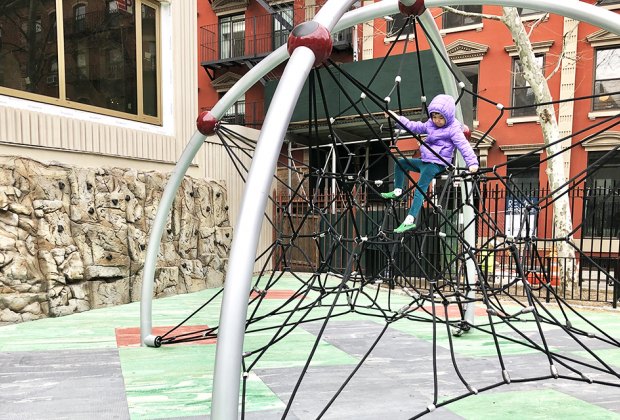 The spider-climb is always a hit.
A mini rock climbing wall lines the back of the playground. There is also a spiderweb-like rope climbing structure, which my daughter scaled and enjoyed as a perch to observe the action on the playground.
Adjacent to the rock climbing wall is a basketball court with two nets. While we were there, a few teenagers were playing basketball. During warmer months, sprinklers will be available, though we did not see them during our visit. Right next to the sprinkler area, two spinning contraptions, which drew quite the crowd, are available for a reeling good time.
RELATED: Where to Eat With Kids in Soho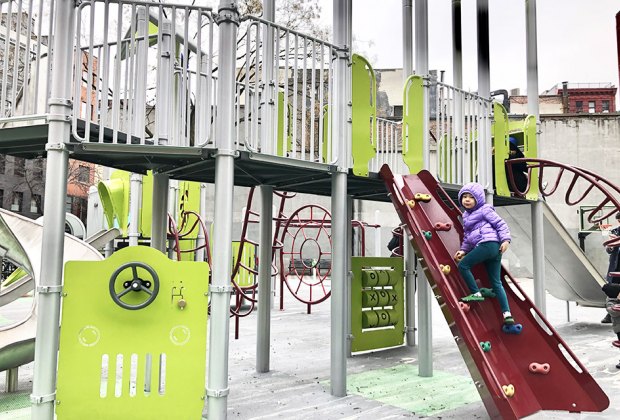 There are plenty of climbing structures for all ages.
The playground is lined with plenty of benches around the perimeter, and the sight lines from the benches are open enough for parents to safely watch their children play from the comfort of seated positions. There are also a game tables situated along the area by the entrance.
Without a doubt, my daughter could have stayed at the playground for two hours or more. However, after an hour I called time because the delicious smells from neighboring restaurants were torturing me as lunchtime crept up. DiSalvio Playground is located on the corner of Spring Street and Mulberry Street. Directly across Spring Street, you can grab a snack at Van Leeuwen Ice Cream, Rice to Riches (for amazing rice pudding), or Taim Falafel. You can also take a stroll to Little Italy or Chinatown for a satisfying meal. Both destinations are less than a five minute walk away.
Photos by the author
DeSalvio Playground
Mulberry Street and Spring Street
New York, 10012