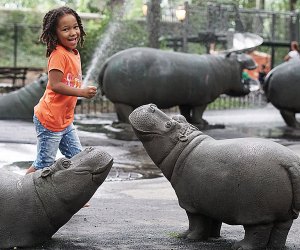 12 Cool Themed Playgrounds in NYC to Inspire Kids' Imaginations
Imagination is the stuff of childhood magic—and NYC's cleverest themed parks and playgrounds are designed to inspire your kid's always-active mind. Whether your kid fancies playing prehistoric explorer, dreams of conquering Ancient Egypt, or wants to trek across Africa on safari, there's a playground for that. Here are 12 of our favorite themed playgrounds across all five boroughs.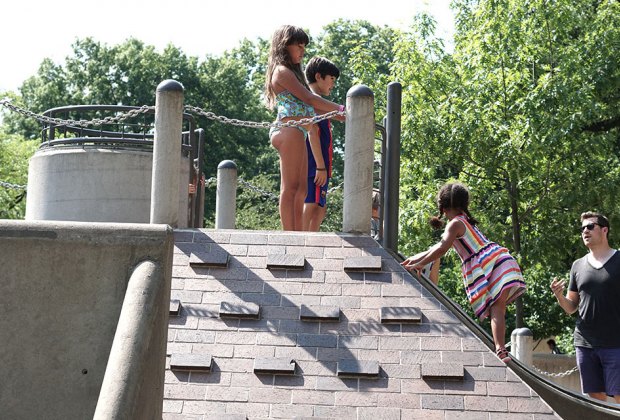 Ancient Playground has a cool water play area where NYC kids can cool off in the hot summer months.
Ancient Playground – Upper East Side
Named for its proximity to The Met's Egyptian Wing, and inspired by ancient Egyptian relics and architecture, this playground features pyramids and climbing structures where kids can play archeologist. (Fair warning: Appropriately enough for a desert-pyramid-themed play zone, there's little shade!). There are plenty of classic play features too, from swings, sand, and sprinklers to tube slides and climbing nets.
RELATED: 18 of NYC's Very Best Playgrounds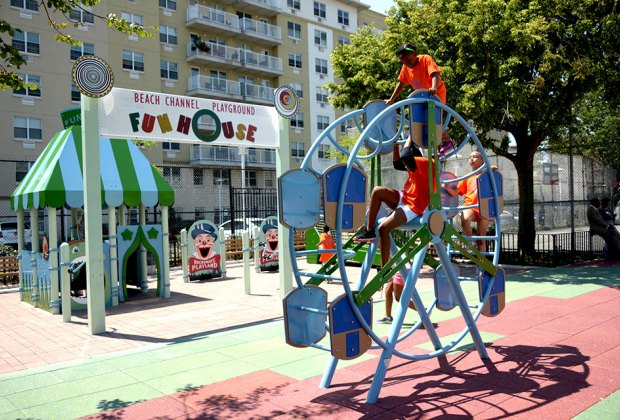 Kids will love the cool circus theme at Beach Channel Playground. Photo courtesy of the park
Beach Channel Playground – Far Rockaway, Queens
Near one of our favorite urban beaches. Beach Channel Playground features an endearing circus theme, complete with kid-sized mini Ferris Wheel (and admission's much cheaper than the one at Coney!). Bouncing circus animals and carnival games complete the theme.
Dinosaur Playground – Upper West Side
A pair of fiberglass dino structures tower over this Riverside Park playground. A Triceratops and Hadrosaur (aka duckbill dinosaur) supervise the scene as kids play in the shade of large trees. Though the equipment is dated compared to some parks on the list, there's plenty of room to roam and it's one of our favorite accessible play spots, too.
RELATED: Central Park's Top Playgrounds, Ranked

This newish park sits right on the water in Williamsburg. Photo by Ros Muggeridge
Domino Park – Williamsburg, Brooklyn
Built adjacent to the old Domino Sugar Factory, this playground takes its design from its namesake. The multi-level structure features an elevated cabin, towering silo, and a centrifuge container. There are also ramps, tunnels, "conveyor belts," catwalks, a climbing cage, and stainless-steel slides. Parents will appreciate the on-site taco stand from Danny Meyer and a nearby sprinkler area is fun for all.
Fort Washington Park Playground – Washington Heights
Located a stone's throw from the Hudson River, this newly renovated playground has earned the nickname Nature Playground. A tree house climbing structure is the centerpiece, but there's plenty of other fun nature-inspired elements, too, like ladybugs and leaves to jump on and a balance beam that looks like a log. My kids go ga-ga for the zip line.

Swing high at Hippo Playground.
Hippo Playground – Upper West Side
Clearly Riverside Park has it made when it comes to special themed playgrounds; this beloved spot is one of three in the greenspace to land on our list. The namesake pachyderms are a bit more prominent here than at its sister spot, Elephant Playground. Two playful arrangements of hippos mark the water play areas and the largest hippo in the park is hollowed out making for a perfect hiding spot when you're trying to pry your kid from playtime and head for home!
Jurassic & Triassic Playgrounds – Flushing Meadows Corona Park, Queens
Located on opposite shores of Meadow Lake, these twin playgrounds came to life following the 1964-65 World's Fair, built to commemorate the Sinclair Oil Dinoland exhibit held there. Each playground honors the dinos of its era. At Jurassic, you can climb an Apatosaurus, traverse a bridge made to look like Stegosaurus armor, enjoy dino art and more. At Triassic, follow the in-ground dino foot prints on the hoops court, slide down a dino slide, or frolic in the palm tree sprinklers.
Neufeld "Elephant" Playground – Upper West Side
Bask in the spray showers shot straight from the namesake elephants at this playground or frolic on the assorted jungle gyms, which were overhauled and updated in 2012. Aside from frolicking in the elephant's mist, kids may delight in the creating a soundscape with bongo drums or chatting through the speaking tubes.
Sachkerah Woods Playground – Woodlawn, the Bronx
Golf pros in the making will appreciate this playground, inspired by the nearby Mosholu Golf Course. Enjoy a shower under the spray emanating from a flag marking the course's 19th hole and climb over giant golf balls. The safety padding is painted to resemble a golf course, with putting greens and spongy sandtraps dotting the area.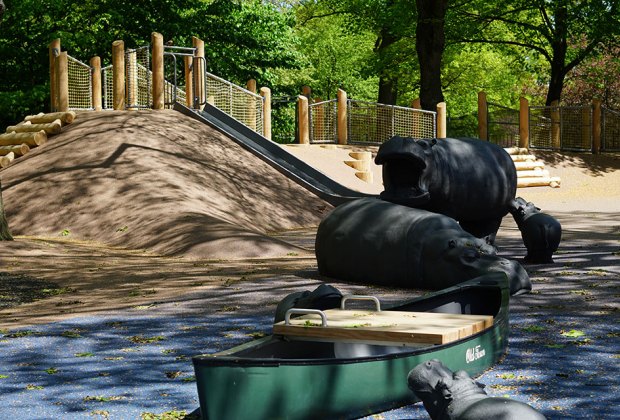 Safari Playground's theme is a hit with kids.
Safari Playground – Upper West Side
The latest Central Park playground to get a makeover, Safari Playground's new design strengthens the safari theme. River-colored safety coating now covers the area and play canoes are sure to inspire adventure. Replicas of the original hippos have returned to the revamped playspace and brought with them a user-activated sprinkler, play boulders to climb, and, for the first time, traditional play equipment.
Seaside Wildlife Nature Playground – Staten Island
Pirates in training take note, this Staten Island playground's centerpiece is a shipwrecked jungle gym perfect for your next swashbuckling adventure. Other notable features also focus on the seaside theme, playing off the park's surroundings in 20 acres of serene natural waterfront landscapes. There's a lighthouse, plus structures that call to mind a ride on the Staten Island Ferry.
Find more great places to play in our Parks and Playgrounds Guide.
Unless noted, photos by the author