10 Brooklyn Spots That Both Little and Big Kids Will Love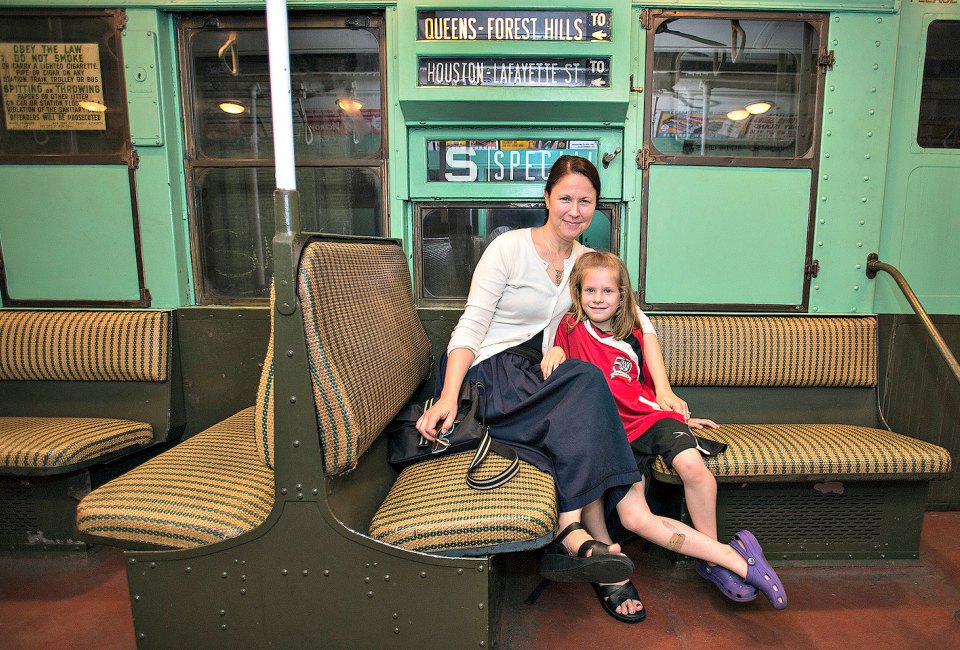 11/10/17
- By
Louise Finnell
Whether you have a large brood that ranges from babies to tweens or simply a few who have somewhat of an age gap, finding activities and restaurants that cater to each and every age and stage can be challenging. The desire to go out and spend time together in NYC can sometimes be overshadowed by the task of finding place that will keep babies, toddlers, preschoolers, older children, and parents entertained.
So whether you want to sit down and have a meal, or spend an afternoon at a museum, we've rounded up 10 mid-Brooklyn locales that offer a little something every member of the family—even the adults!
Activities
New York Transit Museum — Downtown Brooklyn
I'm not the first parent to fall in love with the New York Transit Museum, and I know I won't be the last! The whole family can explore the vintage fleet of subway cars that date back to the early 1900s. The little ones can drive MTA buses, and older kids will love learning about the evolution of the subway system. Exit through the gift shop to snag some subway swag. Check the museum website for the most up-to-date information on exhibits and special events.
The Old Stone House — Park Slope
This quaint little cottage is smack dab in the middle of J.J. Byrne playground in Park Slope. Inside, the Old Stone House features exhibits that provide glimpses into the history of Brooklyn. Kids can enjoy the adjacent playground and the whole family will love learning and exploring in the native garden. If you go on a Sunday, be sure to grab a snack at the Park Slope Farmers' Market.
RELATED: Best Brooklyn Playgrounds for Big Kids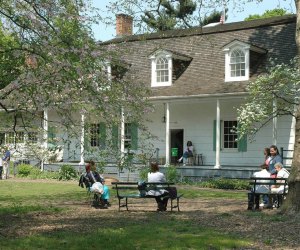 The Lefferts Historic House always has a cool event or family activity going on. Photo courtesy of Prospect Park Alliance.
Lefferts Historic House — Prospect Park
Right next to the zoo and the carousel in Prospect Park is the often-overlooked Lefferts Historic House. This historic Dutch-American home offers traditional activities for kids such as potato sack races, candle making and tools from the 18th century. The house hosts events, tours, and exhibits that change seasonally. Birthday parties are available and include tickets to the carousel next door.
Brooklyn Public Library — Grand Army Plaza
A trip to the Brooklyn Public Library is a great alternative to a museum. The Central Branch has a solid young-adult section for the tweens in the family. In addition to an expansive collection of board books, there are tunnels and toys for toddlers to play with. If you're hungry, the Library Café is run by Four and Twenty Blackbirds, offering sandwiches, treats, and Stumptown Coffee.
RELATED: 22 Brooklyn Drop-In Play Spaces and Kiddie Gyms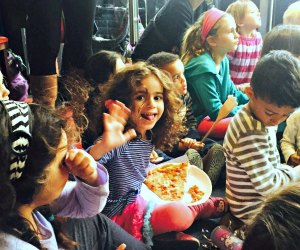 Enjoy pizza and the Izzy and Ooli puppet show at Two Boots Pizza. Photo courtesy of Izzy and Ooli.
Restaurants
Two Boots Pizza — Park Slope
There's a reason Two Boots Pizza has been a NYC staple since the late 1980s. The brightly colored space offers sing-alongs and puppet shows for children, as well as a generous nightly happy hour for the adults. Gluten-free and vegan pizza are available for those with dietary restrictions. Scope out its website to pick the best night for the whole family to chow down at this playful pizzeria.
Johnny Mack's — Park Slope
A solid choice for family-friendly dining, this one earns bonus points for outdoor seating. Pinball and pool are available to keep older kids entertained, while toddlers can stay busy coloring with crayons and coloring books provided by the restaurant. The menu has a great mix of classics like mac and cheese, as well as entrees that cater to the adult palate. It's just a few blocks from Harmony Playground, if the kids are up for a post-dinner romp in Prospect Park.
Greenwood Park — Greenwood
For casual fare, a beer garden is always a win! Grab a picnic table at Greenwood Park. Parents can enjoy a beer while the kids play beanbag toss or bocce ball. The menu boasts everything from kale salads to chicken wings. On your way out, pack the crew into the old-fashioned photo booth to snap a strip of family photos.
RELATED: 50 Things to Do with Kids in Park Slope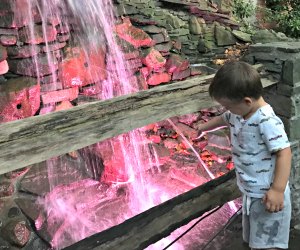 Children will enjoy exploring the waterfalls and fountains throughout the Brooklyn Bavarian Beer Garden. Photo by author.
Bavarian Biergarten — South Slope
If you're in the mood for something out-of-the-ordinary, bring your family to South Slope's Bavarian Biergarten. The menu offers traditional Bavarian treats, in addition to milder options to please picky eaters (mozzarella sticks, burgers, chicken tenders). Fountains, gardens and a waterfall are available for kids to explore. The Biergarten is owned and operated by Grand Prospect Hall, which is now a National Historic Landmark. Cinephiles will be excited to learn that scenes from Wes Anderson's The Royal Tenenbaums, and the recent reprise of Twin Peaks were filmed on site.
Postmark Café — Park Slope
For lighter fare and coffee, check out Postmark Café. This little gem is tucked away on 6th Street in Park Slope. There is a dedicated play area offering chess for the older kids, as well as blocks and toys for the younger set. Check out these other Brooklyn coffee shops with play areas.
Ample Hills Creamery — Gowanus
When it's time for dessert, Ample Hills Creamery is the go-to place to please the whole brood. Its playful menu offers an ever-changing list of flavors, like "Snap, Mallow, Pop" and "Ooey Gooey Butter Cake." Take your time deciding while your kids enjoy the play kitchen. Ample Hills also hosts birthday parties where kids can make their own ice cream using their specially made "cream-churning bicycle." There are multiple locations across the borough, so you're never far from your next ice-cream fix.