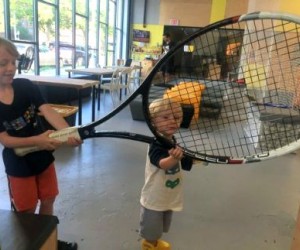 Indoor Tennis for NYC Kids: 10 Programs with Youth Lessons & Family Play
Summer feels like the height of tennis season: FREE outdoor lessons abound, and watching tournaments like Wimbledon and the US Open always inspires my family to hit the court. Then, just as we're getting back into the (literal) swing of things, the cold weather comes—but there's no need to put away our rackets. NYC is home to many indoor facilities that offer high-quality tennis lessons for kids year-round. A few even offer family game play!
Find more NYC classes in our Classes Guide and Directory Listings.
Court 16 – Gowanus
526 Baltic Street between Nevins Street and Third Avenue
Opened in fall 2014, this stylish, state-of-the-art private tennis club was created exclusively for kids and families—it's the only one of its kind in NYC! The courts are child-size so as not to overwhelm, there's ample seating and a healthy snack bar, and all lessons are for ages 3 to 11. Court 16's summer camp is open to the public, but only members can enroll in group classes and one-on-one lessons. Benefits also include special programs like visits from pros, and the opportunity for family game play. Visit the website for more info and pricing.
USTA Billie Jean King National Tennis Center – Flushing
Perimeter Road in Flushing Meadows Corona Park
Famous for hosting the annual US Open, the center also offers tennis lessons for children ages 8 to 17. Classes are grouped by age and kids play on the same courts as the pros. While some courts are outdoors, there are 12 indoor DecoTurf courts. Can't commit to a class? Every August, the center hosts the FREE Arthur Ashe Kids' Day the Saturday before the US Open starts, featuring tennis clinics and games.
Roosevelt Island Racquet Club – Roosevelt Island
281 Main Street
One of our favorite destinations on Roosevelt Island, RIRC features 12 year-round indoor courts. Group and private lessons for ages 8 to 18, a summer camp, and even USTA Junior Tournaments are all on tap. Visit the website for a complete list of youth offerings and prices.
Alley Pond Tennis Center – Queens Village
79-20 Winchester Boulevard in Alley Pond Park
Located in the southern end of the gorgeous Alley Pond Park, this outdoor tennis center transforms into an 11-court indoor facility in winter thanks to a huge plastic bubble. Classes are for ages 3½ to 17 and meet once a week. Visit the website for schedule and prices, plus info on birthday party packages.
Learning the basics of the game at Court 16.
The West Side Tennis Club – Forest Hills
1 Tennis Place near Burns Street
All of the programs at this historic tennis club are run by former pro Bob Ingersole, a USTA Eastern Division Hall of Fame inductee. It's a world-class facility that hosted more than 60 US Opens before the tournament moved to its current USTA National Tennis Center home. There are multiple offerings for kids, from recreational lessons to serious tennis teams to a rigorous Tournament Training Program, plus school vacation and summer camps. Bonus, all enrolled juniors enjoy walk-on indoor court privileges, which means they can book an open court 15 minutes or less before a session starts. Visit the website for a complete schedule and prices.
Vanderbilt Tennis Club – Midtown East
15 Vanderbilt Avenue near 43rd Street
One of three indoor facilities run by Tennis in Manhattan, the Vanderbilt is a wild place to take a lesson. Located on the 4th floor of Grand Central Terminal (the elevator is near the Grand Central Oyster Bar), the club features one US Open championship court and three smaller courts (including one with automatic ball machines), along with stunning views of East 42nd Street. For such a swanky facility in a corporate neighborhood, it offers an impressive array of youth programs for ages 3 to 18.
Prospect Park Tennis Center – Prospect Park
50 Parkside Avenue
Prospect Park's popular outdoor tennis courts offer indoor play during the off-season thanks to a plastic bubble. Youth instruction includes an after-school program, summer camp and group classes designed for children with special needs. Both hard and clay courts are available. Visit the website for schedule and prices.
Sportime Randall's Island – Randall's Island
1 Randall's Island Road
Opened in 2009, this multi-million-dollar, 160,000-square-foot facility is home to the John McEnroe Tennis Academy. In addition to five year-round indoor hard courts, its five additional hard courts and 10 clay courts are protected by three plastic bubbles during the off-season. Youth tennis programs are aimed at children ages 3 to 18, and range from fun group lessons to hardcore private instruction.
ElfTennis – Various locations
Founded by a native New Yorker who competed professionally in her youth, this tennis program was developed exclusively for kids, and offers group and private lessons throughout the city at various locations. Classes include interactive drills and games, as well as competitive point play, and the student-teacher ratio is kept low. Visit the website for a list of locations and offerings.
Tennis Innovators – Various locations
With seven indoor Manhattan locations, this veteran tennis academy offers two main programs for kids. The QuickStart Tennis Academy is for children ages 3 to 10 who are new to the game and need to learn all the basics. Meanwhile, its Junior Tennis Program is aimed at seasoned players looking to up their game. Visit the website for a list of locations and offerings.
Find more cool kids' sports programs in our Classes Guide.