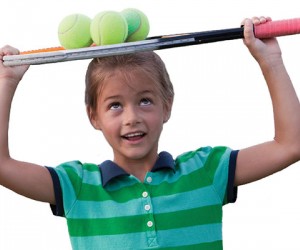 Advantage QuickStart Tennis Classes
Advantage QuickStart is real tennis customized for kids by age and ability. Girls and boys ages 4 to 10 learn with appropriately-sized racquets and slower bouncing balls at 6 convenient locations across NYC. There's always something new to learn. 
When children get on the courts with Advantage QuickStart Tennis, they'll never want to get off!  The tennis program offers:
Game-based program customized for age, ability, and fun
Special kid-sized racquets and smaller play areas
Slower-bouncing balls, making it easier for little players to hit the ball
Pros who are trained in a PTR and USTA NetGen-based curriculum
Kids learn to rally faster, begin to love the game sooner, and make new friends
Friendly, encouraging atmosphere
No experience or equipment needed.
Classes provide big fun for kids and huge convenience for parents. You'll love seeing the grins on the kids' faces when it's "tennis time"—along with the choice of 6 NYC locations.
Manhattan Plaza Racquet Club: 456 West 43rd St., New York, NY 10036
Roosevelt Island Racquet Club: 281 Main St., Roosevelt Island, NY 10044
Columbia Prep: 4 West 93rd St., New York, NY 10024
Xavier High School: 30 West 16th St., New York, NY 10011
Town School: 540 East 76th St., New York, NY 10021
Hunter College Gym: 904 Lexington Ave., New York, 10065.
For more information please visit www.quickstartny.com or contact Advantage QuickStart at info.quickstart@advantagetennisclubs.com or 646-884-9644. New to tennis? Advantage QuickStart can help. Take a trial class and you'll know for sure whether your child will love QuickStart the way other kids do. Sign up for your trial class today!
Reviews